Life after Boko Haram: Habiba and Ladi's story
Habiba* and her teenage daughter Ladi* were kidnapped by the insurgency group Boko Haram in Nigeria and held in captivity for over a year, during which time they both fell pregnant.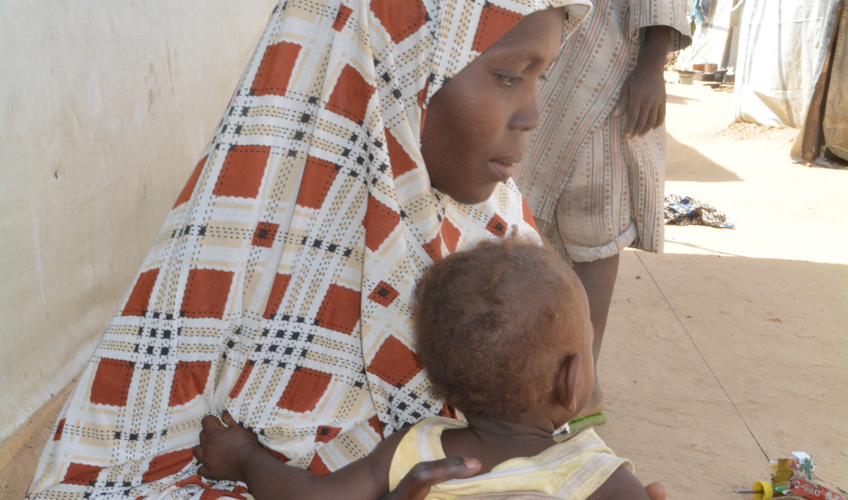 "They forcefully took us, held us captive, and married us against our will. What pained me the most is seeing my own daughter also being sexually violated and I couldn't do anything to help her out."
''Comforting her was hard for me. I didn't know how to because I'm a victim as well. I also went through such a horrible experience and we both have babies for Boko Haram."
Habiba finally escaped with her daughter, but their troubles continued even after they reached a displacement camp.
When we came to the camp, we received all sorts of insults, like being called "Boko Haram" wives. They even accused us of willingly following Boko Haram. They feel we had control over what happened to us. How can they say such things? They have no knowledge of the magnitude of suffering we went through. We had turned into an object of mockery.
"There were not enough basic necessities for ourselves and our babies and the people around us weren't helping matters. We didn't have peace of mind at all."
International Alert Nigeria's project with UNICEF is helping to transform the lives of 5,000 women and girls, like Habiba and Ladi, affected by Boko Haram violence by providing a safe and supportive environment, where they can share their stories and feelings.
We offer support and counselling led by local religious leaders as the first step in reintegrating these women and girls, and healing communities torn apart by Boko Haram violence.
"I thought shying away from people will be better for us, I was wrong. The programmes carried out by International Alert showed me otherwise. I was able to talk about my problems with other women who experienced similar problems. The sessions have helped me cope with the loss of my husband and the impact of rape, and given me a chance to move on with my life."
I can now say we are both comforted… through opening up and sharing our stories, people understood us more and they now tend to be more remorseful towards us. It has really served as an eye opener to many in the camp.
Habiba and Ladi are still struggling to shake off the stigma they face from their time in captivity, but they are now optimistic about building a peaceful future together.
I've started seeing changes already through the workshops International Alert is doing. I believe with more of them, gradually the stigma towards us will completely halt … and someday our lives will be normal again.
"The counselling we have been provided with has really helped me have inner peace."
About the project
Reducing stigma against those affected by Boko Haram was a project in Borno state, northeastern Nigeria to address the stigma and negative perceptions associated with women and girls who have escaped Boko Haram, as well as children born out of sexual violence.
Addressing the obstacles to women and children's reintegration is critical for their survival and long-term peace in the country. We hoped to improve understanding of the challenges faced by women and children returning home by holding community workshops in internally displaced peoples camps and broadcasting radio programmes on stigma and sexual violence.
This pilot project was able to demonstrate positive attitudinal and behavioural changes within the community and as a result, has been extended in geographic scope, donor funds and partnerships since 2016.
---
*Names changed to protect identity.