The passionate peacebuilder: Ruqayya's story
"I want to see my people living in happiness and freedom. It brings me pride and motivation when I see people smiling because of my work as peacebuilder, especially when ensuring that women and girls who have suffered from abduction are empowered to have a livelihood."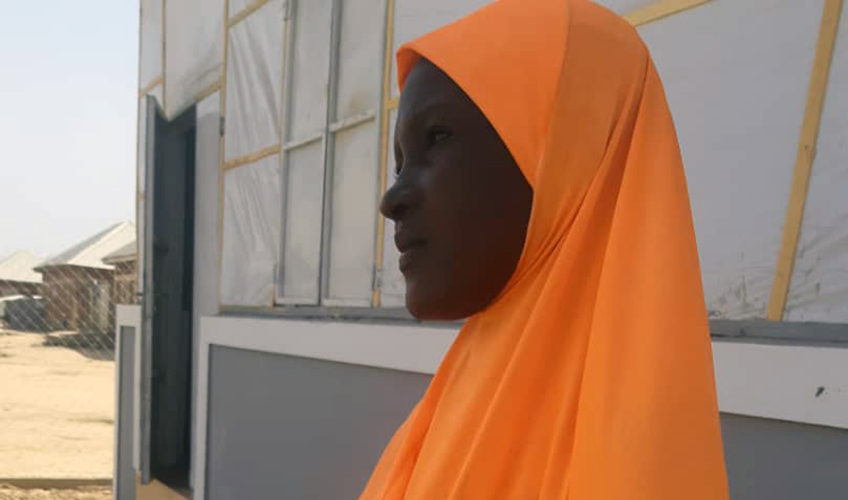 Monday mornings are always full of nostalgia and reflection for 40-year-old Ruqayya*, a native of Gambaru Ngala who now lives in the Teachers Village internally displaced persons (IDP) camp in Maiduguri, Nigeria. Like many households separated by the insurgency, she recalls how the insurgents raided her community one early Monday morning, shooting sporadically, destroying houses, abducting women and girls and leaving those who could not flee either dead or maimed.
"I remember that day vividly," Ruqayya starts, staring into the distant sky. "When they started shooting all over town, everyone ran in various directions. Some people ran into the river, others into the bush. Many women and girls stayed locked up at home, but this left them at the mercy of the insurgents once they got caught."
Ruqayya fled to Cameroon that day and lost all her economic livelihood when the insurgents set the market at Gambaru Ngala ablaze.
"Those of us who managed to flee and trek the long way, lived in a camp where many died from sickness or severe hunger. When the Nigerian Army came with lorries to evacuate us, we spent 11 days travelling to Yola, after which we received medical treatment before finally ending up in Maiduguri."
Teachers Village IDP camp
Everyone who was evacuated by the Nigerian Army were taken to a transitional shelter before relocating to Teachers Village IDP camp, where structured shelters were allocated to them. This was where life took a different turn for Ruqayya. Her passion for humanity was soon spotted by camp officials and harnessed for the social good of the camp community, despite the circumstances.
"I have now lived in this camp for nearly 5 years. I know a lot of the faces and can even tell you a bit of their stories, and the places they have fled from to seek refuge here. I remember my early days, and the slow process until I was allocated a house for my family to live in. Regardless of the pain from my loss, I have chosen to look forward with hope, and encourage others to hope for a better tomorrow like me."
I want to change people's lives for the better.
Ruqayya received training on peacebuilding, child protection, prevention of sexual exploitation and abuse (PSEA), first-line response to sexual and gender-based violence and basic reintegration techniques. She also received training on trauma consciousness and basic psychosocial support. This training equipped Ruqayya with the skills to support vulnerable women and girls to break the culture shock in the camp and most importantly provide a sense of safety to those suffering from insomnia, nightmares, isolation, and other symptoms of post-traumatic stress disorder. Ruqayya also developed skills in stigma reduction and session facilitation, and has since become a champion for Alert's psychosocial support curriculum and methodology.
"I was coached on how to facilitate peer to peer support sessions for women and girls, and family support sessions for those having difficulties accepting their surviving family members who return from Boko Haram captivity. I learned techniques like psychological first aid (PFA), deep breathing, psychoeducation and trust walk. It always brings me joy to be endeared to these women, when they begin to open up knowing I will always listen and empathise with their stories."
In helping these women and girls heal, I am also finding healing from my pains, and I am happy to see that we are all winning together.
Ruqayya is now a role model in the camp and continues to follow up on survivors, going house to house to assess progress, take feedback and above all, cheer the women up. International Alert and its partners, continue to work in camps across Borno State, supporting the reintegration and building the resilience of women and girls affected by sexual and gender-based violence and abduction by Boko Haram, thanks to the funding support of the UK Government through the Confict, Stability and Security Fund (CSSF).
*Name changed for protection concerns.
About the project
Building on more than three years experience promoting the peaceful reintegration of women and girls who survived Boko Haram captivity and sexual and gender-based violence (SGBV), we continue to reinforce the resilience and reintegration of conflict affected women and children and promote community peacebuilding.
Years of violence by the Boko Haram insurgency in Borno State has created a humanitarian and social disaster, forcing people to flee their homes, their livelihoods lost and the social fabric that maintained harmony in the community destroyed. Within this context, the return of the thousands of men, women and children who voluntarily or involuntarily joined Boko Haram is a highly contentious process. Women and girls, in particular, suffer discrimination, rejection, verbal and sometimes physical abuse when they return home after escaping or being rescued from Boko Haram.
The Hadin Kan Mu Karfin (Our Unity, Our Strength) project aims to reduce stigma against the women and children associated with Boko Haram, equip community and religious leaders with skills to understand and address challenges to reintegration, and help community members work collaboratively to identify and resolve conflict related to reintegration.
---
Alert works on this project with the following local partners, Centre for Social Cohesion, Peace and Empowerment (CENSCOPE) and Gender Equality, Peace and Development Centre (GEPaDC).