Tajikistan
In Tajikistan we help people to find peaceful solutions to conflict by focusing on the issues that influence peace.
This includes gender equality, responsible economic development for social cohesion, climate change and natural resource management, prevention of violent extremism, and promoting good governance. The main fields of work in Tajikistan over the last few years have been around research and promoting more equitable gender relations to reduce the levels of violence against women and girls.
International Alert Tajikistan is using opportunities that allow for partnership and cooperation with governmental bodies in addressing the priority issues. In addition, we are building effective partnerships with civil society and other relevant actors to achieve our goals.
We have been working in Tajikistan since 2008.
Conflict context
Tajikistan is the most vulnerable of the Central Asian countries. In the decade since it became independent, it has been wracked by civil war and seen socio-economic collapse. Yet, the current social-economic model remains unbalanced, and the country's economy heavily depends on Tajik labour migrants' remittances.
Heavy bureaucracy and a significant gap between the government and ordinary people prevents people from getting timely and high-quality services. In addition, there is a high level of unemployment, and significant manifestation of inequality, with higher levels of deprivation for certain geographic locations and population groups.
All the above can be seen as factors underpinning conflict. While the political system remains fragile, external threats, including the continuing conflict in Afghanistan, is an ever-present concern for the country.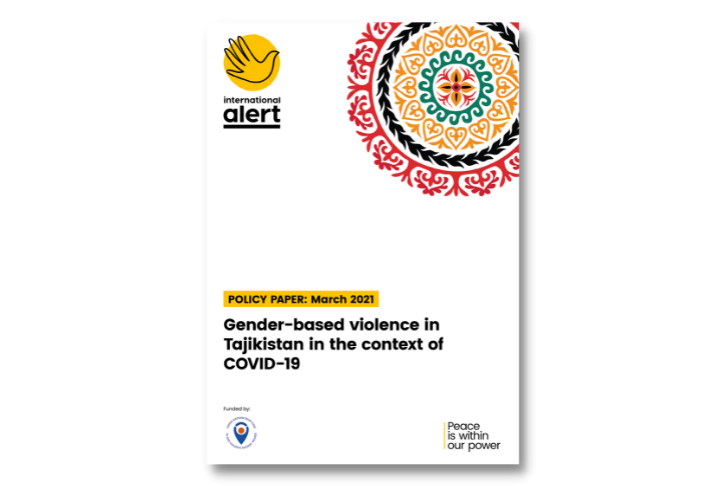 Gender-based violence in Tajikistan in the context of COVID-19
International Alert has been working in Tajikistan to prevent gender-based violence against women and girls, including those living with disabilities.
Get in touch with our Tajikistan team