Shakirat Toktosunova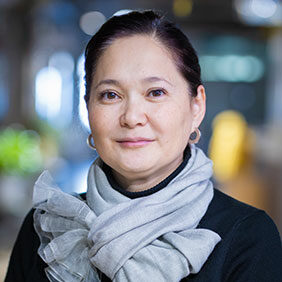 Central Asia Director
Shakirat joined International Alert in early 2017, and in her role as Central Asia Director she leads Alert's peacebuilding work in the Central Asia (currently Kyrgyzstan and Tajikistan, with projects implemented through local partners in Kazakhstan and Uzbekistan).
Shakirat previously managed International Alert's activities in Kyrgyzstan, and is also a member of International Alert's Global Leadership Team, contributing to organisational thinking and priorities.
Prior to joining Alert in early 2017, Shakirat worked for the UNDP, initially as an Assistant Resident Representative with UNDP/Kyrgyzstan, responsible for overall coordination and management of UNDP programmes in Kyrgyzstan, and then as a programme officer and policy specialist in UNDP/HQ in NY, USA coordinating UNDP technical and financial support for crisis recovery and prevention in the CIS, eastern Europe and Arab states. She has also worked in several management positions for the Eurasia Foundation of Central Asia (EFCA), latterly as an executive director managing three EFCA offices in Kyrgyzstan and Tajikistan. She was instrumental in developing several strategic EFCA programmes, such as the Cross-Border Programme in the Ferghana Valley, the Central Asia–Russia Labour Migration Initiative and the Higher Education Transparency; also supported early formation of various civil society, educational and media institutions in Central Asia, among which were the American University in Central Asia (AUCA), Regional Information agency Aki-Press and Central Asian Craftsmanship Support Association (CACSA) and national universities and libraries.
Shakirat holds MS degrees in Education from Drake University, USA and in Finance from Kyrgyz National University, and has MBA course work completed. She served as a Steering Committee member of the global Grant Makers East Group in Brussels, and as an Advisory Board member for the EFCA; and member of Board of Directors in the Executive Committee for the Media Support Center Foundation and the Media Commissioner Institute, Bishkek, Kyrgyzstan. She is also a member of the American Society for Training & Development (ASTD), USA.
Shakirat is fluent in Kyrgyz, Russian and English, and has intermediate proficiency in French.