Shakirat Toktosunova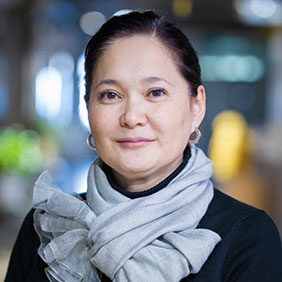 Country Director, Kyrgyzstan
Shakirat joined International Alert in early 2017.
Prior to joining Alert, she worked at the United Nations Development Programme (UNDP) for over eight years, initially as an Assistant Resident Representative with UNDP/Kyrgyzstan and then as a Programme Officer and Policy Specialist/UNDP Executive Office's focal point coordinating UNDP technical and financial support for crisis recovery in the Commonwealth of Independent States, eastern Europe and Arab states.
From 2000 to 2007, she worked in several management positions for the Eurasia Foundation of Central Asia (EFCA), latterly as an Executive Director managing three EFCA offices in Kyrgyzstan and Tajikistan. She was instrumental in developing several strategic EFCA programmes and attracting funding partnerships. Prior to this, she also worked for the US Peace Corps, International Research and Exchanges Board (IREX) and with the Kyrgyz government's public investment agency.
She holds an MA in Education Administration from Drake University, United States and an MA in Engineering and Finance from the leading universities in Kyrgyzstan. She served as a Steering Committee member of the Grant Makers East Group in Brussels, helping to coordinate donor efforts in the region. She is also an alumnus of the Muskie/Freedom Support Act graduate fellowship funded by the US government.