Ukraine
We strongly believe sustainable peace is only possible through the efforts of all members of society.
We have been working in Ukraine since 2015, increasing the capacity of civil society organisations (CSOs) from across the country to contribute to social cohesion within their communities, build nationwide informal CSO networks, and foster constructive engagement with local authorities.
To date, we have partnered with more than 60 CSOs to support internally displaced people (IDPs), ex-military personnel and families affected by the conflict. This includes helping CSOs to implement creative and innovative initiatives to promote inclusivity and acknowledge diversity as a strength. From inclusive sports festivals with participation from veterans, IDPs and host community members in Dnipro to pioneering programming on social cohesion and producing an online social cohesion toolkit used by local organisations. We also support CSOs to collaborate with local authorities in addressing the needs of different community groups in a sensitive and constructive manner, ensuring all voices are heard.
We use our strong analytical skills to undertake regular and in-depth qualitative research, providing our partners and other peacebuilding stakeholders with updated information about the context dynamics highlighting vulnerabilities and offering recommendations on how to address those.
We started working in Ukraine in 2015.
Country context
Seven years after the start of open warfare between Russian-backed local armed groups and pro-governmental forces, around 50% of the Donbas, including the major cities of Donetsk and Luhansk, remain outside of Ukrainian government control. Ukraine stills lacks a clear roadmap for reintegration that envisions how to deal with the grievances of the past and help IDPs and ex-combatants find a place in society.
Ukrainian society is diverse and is still divided by socio-cultural differences and geopolitical preferences, leading to people supporting very different and sometimes opposing approaches. Therefore, public discourse about how to reintegrate the non-government-controlled areas and what kind of peace deal would be acceptable or desirable is increasingly polarised. In addition, Ukrainians' frustrations over the unresolved conflict are often manipulated by both internal and external actors which further deepens social and political polarisation.
Ukraine's ineffective governance and extremely low level of societal trust in public institutions have weakened the relationship between the state and its citizens. This has been exacerbated by the effects of COVID-19, where civil society has once again demonstrated its ability to quickly respond to crises and support communities in times of need.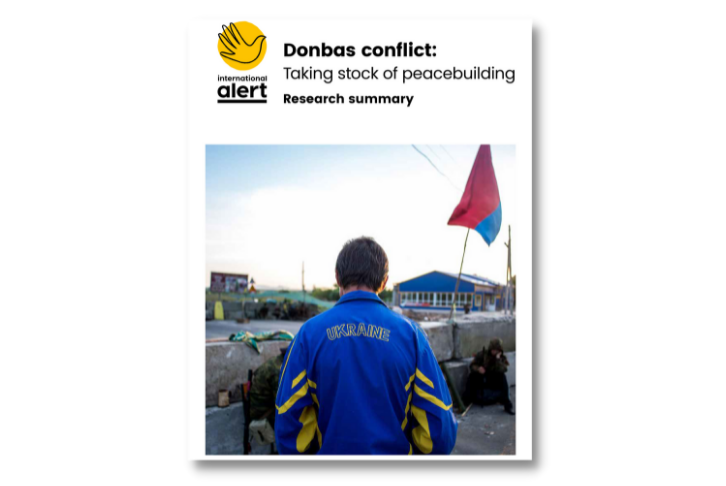 Donbas conflict: Taking stock of peacebuilding
This report analyses research on perceptions of peacebuilding efforts by local, national and international actors in the context of the armed conflict in the Donbas region.
Get in touch with our Ukraine team