Online course by International Alert and Thomson Foundation help journalists in Ukraine to cover COVID-19 more sensitively
The coronavirus pandemic (COVID-19) has posed new challenges for citizens in Ukraine, creating new conflict dynamics and inequalities, as well as exacerbating the existing ones, particularly for the groups affected by the armed conflict in the East of Ukraine.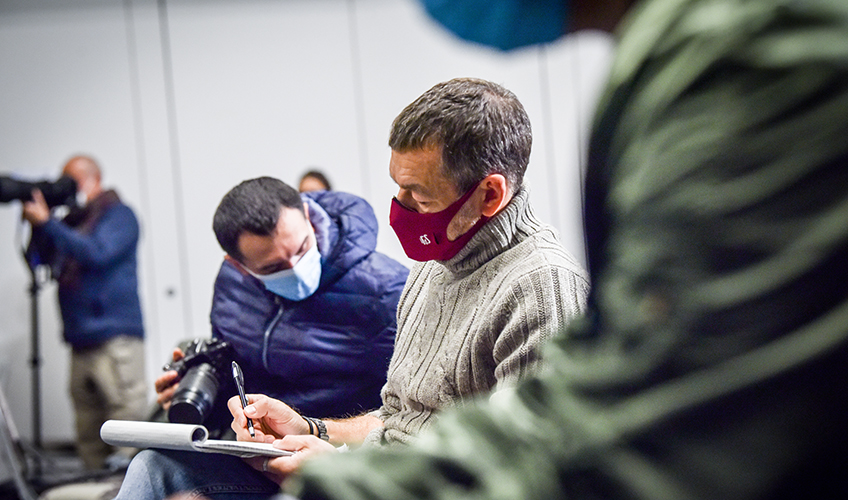 The unfamiliar and alien situation caused by the need to stay at home, as well as changes in social roles (loss of jobs, change of breadwinners in the family, etc.) resulted in increased levels of stress, the formation of new vulnerable groups in society and a rise in domestic violence, in particular gender-based. Alongside this, low levels of media literacy within the population and the authorities resulted in the spread of unverified information about COVID-19 – causing panic and disorientation. Daily focused and clear communication about the pandemic and the actions taken by the authorities and the state, in general, will lead to raising people's trust in the state and feeling of safety and confidence in the future, which contributes to social cohesion. With funding from the German Federal Foreign Office, Thomson Foundation in collaboration with International Alert designed, developed and conducted a two-hour online course to help Ukrainian journalists tackle misinformation and be conflict-sensitive when writing stories about COVID-19.
Journalists face a huge responsibility during this crisis situation. They have to navigate difficult situations and questions such as how do you talk to people with anxiety or stress disorders without making it worse? How do you sensitively engage with people who have just recovered from COVID-19 or with those who have lost people close to them because of it? This is always a complex and a complicated choice, and the course helps journalist find a way to tackle these questions without causing further harm.
In December 2020, we held an interactive workshop for around 20 media professionals, to launch the course. Within this workshop we used five media cases studies from Ukraine to help the journalists understand the course structure and its aims such as, identifying disinformation that can be encountered on social media and the Internet amidst the pandemic, and equipping the journalists with tools to help verify information and sources so they talk about COVID-19 in a conflict-sensitive manner. The workshop also gave the journalists a chance to ask questions about the topics within the course in more detail.
The two-hour course is now available online to everybody, it is self-paced which means you can go through the material at your own convenience and it is currently accessible in Russian and Ukrainian.
The course has been designed to explain the ethical and emotional issues faced by journalists working in a pandemic. International Alert's particular role in the development process was to provide the conflict- and gender sensitive perspective on reporting, which included identifying groups that have become especially vulnerable due to COVID-19, including internally displaced people, veterans, medical professionals and teachers, with a specific focus on women. And also providing advice on how conflict-sensitive reporting around COVID-19 and these identified groups can promote social cohesion rather than exacerbate divides. An important component of this course comes from a psychologist, who discusses how journalists working in an extremely sensitive environment can prevent traumatising their target audiences, as well as their own secondary traumatisation and professional burnout.
By the end of the course, journalists will:
Understand the vital role of the media during a pandemic.
Learn how to determine which sources they can trust.
Understand the different types of inaccuracies in the presentation of information and the motives of its authors.
Learn how to check information and images with various open-source tools.
Get a clearer understanding of how to safely identify, report and debunk misinformation.
Understand the importance of the vocabulary they use to help avoid stigmatisation.
Learn how to process their stories so that they are understandable and interesting.
Learn to maintain personal security and take care of their own emotional well-being.
Experts on the training course:
Inna Topal, Executive Director of International Alert Ukraine
Svitlana Gud, Head of Regional Analytical Center
Olena Podolyan, Psychotherapist, Co-founder and Director of Outpost
Diana Dutsyk, Coach of the Kyiv-Mohyla School of Journalism
Dr. Claire Wardle, Co-founder and CEO, First Draft, New York
Laura Garcia, Training and Support Manager, First Draft, London
Alok Ja, Scientific Correspondent, the Economist
Sheidanai Urbani, Program and Partnership Manager, New York
Jane Hughes, Director of Communications, Francis Creek Institute
Gavin Reese, Dart Center Europe
---
Он-лайн курс який розроблений International Alert та Thomson Foundation, допомагає журналістам в Україні висвітлювати пандемію COVID-19 більш професійно і достовірно
Через пандемію коронавірусу (COVID-19) перед громадянами України постали нові виклики. Пандемія спричинила виникнення нових конфліктів та нерівностей, а також посилила вже існуючі, зокрема для груп населення, які зазнали впливу збройного конфлікту на Сході України.
Ситуація невизначеності та невідомості, яка була викликана необхідністю тривалий час залишатися вдома через карантинні обмеження, а також зміною соціальних ролей (втрата роботи, зміна годувальника в родині тощо), призвела до підвищення рівня стресу в суспільстві та формування нових вразливих груп, зокрема на ґендерній основі. В той же час, низька медіа-грамотність населення та органів влади призвела до поширення неперевіреної інформації про COVID-19, спричиняючи паніку та дезорієнтуючи людей. Щоденна виважена та чітка комунікація про пандемію та про заходи щодо її подолання, яких вживають органи влади, матиме за результат підвищення довіри людей до держави та посилить відчуття безпеки і впевненості в майбутньому, що сприяє соціальній згуртованості. За фінансової підтримки Федерального Міністерства іноземних справ Німеччини, Thomson Foundation у співпраці з International Alert розробили двогодинний он-лайн курс, що має на меті допомогти українським журналістам протидіяти дезінформації та дотримуватися принципів конфлікточутливості при висвітленні пандемії COVID-19.
На журналістах лежить велика відповідальність у цей непростий час. Вони змушені працювати в складній ситуації і приймати рішення про те, як говорити з людьми, що страждають від тривожності чи стресових розладів, не погіршуючи їх стану. Як у чутливий спосіб спілкуватися з людьми, що тільки-но одужали від COVID-19, чи з тими, хто тільки що втратив близьку людину через цю хворобу? Завжди складно прийняти таке рішення, а курс допомагає журналістові дізнатися про те, як вирішувати такі питання, не завдаючи більшої шкоди.
У грудні 2020 року ми провели інтерактивний он-лайн практикум для близько 20 журналістів, які першими пройшли он-лайн курс. Протягом практикуму ми використали п'ять прикладів із практики, щоб допомогти журналістам зрозуміти, як розпізнати дезінформацію щодо пандемії, з якою можна зіштовхнутися в соціальних мережах та інтернеті, та отримати інструменти для підтвердження інформації та її джерел, щоб висвітлювати COVID-19 у конфікточутливий спосіб. Практикум надав журналістам можливість задати експертам-розробникам курсу питання за темою та більш детально обговорити конкретні аспекти.
Зараз кожен може самостійно пройти двогодинний курс он-лайн українською або російською мовою в зручний час.
Курс було розроблено для пояснення етичних та емоційних питань, які постають перед журналістами, що працюють над висвітленням пандемії. Особлива роль International Alert у процесі розробки полягала в забезпеченні конфікто- та ґендерочутливого підходу до висвітлення, що полягає у визначенні груп, які стали особливо вразливими через COVID-19, і включають, зокрема, внутрішньо переміщених осіб, медиків та вчителів, із особливою увагою до жінок. Окрім того, було наголошено на тому, як конфлікточутливий підхід до висвітлення тематики COVID-19 та цих вразливих груп може сприяти зміцненню соціальної згуртованості, а не поглиблювати розділення суспільства. Важливою складовою курсу є рекомендації психолога щодо того, як журналісти, що працюють у надзвичайно чутливому середовищі, можуть запобігти травматизації своїх цільових аудиторій, а також власній вторинній травматизації та професійному вигоранню.
Після закінчення курсу
Ви зрозумієте життєво важливу роль засобів масової інформації під час пандемії.
Навчитеся визначати, яким джерелам можна довіряти.
Ви зрозумієте різні типи неточностей у поданні інформації та мотиви її авторів.
Навчитеся перевіряти інформацію та зображення за допомогою різних інструментів із відкритим кодом.
Отримаєте більш чітке розуміння того, як безпечно ідентифікувати, повідомляти та розвінчувати дезінформацію.
Звернете увагу на важливість словникового запасу, яким ви користуєтесь, щоб уникнути стигматизації та стереотипних установок.
Навчитеся опрацьовувати свої історії так, щоб вони були зрозумілими та цікавими.
Навчитеся підтримувати особисту безпеку та піклуватися про власний емоційний добробут.
Експерти навчального курсу
Інна Топал, виконавча директорка представництва міжнародної організації «International Alert» в Україні.
Світлана Гудь, голова громадської організації «Регіональний аналітичний центр».
Олена Подолян, психотерапевтка, співзасновниця та директорка української громадської організації «Форпост».
Діана Дуцик, тренерка Києво-Могилянської школи журналістики.
Докторка Клер Уордл, співзасновниця та генеральна директорка, First Draft, Нью-Йорк.
Лора Гарсія, менеджерка з навчання та підтримки, First Draft, Лондон.
Алок Джа, наукова кореспондентка, економістка.
Шейданай Урбані, менеджерка програм і партнерств, Нью-Йорк.
Джейн Хьюз, директорка зі зв'язків, Інститут Френсіса Кріка.
Гевін Різ, Dart Center Europe.