Journey of acceptance: Nusra's story
Nusra* is 20 years old. She was abducted by Boko Haram insurgents in 2014 from her home town of Kumshe, in the Bama local government area in Nigeria. Prior to her abduction Nusra was happily married to Muhammad, with a child on the way.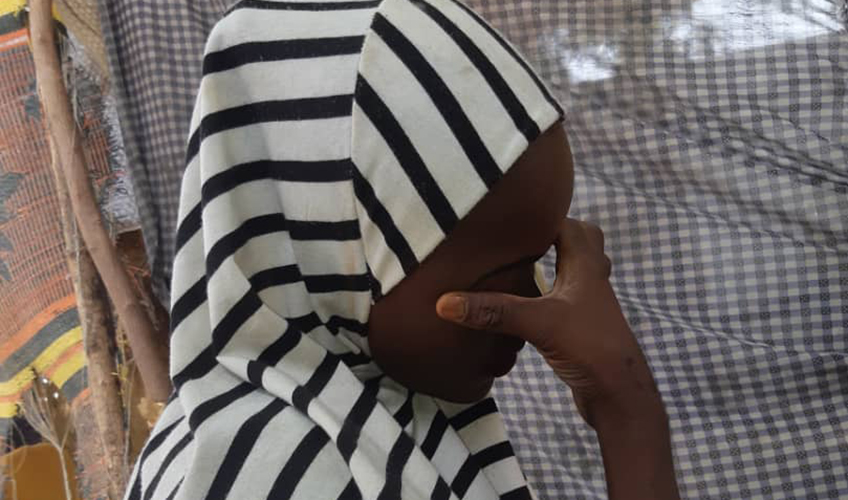 Nusra was abducted during a deadly attack launched by Boko Haram, an experience that she shares with us:
"When people in the village heard the gun shots for the very first time, everyone fled for their lives and hid in the bush. However, I was heavily pregnant and I could not run like them. I was caught by the insurgents. My father and brother were mercilessly killed in my presence, I panicked when I saw my father's lifeless body falling to the ground, but we didn't dare to touch them," Nusra lamented.
Nusra, along with the other abducted women and girls, was taken to an insurgent hideout after a long and painful journey through harsh terrain. Nusra was forcefully married off to one of the Boko Haram insurgents immediately after giving birth to her child. She remained in captivity for about four years, during which she gave birth to another child.
Unexpectedly, a joint operation undertaken by soldiers and vigilantes resulted in Nusra and other women and children being rescued and taken to the army base in Bama town. Here they underwent a process of clearance and rehabilitation for few weeks before they were released to their families.
Although Nusra was rescued and hoped to start a new phase in her life, reunited with her husband, what she encountered turned her hope to hopelessness.
The stigma and rejection she received from her husband and other family members left her alone and isolated. Nusra's husband stated that he couldn't accept a returnee from Boko Haram and both her family and her in-laws were in agreement. As a result they wouldn't associate with her. The manner in which she was abandoned surprised Nusra because she thought they would show her sympathy, care, love and concern after all this time. She didn't think they would stigmatise her and not support her. Her family refused to live with her, abandoning Nusra to live alone with her two children.
Support sessions
It was in the midst of this that Nusra enrolled into International Alert Nigeria's support sessions for women and girls, later joining family support sessions too. These sessions provide a platform for supporting survivors of sexual violence to heal from their traumatic experiences and build support networks within their communities. These sessions, facilitated by community leaders trained to understand and address challenges to reintegration, are aimed at supporting traumatised survivors to reintegrate and unite with their families by reducing stigma and increasing social cohesion and acceptance.
The journey of Nusra's acceptance was supported by the project 'Hadin Kan Mu Karfin Mu' (Our Unity, Our Strength) funded by UK Government through the Confict, Stability and Security Fund (CSSF). Implemented by International Alert in partnership with Centre for Social Cohesion, Peace and Empowerment (CENSCOPE). This project helped Nusra and other participants undergo a psychosocial assessment that allowed them to access the appropriate help they needed, whether dealing with post-traumatic stress disorder, rejection, and/or stigmatisation.
Through the project's eight sessions of reintegration over a period of four months, Nusra was able to open up and share her experience with others.
"After attending a number of sessions I became comfortable in sharing my experience, which I hardly did before now," Nusra said.
I came to understand that there are a lot of other women and children who went through similar experiences as me and that I was not alone.
The coping strategies identified during the sessions helped to begin healing Nusra's psychological wounds, and the family support sessions helped to reintegrate her with her family and husband. Nusra's family realised how badly they treated their daughter.
"Truly it is joyous moment for me and indeed, I regret my actions," Nusra's husband Muhammad said.
International Alert and its partners, continue to work in camps across Borno State, supporting the reintegration and building the resilience of women and girls affected by sexual and gender-based violence and abduction by Boko Haram.
*Name changed for protection concerns.
About the project
Building on more than three years experience promoting the peaceful reintegration of women and girls who survived Boko Haram captivity and sexual and gender-based violence (SGBV), we continue to reinforce the resilience and reintegration of conflict affected women and children and promote community peacebuilding.
Years of violence by the Boko Haram insurgency in Borno State has created a humanitarian and social disaster, forcing people to flee their homes, their livelihoods lost and the social fabric that maintained harmony in the community destroyed. Within this context, the return of the thousands of men, women and children who voluntarily or involuntarily joined Boko Haram is a highly contentious process. Women and girls, in particular, suffer discrimination, rejection, verbal and sometimes physical abuse when they return home after escaping or being rescued from Boko Haram.
The Hadin Kan Mu Karfin (Our Unity, Our Strength) project aims to reduce stigma against the women and children associated with Boko Haram, equip community and religious leaders with skills to understand and address challenges to reintegration, and help community members work collaboratively to identify and resolve conflict related to reintegration.
---
Alert works on this project with the following local partners: Centre for Social Cohesion, Peace and Empowerment (CENSCOPE) and Gender Equality, Peace and Development Centre (GEPaDC).