The leader who became a peacebuilder: Auwalu's story
35-year-old Auwalu fled from his hometown of Baga, Nigeria, before it fell to insurgents in 2015, to the Teachers' village internally displaced persons (IDPs) camp in Maiduguri. In search of new beginnings, he enlisted with the Civilian Joint Task Force (CJTF) together with others from Baga, Kukawa and Ngala Local Government Areas who lived in the same IDP camp.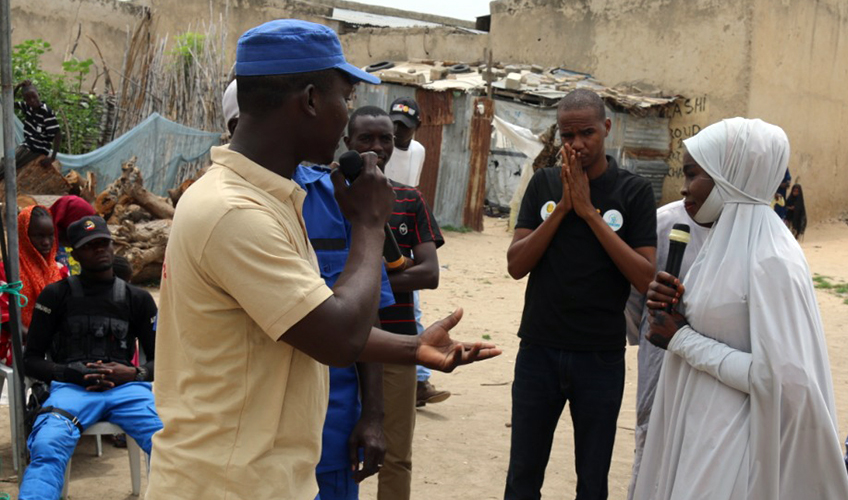 However, the camp community that Auwalu and his colleagues had pledged to safeguard, often accused the CJTF of favoritism and partiality when mediating conflicts. This caused great distrust between the two parties, as a result the community stopped sharing vital information with the CJTF, and began openly accusing the CJTF of scheming with the insurgents. This troubled Auwalu and the State Emergency Management Agency officials at the camp, whom he often reports to in the course of his work.
Receiving trainings
Auwalu was recommended to join International Alert Nigeria's training, conducted through our project Hadin Kan Mu Karfin Mu (Our unity, our strength). Together with 24 other community leaders, he received training on conflict mediation, peacebuilding, public speaking, facilitation skills and conflict-sensitivity. The population of the Teachers' Village Camp in Maiduguri is mostly made up of people from Baga, Kukawa and Ngala, therefore it was easy for the camp leaders to identify Auwalu as an person from Baga. Coupled with his dedication as a CJTF member, he was considered an ideal candidate for this.
The training I received on trauma consciousness, signs and symptoms of psychosocial distress and application of psychosocial support helped me to understand how to manage survivors who exhibit symptoms without creating further conflict, while also facilitating appropriate referral process for specialised support and services.
He showed great interest in the curriculum and was keen on proving that the training could help him project a better image of the CJTF to the community. Since then, Auwalu has not only relented in coordinating the regular Peace Forums in the community but can also often be seen facilitating and moderating reintegration activities for participants within the camp.
At the Peace Forum, community members meet with security sector institutions, including semi-formal militia like the CJTF, to discuss matters of security that risk causing further distrust. This provides all parties with a platform to air their views and allows the community leaders to mediate and find solutions that build peace and social cohesion.
"Participating in this project has made me popular because I am often involved in a lot of dialogue sessions and, as a member of the Community Action Committee (CAC), I often resolve issues of conflict within the community, especially reconciling and reintegrating young women who have been rejected by their families, because they gave birth to children out of wedlock."
He has also shared his new knowledge with his Sector Command during step-down trainings. This has influenced other CJTF members to embrace peace and work with the community in ways that have greatly increased social cohesion at Teachers' Village Camp.
About the project
Building on more than three years experience promoting the peaceful reintegration of women and girls who survived Boko Haram captivity and sexual and gender-based violence (SGBV), we continue to reinforce the resilience and reintegration of conflict affected women and children and promote community peacebuilding.
Years of violence by the Boko Haram insurgency in Borno State has created a humanitarian and social disaster, forcing people to flee their homes, their livelihoods lost and the social fabric that maintained harmony in the community destroyed. Within this context, the return of the thousands of men, women and children who voluntarily or involuntarily joined Boko Haram is a highly contentious process. Women and girls, in particular, suffer discrimination, rejection, verbal and sometimes physical abuse when they return home after escaping or being rescued from Boko Haram.
The Hadin Kan Mu Karfin (Our Unity, Our Strength) project aims to reduce stigma against the women and children associated with Boko Haram, equip community and religious leaders with skills to understand and address challenges to reintegration, and help community members work collaboratively to identify and resolve conflict related to reintegration.
---
Alert works on this project with the following local partners: Centre for Social Cohesion, Peace and Empowerment (CENSCOPE) and Gender Equality, Peace and Development Centre (GEPaDC).