Involving women in security concerns makes everyone's lives safer
Training in mediation, gender sensitivity and conflict sensitivity for women living in camps for internally displaced people and in host communities in Borno state, Northern Nigeria, has resulted in tangible improvements in conflict resolution and security, participants say.
International Alert Nigeria's Zaman Lafiya Hakin Mu (Peace is our obligation) project conducted activities with communities and security sector institutions in Borno State, Nigeria, starting in 2019, to provide a platform for dialogue and trust building and to ensure a range of voices are represented in community and security-related issues. The idea was that if community-based security groups, particularly the police and civilians, are better coordinated, more inclusive and more accountable in their decision-making, then communities can better manage security and conflict threats. This contributes to improved resilience, stabilisation and social cohesion.
Quarterly women-only security forums, specifically focused on sexual and gender-based violence concerns, were set up as a safe space for women to raise issues and propose solutions. When women requested torches to improve security at night, the project's flexible quick action fund was able to provide these, and then later install solar lights in the community, including the toilet areas where women were often sexually harassed.
Participants say this has resulted in reduced cases of sexual harassment and rape because the perpetrators no longer have a place to hide in the darkness. Men also testified that they felt safer moving at night once the solar lighting was installed.
Trust building exercises improved understanding between security organisations and the community. Monthly Community Security Partnership (CSP) meetings provided a means for issues to be discussed, including recommendations from the women-only forums. Throughout the project areas, 83.3% (10 out of 12) of recommendations from the women's forums were implemented by the CSPs.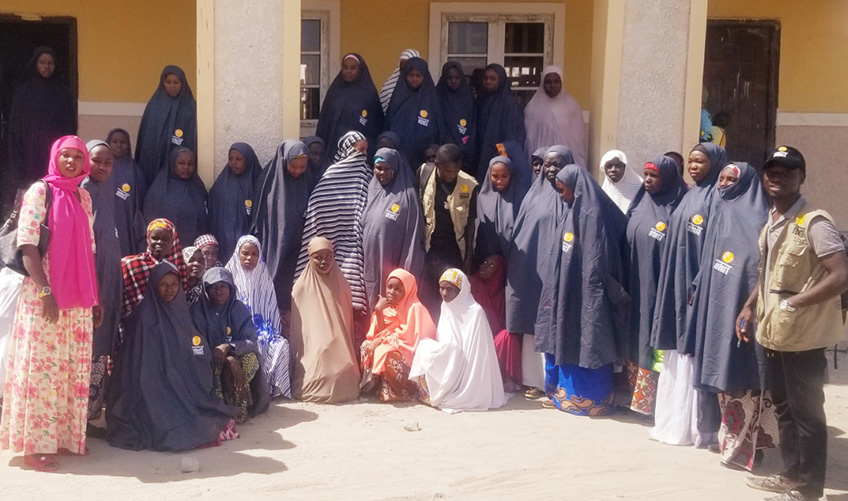 For many of the women, the training they received as part of this project has changed their lives. Here's four women's stories.
Malama: the making of a mediator
Malama Hajja was used to being treated poorly by her community because she was a widow. These days, she is a respected mediator who helps people resolve their differences.
Malama, 37, a mother of three, says previously she never saw herself as having an important role in her community.
"I am a widow and community members see us of no value because we have no husbands, and the perception is we are just prostitutes but with the little knowledge we have gained in our meetings and the few successful mediations I was able to do in the community the narratives have drastically changed."
She says the women-only security forum has improved social cohesion.
"Most times when women return from WSF sessions at least 3-4 other women visit them to find out what they discussed and if they had raised the issues they asked them to bring up. This tends to unite us more than before."
Malama is now mediating conflicts (especially marital conflicts) in her community.
"I am happy to tell you that even men call me to mediate between their wives when they have any misunderstanding, and this have given me a lot of prestige in this community."
Malama says the changes she's seen in the community and her role as a mediator has had a big impact on her life.
"To me it means everything since before now people ran away from me but now when issues arise, I am looked upon as a hope, so I am so honoured. People who didn't want me and my children associated with them or going to their houses for fear that we might negatively impact their families now have a different view of who we really are."
Yanziye's story: Making a tangible improvement
Yanziye Danbaka, 30, a mother of five, says taking part in the women's security forum provided a medium for women to speak about safety and security concerns.
"It also provided tangible solutions whenever we raise a concern. For example, the women in my community were given torches when we raised a concern of being abused at night. This has helped to reduce crime and abuse in our community."
Yanziye says previously she could not go out at night or even send her children to buy something across the street because of thieves.
"When I go myself or I send my daughter we would usually get harassed by men in the neighbourhood. I can now move freely at night without fear of being harassed by anyone. Honestly, my life and that of my family has been affected positively since the inception of Alert's peacebuilding project."
Yanziye says her trust in the authorities has improved and she is no longer afraid to approach the police.
"I felt I might get arrested or they might not believe me. Because of the trust and good relationship that Alert built between us and police we now report any issue, and it is being treated with confidentiality."
Yanziye says her new skills help her to resolve disputes within her own family as well as build their trust of people from other tribes.
"It made me understand that peace should start from the family before it will extend to the community. The radio I received from International Alert helps me to get information about what is happening in my state, and the peacebuilding programme I listen to on Dandal Kura FM is very useful to me."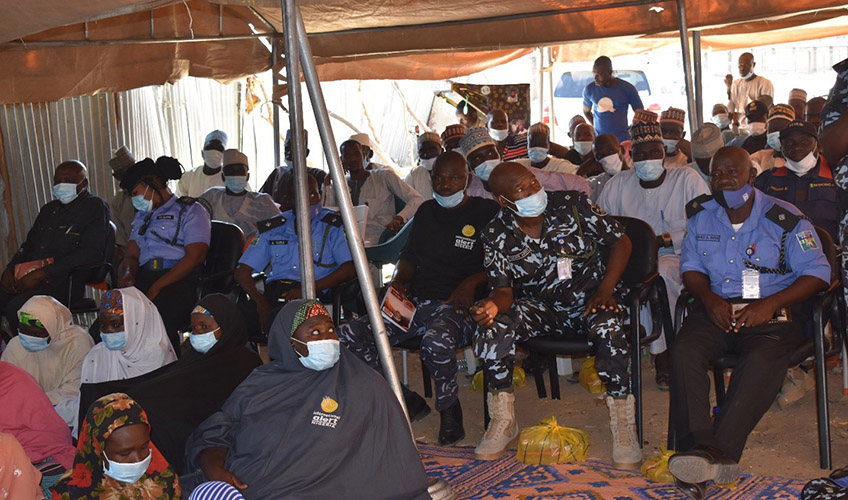 Hajara's story: a female Civilian Joint Task Force member's view
Hajara Babagana* is one of the few female members of the Civilian Joint Task Force (CJTF), a civilian security force which emerged during the insurgency in Northern Nigeria to support the Nigerian military's efforts to protect people from attack. The CJTF played a key role in supporting the Nigerian army in the fight against Boko Haram and some members are currently on the government payroll.
Women CJTF members were trained as part of the Zaman Lafiya Hakin Mu project to strengthen their skills so they could carry out their duties more effectively.
Hajara says she cherishes her conflict sensitivity knowledge. Being aware of how your activities can fuel conflict or contribute to peace has helped her to carry out her duties as a female CJTF member.
"Before International Alert came and trained us on conflict sensitivity, I always ran into trouble with people's relatives when dealing with cases … but with this knowledge of conflict sensitivity has helped me streamline how I work to avoid having conflict with people in the community. People no longer hold grudges with me because of how I operate now and many begin to trust my judgements and trust me more."
She says taking part in the women-only security forum has also made her work easier.
"For some of the issues reported to me, I report it in the meeting and collectively we proffer solutions to it. It has built trust … because some of the community members that even have conflict within them were selected in the WSF meeting and it has built the bridges for us."
*Name changed to protect her identity.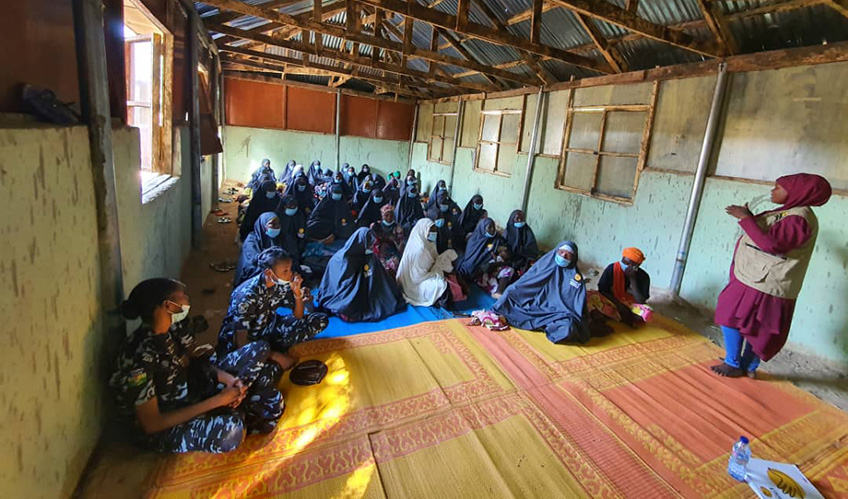 Passing on the skills
All four women say they're passing on their new knowledge to the people around them.
"We have indeed experienced so much progress and this means a lot to me, I will extend it when we go back to our villages after the conflict," says Awanziye.
Hajara is teaching conflict sensitivity skills to her fellow CJTF members and has been asked to share this knowledge with newly recruited CJTF members.
"I feel better now because I hardly run into trouble with people as regards the nature of my job and I am very happy with this."
Salama is passing on mediation skills to the women she mediates for.
"I tell them to master the qualities of a mediator and before they realize, they will start acting as one."
Yanziye says she is making judicious use of all her new skills and passing these on to people around her.
"I do make them understand that peace is our obligation, and we must all take responsibility to attain a peaceful community."
Read more about how this project has changed women's lives.
About the project
Zaman Lafiya Hakin Mu (Peace is our obligation) aimed to improve the effectiveness of security responses and protection of civilians through enhanced trust and collaboration between civilians and security forces in Borno State, Nigeria.
The project involved Nigerian police, community members, local government and other security actors including the military and civil defence corps, semi-formal vigilante groups like the Civilian Joint Task Force (CJTF), informal vigilante groups like the 'Yan Banga', as well as various community groups who conduct security functions.
The project target sites were Bama, Dikwa, Gwoza and Ngala Local Government Areas with specific focus on IDP camps and host communities.
---