Healing hidden wounds in Ukraine
The Ukrainian conflict is leaving deep scars in society. Around 10,000 people have been killed, including 3,000 civilians, and over 1.7 million have been displaced. While the physical damage inflicted is plain to see, the psychological trauma is often hidden and forgotten.
Our research found that over 30% of those internally displaced by the conflict in Ukraine suffer from posttraumatic stress disorder. Many more suffer from depression and anxiety. Yet, most who need psychiatric care do not receive it. The main reason for this is the high cost of mental health care and medicine.
Vadym, a former soldier, recalls:
I was injured in the war. When I returned home, I was very aggressive and depressed. I didn't want to see people. I started drinking and just wanted to be left alone. I even wanted to divorce my wife.
To fill this gap, we worked with the Global Initiative on Psychiatry to open three support centres in the cities of Dnipro, Lviv and Kyiv, plus six mobile centres closer to the frontline, to provide psychological and social support, as well as legal advice, to people like Vadym.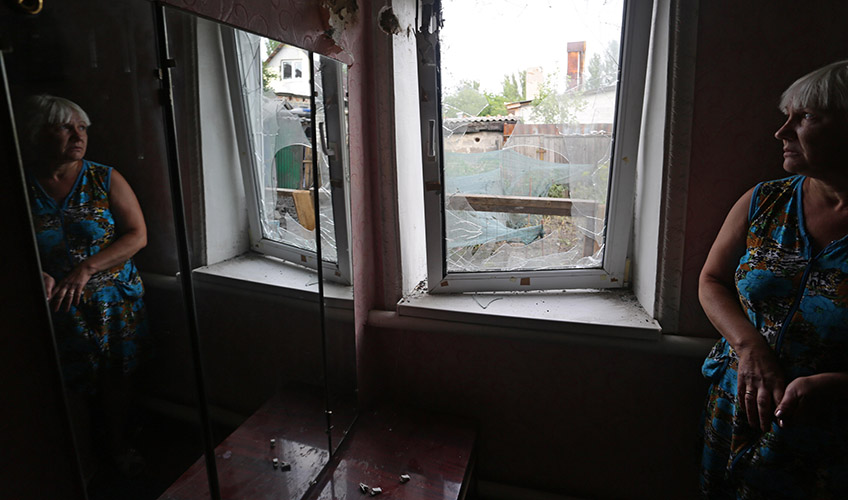 In a positive development, local authorities in the city of Mariupol are now supporting the centre there. Moreover, in Dnipro they provide the venue for the centre, while regional authorities in Dnipropetrovsk asked the Dnipro staff for advice when setting up similar centres in the province.
Children have been especially traumatised by the conflict. Many have been forced to flee their homes due to the fighting or spent weeks in their basements sheltering from shelling. Some have watched loved ones die. Others have been sexually assaulted. This has left them nervous, closed off from their family and friends, and even aggressive. To help them cope, we organised a series of 'peace education' summer camps, where they stay for two weeks in the forest, play and receive psychosocial support.
"One 14-year-old girl wouldn't talk to anyone and shrank from being touched," recalls Iryna, one of the volunteer camp leaders. "Eventually, we discovered that she lived near a checkpoint. Her mother died in the war and her grandmother didn't care for her. When she was coming home one day, a drunk soldier took her. He raped her for two days. She had never spoken about her experience; she just wore black and stayed in the house."
While the camps can't undo such horrific experiences, they can help children cope better with their emotions when they go back home, by providing a structured programme that helps build up their resilience. As Iryna explains:
We see the difference in their eyes. At the start, they don't look at you, but by the end of the two weeks, they will look you in your eyes, they are breathing normally again and you can see the tension going away.
Since 2016, we have helped run 25 peace education summer camps, attended by over 3,000 children from across Ukraine. Watch this short video to find out more about the camps.
Watch the full documentary on YouTube.
This project is run in partnership with the Global Initiative on Psychiatry and funded by the European Union.
It is part of our broader efforts in Ukraine to support grassroots civil society peace and social cohesion initiatives, and part of our global work on improving citizen–state relations in conflict-affected countries.