Ukraine
In Ukraine, we stand in solidarity with civil society and peacebuilders striving for peace. We call for an immediate ceasefire, an end to attacks on civilians, and safe routes for aid and displaced civilians. In the long-term, we still believe there is hope for ending the cycle of violence.
Any future peacebuilding in Ukraine must be inclusive and participatory, and guided by the expertise of civil society. Our guiding focus within the country has been on increasing the capacity of civil society organisations (CSOs) to contribute to social cohesion within their communities, building nationwide informal CSO networks and fostering constructive engagement with local authorities. To date, we have partnered with more than 60 CSOs. This has included helping them to implement creative and innovative initiatives, such as inclusive sports festivals with participation from veterans, internally displaced people (IDPs) and host communities in Dnipro, and producing an online social cohesion toolkit used by local organisations. We have also supported CSOs to collaborate with local authorities in addressing the needs of different community groups in a sensitive and constructive manner, ensuring all voices are heard.
The fighting within Ukraine must also not be allowed to escalate into further violence, either in the region or globally. We are continuing to connect and support a global network of local peacebuilders – in Eurasia and beyond – who are working to prevent this.  
We have been working in Ukraine since 2015, undertaking in-depth qualitative research to provide our partners, authorities and others with information about the conflict dynamics, highlighting vulnerabilities and offering recommendations. Issues have included mental health among IDPs, reintegration of former combatants, gender equality and COVID-19, conflict risks in key regions and, most recently, perceptions of peacebuilders in the context of the armed conflict in the Donbas. Until mid-February 2022, we were supporting the Ukrainian National Centre for Peacebuilding to develop a strategy to address these issues under clear Ukrainian leadership.
Country context
On 24 February 2022, Russia escalated military confrontation in Ukraine. Civilians have come under intense bombardment within many parts of the country, resulting in thousands of deaths and the exodus of millions, both internally and to neighbouring countries.
The appalling escalation of violence has intensified a pre-existing humanitarian emergency, which has affected parts of Ukraine since 2014.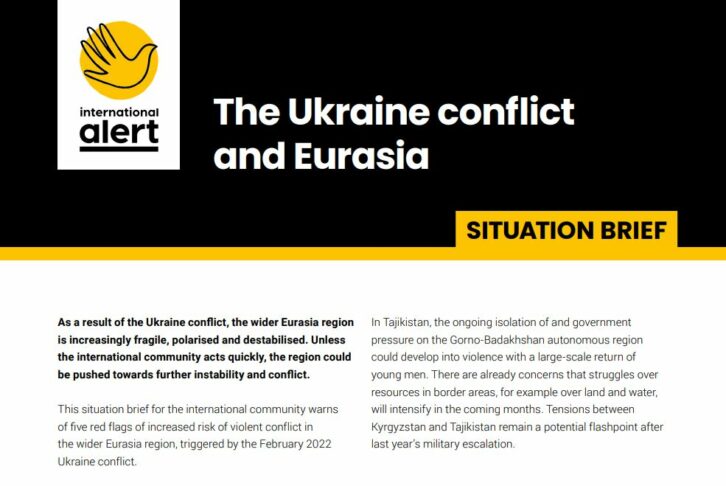 The Ukraine conflict and Eurasia – situation brief
This situation brief for the international community warns of five red flags of increased risk of violent conflict in the wider Eurasia region, triggered by the February 2022 Ukraine conflict.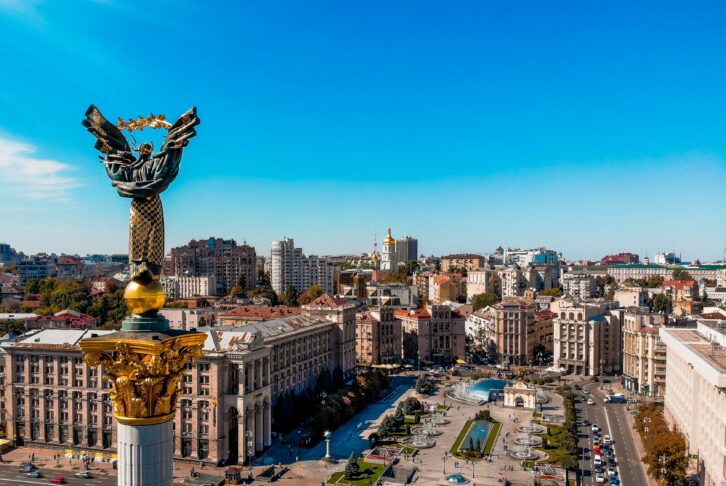 Alert statement supports ceasefire calls in Ukraine conflict
Free access for international humanitarian operations must be maintained. Solidarity is shared with civil society across the region.
Support peace today
All funds donated via our website are currently being used to support our work to prevent further conflict in the Eurasia region
Get in touch with our Ukraine team