Kenya election countdown 2022: Which way for Kenya?
Next week, Kenyans will head to the polling station to decide who will be their next governing leaders. They will be voting not just for their next President and the Members of both houses of the Parliament (National Assembly and the Senate) at the national level, but will also be voting for their County Governor and the members of the County Assembly. The elections are a momentous political event that will have a wider repercussions for the East Africa region.
Historically, elections have triggered or exacerbated violence in Kenya, resulting in loss of life, displacement, and destruction of public and private properties. The worst violence occurred in the aftermath of 2007 elections when over 1,200 people lost their lives and hundreds of thousands were internally displaced. Even though the 2013 elections were relatively peaceful, the 2017 elections saw sporadic incidents of violence and violations of human rights.
Risks facing the 9th August 2022 elections in Kenya
Ethnic identity has always been used as a tool in political processes in this East African country. The five largest ethnic groups – the Kikuyu, Luhya, Kalenjin, Luo and Kamba – make up nearly 70 percent of population. Stoked by political leaders who pit ethnic identities against each other, people often vote for candidates from their own tribe out of "fear" of someone other than their own taking office and a lack of "trust" in candidates from other ethnic groups. Political campaigns have traditionally been run along ethnic lines rather than on the basis of policy agenda. Compared to previous elections, however, there are signs of 'ethnic identity' losing some momentum as both key presidential candidates have campaigned more on economic and social issues rather than identity. Still, we should not discount the potential for manipulation of ethnic identities to influence conflict dynamics.
The overarching socio-economic conditions in the run-up to this election are alarming for peace perspectives across the country. Challenges of poverty, criminality and high youth unemployment have been further exacerbated by vulnerabilities created by the COVID-19 pandemic. As a result, while political tensions linked to elections are growing, more and more Kenyans, especially the youth, continue to experience socio-economic shocks. This combination, if not properly mediated, could precipitate political violence and/or disenfranchise a public that is apathetic towards politics. This could significantly damage already fragile citizen-state relationships and further weaken trust in democratic processes. Further disenfranchisement could leave people vulnerable to manipulation and increase the potential for violence. There are already reports pointing towards political mobilisations using criminal gangs and youth groups to intimidate voters and political opponents.
The country is also at risk of encountering election malpractices such as voter bribery, voter intimidation, and voter trafficking/transfer. Other potential threats are the misuse of security agencies such as the police and the paramilitary General Service Unit to intimidate voters as well as political opponents. Furthermore, use of social media platforms to fuel disinformation and misinformation or 'fake news' is on the rise. This may be crucial during or after the election day when political candidates might spread fake news such as allegations of vote rigging and stolen voting materials to trigger violence and sympathy to their cause.
What is being done to avert a case of post-election violence?
Deeply scarred by 2007 post-election violence, Kenyans are mobilizing to prevent and mitigate any potential election violence. There are several campaigns ongoing to educate voters, identify early warning signals and quickly mitigate any conflict risks. UNDP, in partnership with the Government of Kenya and various civil society organisations, have activated the Uwiano Platform for Peace to foster peaceful elections. Similarly, the Kenyan Private Sector Alliance is also leading the MKenya Daima initiative to inspire Kenyans towards peaceful elections.
International Alert is working with the Peace Actors Forum, an informal network of peace actors across the country, to support local peace activists and organizations to identify and mitigate potential violence and risks which might arise during and after the elections. Through our analysis and engagements with local peace actors, we have identified seven regions as potential 'hotspots' for electoral conflict, which include Nairobi (covering Nairobi, Machakos and Kajiado), South Rift (covering Nakuru, Baringo, Narok and Bomet), Nyanza (covering Kisii, Nyamira, Kisumu, Homa Bay, Siaya, Migori), North Rift (covering Nandi and Uasin Gishu), Coast (covering Mombasa, Kwale and Lamu), Western (covering Bungoma, Mount Elgon, Kanduyi) and Central (covering Nyeri, Murang'a, Kiambu and Laikipia).
The Peace Actors Forum has succeeded in ensuring continued coordination of the early warning mechanism in these seven identified regions and creating a safe platform for community conversations where people can build trust amongst each other and cross-share their analysis and learnings without fear. These safe spaces for conversations and joint coordination have resulted in locally led collaborations and partnerships to identify and address the potential risks of the violence. For example, Legend Kenya, one of the local organisations supported by our initiative and working in Nairobi County's informal settlements areas, organized Peace Walks targeting women and championing peaceful elections. The caravans were attended by communities and the security officials, providing opportunities for dialogues and engagement to strengthen relationship between the police and the public. Such positive engagements help reduce negative perceptions and create better relations and collaboration between members of the community and police.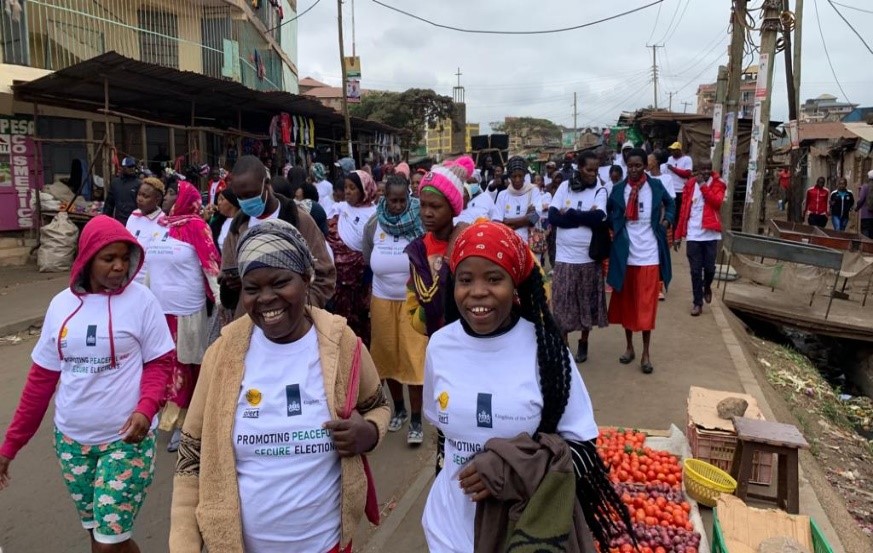 Another example is in the coastal region of Lamu County where a local youth organization, Kiyunga Youth Bunge Initiative, organized a meeting targeting young people, bicycle and motorcycle taxi (boda boda) drivers, and interfaith groups. During this period of the campaign, the youth and the boda boda operators are bribed and incited by politicians to create chaos during the political rallies. Therefore, it is critical to target young men and women to counter negative practices and make them aware of their positive roles in support of promoting peaceful elections. Such mobilisations have proven to be crucial in demonstrating that young people want to see peaceful elections. Mathenge, who leads the Youth Bunge Initiative, highlighted that in the targeted meetings they have been able to directly engage with over 1,000 youth in mobilizing for peaceful elections.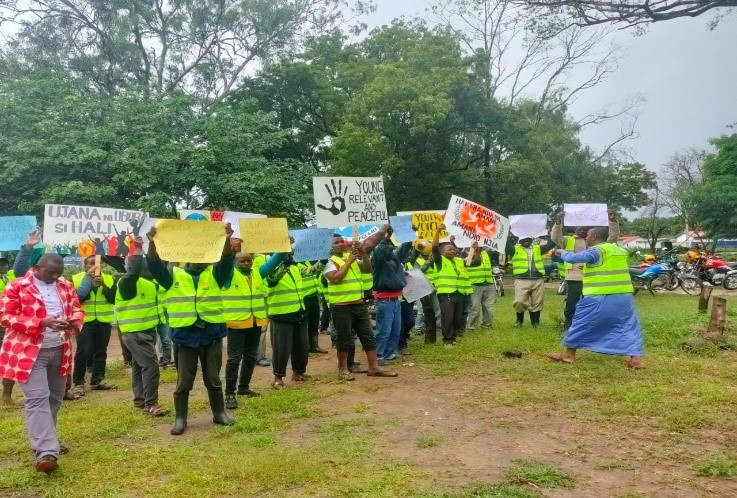 In conclusion
The successful efforts of community level peacebuilders in fostering an environment of peace is a critical part of credible electoral processes. However, it needs to be complemented with long-term structural reform of weak institutions and systems that have created the precarious socioeconomic conditions that increase the likelihood of violence around elections.
The investments being made by ordinary Kenyans to prevent elections violence show that people want peaceful and transparent governance processes. We are optimistic that collective efforts from across all sectors of society will contribute to a peaceful election and one where the outcome will be an elected administration that addresses the needs, priorities and dreams of Kenyan citizens.