Rekindling the flame of peace in Migori County, Kenya
"I cannot emphasize enough the role that peace committees have played in brokering peace in Kuria East, Migori County, Kenya. For over 10 years, we have worked with local and national security agencies to restore peace within local communities and across the border with Tanzania," says Mutatiro, the chairperson of the Kuria East Sub County Peace Committee.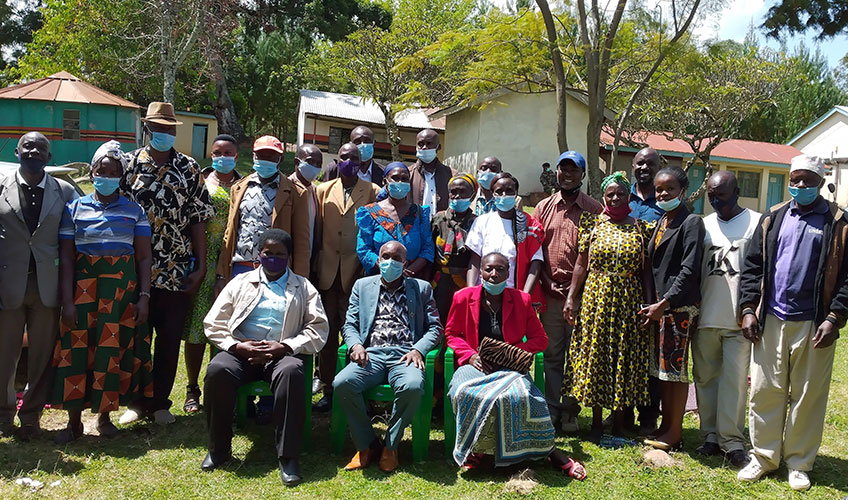 Migori County is a multi-ethnic county dominated by the Luo, Kuria, and Suba communities, while minorities include the Kisii, Maasai, and Kipsigis from neighbouring counties. Peace committees have played a vital part in building trust between these different groups and communities. The committees are made up of the County Peace Forum (CPF) and the District Peace Committees (DPCs), and together they work with existing traditional peacebuilding structures such as councils of elders, village barazas (gatherings) and National Government Administrative Officers to mitigate conflicts. It provides a platform whereby members oversee peace agreements among conflicting groups, document peace processes, and act as early warning and early response structures to conflict. However, despite the great work being done by these committees it soon emerged that they have been moribund since the culmination of 2017 elections. After the elections, donors withdrew financial support to these committees, which was channelled through the National Steering Committee on Peacebuilding and Conflict Management (NSC).
International Alert's Tusameheane Tujenge Nchi (Participatory governance for peace) Project, has been active in Migori since 2019 and covers four major sub counties – Kuria East, Kuria South, Suna East and Suna West. The project has helped to revive the County Peace Forum. New elections were held for leadership positions and support was provided so that the forum could convene once every quarter to engage with local political stakeholders to mitigate electoral and other forms of conflicts. In all four sub counties, the District Peace Committees have also been revived with the project supporting at least one monthly meeting. The capacity of the CPF and DPCs have been increased through trainings on peace policy and structures, mediation, early warning and early response to conflict, conflict analysis, exchange visits and joint meetings among other activities. The trainings have helped them to increase their ability to cross-share information on emerging conflicts, get updates on ongoing interventions and build scenarios on potential future conflicts to help mitigate it. For example, during the August 2021 CPF meeting the participants committed to 1) drafting peace charters to be signed by political candidates, 2) updating the county conflict profile and 3) building and planning a scenario on peaceful electioneering.
I want to thank Mr. Castro Baraza from PeaceNet, through Alert's Tusameheane Tujenge Nchi Project, who has been instrumental in reviving our peace committees. We have been supported by the programme with capacity trainings and to hold peace meetings across the region. Despite financial constraints, I have vowed to continue championing for peace whether we have resources or not.

– Mutatiro, the chairperson of the Kuria East Sub County Peace Committee.
According to the Deputy County Commissioner Kuria East Sub County, "the county faces many conflict issues including livestock theft, illegal female circumcision ceremonies, violent crimes using illegal firearms which are considered a source of livelihood, drug trafficking across the Kenya-Tanzanian border, clan conflicts, and ethnic differences which manifest during electioneering periods. It has become almost impossible to dissuade people from these practices despite various efforts from the peace actors and government agencies."
It is the peace committees that have been on the fore front in negotiating peace agreements between communities to resolve these conflicts. As peace committees, we have carried out disarmament campaigns and recovered 16 illegal firearms across the region which have been surrendered to the police, one of which is an M16 gun.

– Mutatiro, the chairperson of the Kuria East Sub County Peace Committee.
Mutatiro goes on to say, "we have also mediated in a famous land dispute between the Maasai and Kuria, which has resulted in a lot of bloodshed in the past but currently both communities are sharing the land peacefully. We have also held stock theft recovery campaigns and many cattle have been recovered and returned to the owners."
International Alert has been instrumental in transforming communities affected by conflict to break cycles of violence into peaceful patterns of coexistence. Our project uses a mix of people-to-people dialogue forums, capacity building workshops and tailored trainings based on needs assessment, all of which contribute to the consolidation of a peaceful and inclusive Kenyan society. The CPF and DPCs have been transformed into early warning conflict response hubs, which has lead to not only better information sharing but also better coordinated responses to address and deal with stock theft and other forms of conflict peacefully. CPF and DPC members are now well-equipped and supported to carry out cross border peace engagements with Narok county (Kuria /Maasai) and across the border with Tanzania.