16 days of activism: highlighting gender-based violence
2021 marks 30 years of the annual global 16 days of activism campaign which calls for the elimination of all forms of gender-based violence against women.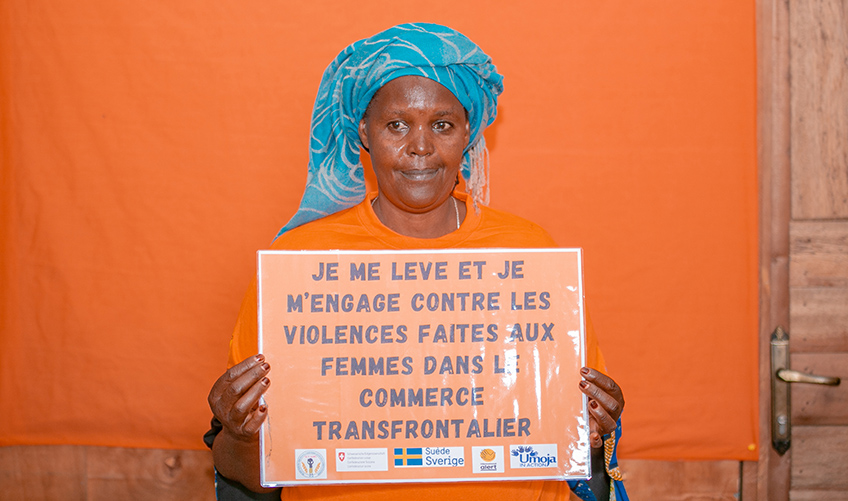 International Alert is one of many organisations involved in the campaign that runs from the International Day Against Violence Against Women on November 25 until International Human Rights Day on December 10. Coordinated by the Center for Women's Global Leadership, the 16 Days campaign provides a platform to highlight issues and strengthen work around gender-based violence at a local, national and global level.
"Over 30 years the 16 days of activism campaign has played a big role in putting sexual and gender- based violence on the global agenda," says Ndeye Sow, Alert's head of Gender and Peacebuilding.
"We've seen some progress with many governments bringing in legislation, often in response to pressure from donors, although it's important to acknowledge that women human rights defenders play a significant role in this at both the local and global level. However, it's the implementation of this legislation that counts. For too many victims of sexual and gender based violence (SGBV) the road to justice remains closed no matter what the laws in their country might be."
Taboos based on patriarchal gender norms prevent women from seeking justice.
"A woman may hide the fact that she has been raped because if her husband finds out he'll kick her out or the community will see it as shameful. Even if a woman wants to go to court, the legal process is difficult and expensive. A woman raped when working alone in her field doesn't have option of seeking justice and her community will tell her 'don't bring shame on us'. In other parts of the world, honour killings are still going on."
Ndeye says the current situation in Ethiopia shows the issues clearly, as she pointed out in a recent op-ed for Aljazeera.
How to address the sexual violence epidemic in Ethiopia?

International Alert in @AJEnglish: https://t.co/8r3JkdcNVI#16Days pic.twitter.com/zX482onWTl

— International Alert (@intalert) December 9, 2021
"You cannot separate sexual violence taking part during so called peace time and that taking place in conflict time – it is linked. Women are raped during war time because they are raped in peace time. It is exacerbated during war because it is used as a weapon of war. It is linked to equal gender relations, to the subordination of women in society, to patriarchal norms and values that are discriminatory. That is the bottom line. To eradicate SGBV, we need look at the root causes of it."
In the final days of this year's 16 days campaign, the United Nations issued a gender alert over Afghanistan, citing the concerning and rapid shift to normalizing discriminatory gender norms and curtailment of Afghan women and girls' fundamental rights and freedoms. It prompted this statement from Alert's Eurasia regional director Irina Ulmasova-Olive.
This week, the @UN produced new evidence showing that girls in #Afghanistan continue to be shut out of school.

Read our full statement here: https://t.co/JOvjQWfKA4#Gender #Education #Equality pic.twitter.com/mnzmNkXJ4E

— International Alert (@intalert) December 12, 2021
Among the calls for international pressure on the Taliban to guarantee girls' right to education was a speech to the UN Security Council on 9 September by Pakistani activist and UN messenger of peace, Malala Yousafzai.
"Malala's words are very powerful and her recommendations to the Security Council are clear and concrete," says Ndeye. "The Taliban must uphold girls' rights to an education in accordance with international conventions. Alert is saying the same thing."
While the 16 days of activism is a global campaign, Ndeye says it provides a key platform for raising issues at the local level.
"Look at our programme in the Democratic Republic of Congo (DRC) for example, where we partner with women's rights organisations and North and South Kivu for this campaign. It gives them a platform to raise local issues. That is for me the value and importance of this campaign."   
Read more about Alert's 16 days campaign in the DRC
Another example comes from Alert's work in Borno State, northern Nigeria, where women living in host communities and camps for internally displaced people (IDPs) acquired skills and understanding on gender and conflict sensitivity, mediation and facilitation as part of the Zaman Lafiya Hakin Mu (Peace is our obligation) project. This resulted in them being able to better analyse situations and created a safe space for the direct involvement of women in resolving security concerns.
"These women are being empowered, that is the first thing. Organisations like Alert can only support people who are going to make the changes – at the end of the day the changes will come from them. It is these women who can change attitudes in their household, in their community. Our role is empower local communities to make their own changes."
Training women in gender and conflict sensitivity, and involving them in security concerns, leads to tangible improvements in safety for the whole community, an @intalert project in Nigeria has found. #16days #orangetheworldhttps://t.co/B47X9DdzZc

— International Alert (@intalert) December 4, 2021
Read more about Alert's work in Nigeria
Ndeye says eliminating SGBV is sensitive issue and a long term process.
"At least now we can go into these communities, we can have the conversation about it even if it's not going to change overnight. These are such entrenched issues, there are no quick fixes. We are talking about social transformation – transforming values, behaviours and shifting power," Ndeye says. "Every year during the 16 days campaign we see the same issues being raised but we are seeing some progress."