16 Days of Activism in the DRC: International Alert's contribution
'I stand up and take action against violence against women in cross-border trade' is the theme developed by International Alert's Mupaka Shamba Letu (MSL) project during the 16 Days of Activism against violence against women and girls from November 25 to December 10, 2021.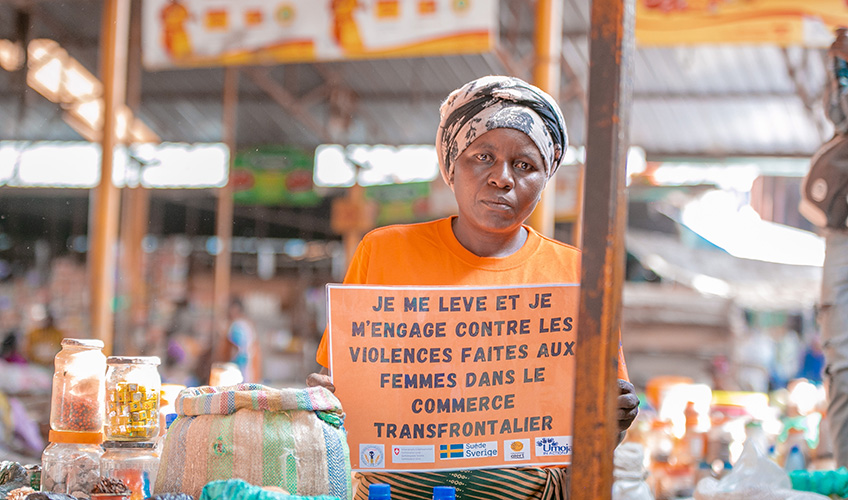 The MSL project communication team took the opportunity to give a voice to people involved in the cross-border trade sector in the Great Lakes region of Africa. To do this, one post per day was published on the MSL project's Twitter and Facebook throughout the 16 Days of Activism for the elimination of violence against women and girls campaign.
Taking part in the campaign were women small-scale cross-border traders from the Virunga, Alanine, Birere and Kahembe markets, as well as leaders of cross-border traders' associations, civil society implementing partner organizations (FVA, AFRABU, SOFIBEF, GEL, UMOJA IN ACTION, CEIJP, Collectif Alpha Ujuvi), border officials, the Gender, Family and Children's Division, the press, and staff from Alert Rwanda and the DRC.
All of these people unanimously vowed to send a message to their communities and fellow traders to have the power to make their voices heard by decision-makers for change in cross-border trade.
Short videos produced by the team explain how our work accompanies women to come together across geographical differences and divisions and to fight against the marginalization and violence they face in their daily lives.
In collaboration with the associations of cross-border traders with whom we work, we sensitized the public to the need to end harassment and violence at the border.
The key message was printed on the banners that were placed at all the main border posts of Goma including the small barrier, the large barrier, the cross-border market of Kahembe, Alanine market as well as traffic circles and major traffic points for maximum visibility in the city of Goma and surroundings.
"It should be recognised that violence against women, based on gender, constitutes a major obstacle for women and their businesses, but also for their rights," Alert gender specialist Gloriosa Bazigaga says.
It's important that everyone engages with this issue and stands up against gender-based violence, and to promote freedom and the well-being of women who engage in cross-border trading.
Many women small-scale cross-border traders in the Great Lakes region suffer daily from sexual and gender-based violence.
They are often the sole breadwinners of their families and are under enormous pressure at home; during difficult economic times, there are reports of violence against traders if they are unable to provide goods for their families.
At the border, levels of physical and psychological harassment are high, with border officials in some areas taking advantage of a weak judicial system and little surveillance at the border.
Illiteracy levels among these women are high, making them even more vulnerable to manipulation as they are unaware of all their rights as citizens and can be easily manipulated and deceived by others.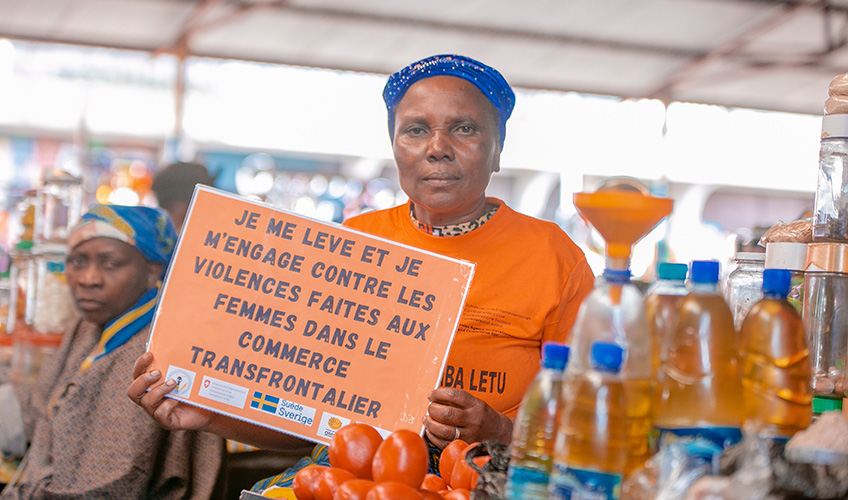 In the societies from which many of these women come, very restrictive and traditional perceptions of the role of women in the home prevail; women who go out to earn a living each day are often looked down upon or not better regarded by our societies.
Through the Mupaka Shamba Letu project, Alert and its partners are working to combat this phenomenon by supporting women petty traders in developing their businesses, working with their families and husbands to change harmful social norms at home and in the community, and supporting these courageous traders to become ambassadors of peace and regional cooperation for the benefit of all through the business for peace approach.
Mupaka Shamba Letu is funded by the Embassy of Sweden and the Swiss Development Cooperation.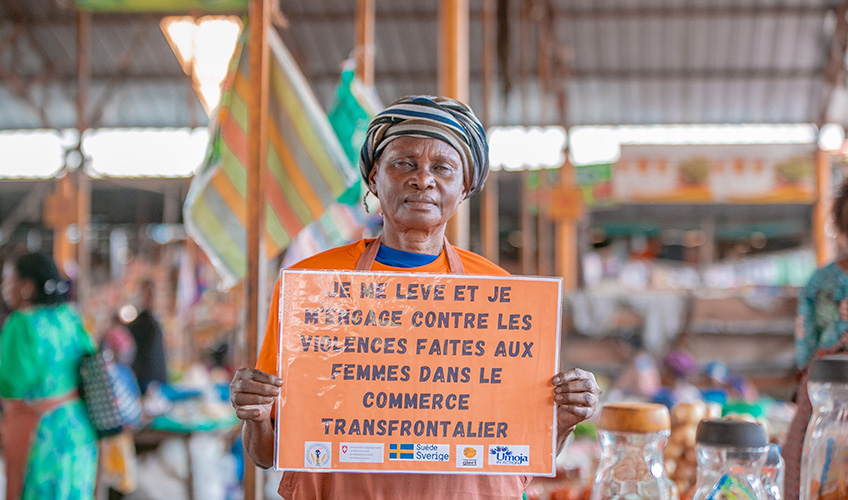 Read more about Alert and the global 16 Days of Activism campaign