They now share beers: Evariste's story
The devastating consequences of the Rwandan genocide against the Tutsi, which led to the deaths of over 1 million people, has left deep scars in Rwandan society.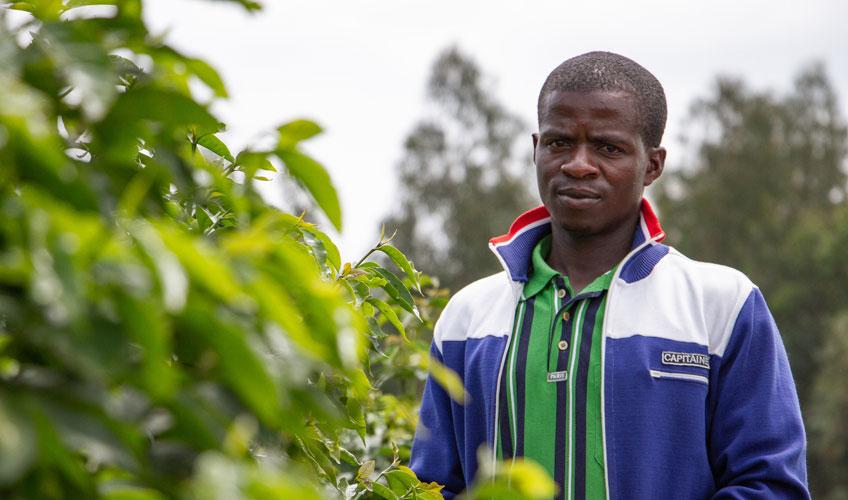 Working with survivors, ex-prisoners and ex-combatants of the Rwanda genocide, helping them to rebuild their lives together, showed that the trauma and narratives of the genocide were being transferred to the next generation. For some young people the trauma comes from the guilt of what their parents did. Others struggle with the grief of what happened to their family.
"I was frightened to approach people before because of my background. When a Tutsi family looked at me, without knowing me, they assumed I was a bad person because of my heritage," Evariste, son of an ex-prisoner tells us.
International Alert started to work with young people. With local partners, we ran peace clubs in communities and schools to address the psychosocial wounds caused by transgenerational trauma. The peace clubs provide a space for healing through dialogue and exchange – helping to improve social cohesion and prevent further violent conflict.
"I think the future of this country is great. The peace clubs helped us develop new skills and change the way we look at things. The club connected us to people we wouldn't have spoken to in the past. There was a lot that we shared, which brought us closer and we are all still in touch with each other," says Evariste.
"I joined the club by accident"
When we first met Evariste three years ago, he was the president of the peace club at his school – dealing with his father's actions and preparing to enter adult life determined to build a better future.
"I was in fifth grade of primary when I had to drop out of school because my father was in jail. When my dad came out of prison and was doing community service, I went back to school. That is when I joined the peace club … by accident.
My friend told me that the club had given him the responsibility of staging a play and asked, "can you help me with this?" But when he told me that the play was about reconciliation I didn't want to work on it, because of my family background I did not want to talk about these issues."
My friend continued telling me that I should be part of the club – I was very hesitant but after I joined, I realised I should have been part of it all along. What they were telling us in the club really touched me in my heart and my family.
Continuing to do peacebuilding
We went back to catch up with Evariste on the 25th anniversary of the genocide, to find out what lasting effect the peace club had on him.
When I finished high school, I continued working with the club but not as closely as before. I began training people in social cohesion based on the skills I picked up from the peace club.
"Recently, I did some training with Never Again Rwanda, which has some youth clubs. It made me want to re-energise the clubs here. I have also been training vulnerable groups that Concern Worldwide are supporting."
During the project, the number of peace clubs almost doubled because graduates from the schools replicated the approach and created new clubs by themselves in another 18 villages. This created more spaces for exchange between people affected by the genocide and helping to build bridges.
"Personally, because of who I became after joining the peace club, I changed my family. My father went to jail but he has completely changed because I changed him. For example, most of my friends are survivors or people from survivor families – my parents get to spend time with them when they come to see me. I think the way you live your life can change others, even if you don't talk much. I think my lifestyle has changed my family too."
"Every person is equal"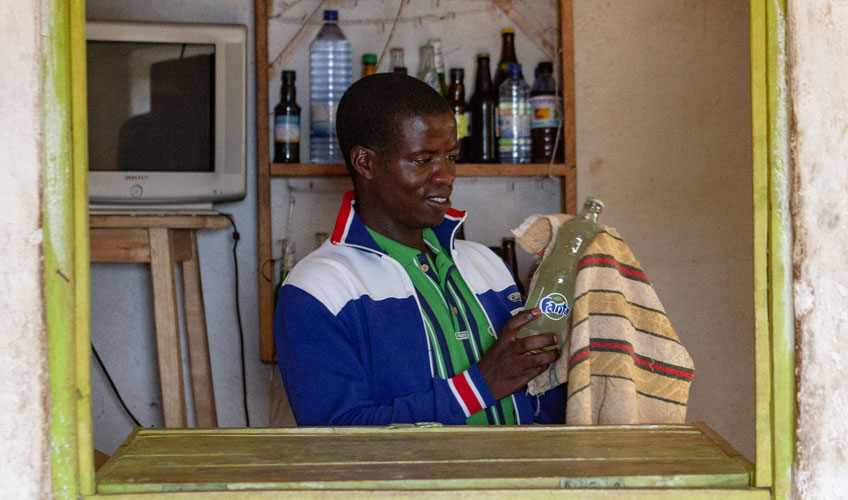 "When I look at my parents and their generation, I would say they had a lot of negative anger. Anger which I don't feel and do not want to continue.
Things have changed. I remember when we first joined the peace club, people would not talk to each other because of the past. But now I see they are good friends. That shows the power of these dialogues to transform us, this is the future of the country. I can also see it at the bar I now have. Initially, people would not even share a beer, but now I look at them and I can see how they share. That for me is a sign that the future is great."
From his experience and his time with the peace club, Evariste's shares his advice to others, "do not be ignorant about your history and what has happened. If you are ignorant, you will always be biased in the way that you look at things, and so you would not be able to move forward. I would tell them to take their time to think, question and analyse, and make your own personal decisions. Personal healing is also important. Nobody should decide that for you, it is you who decides on your own healing process."
I think for me the biggest lesson has been to live with everyone without discrimination. There will always be some kind of conflict, but once you appreciate that every person is equal, then living with everyone in a society becomes easier.
Explore more stories to see how our work has helped to rebuild lives in Rwanda.
About the project
The Duhuze project helps to consolidate peace and inclusion in Rwandan society by enhancing citizens' participation in and ownership of reconciliation processes, policies and programmes. This includes enhancing psychosocial support for young people affected by transgenerational trauma and improving trust among marginalised groups through inclusive dialogue processes and joint economic initiatives.
It also aims to strengthen the capacities of authorities, civil society organisations and companies to effectively implement reconciliation and build peace.
The project is being carried out in 1,260 communities from 21 sectors across seven districts: Gasabo, Gisagara, Huye, Musanze, Ngororero, Nyamagabe and Rubavu.
Alert works on this project with the following local partners: Association des Jeunes pour la Promotion des Droits de l'Homme (AJPRODHO) and Rwandan Association of Trauma Counsellors (ARCT – Ruhuka).