Peacebuilding from within: Community facilitators empowered to promote social cohesion
The Kansi sector in Rwanda has seen a lot of success stories about forgiveness, healing of survivors and reintegration of ex-prisoners in Gisagara district. This has been thanks to the Duhuze project and the community facilitators that are part of it, most notably Anothiata Nyirashirambere, who has been exceptional in doing her work as a facilitator.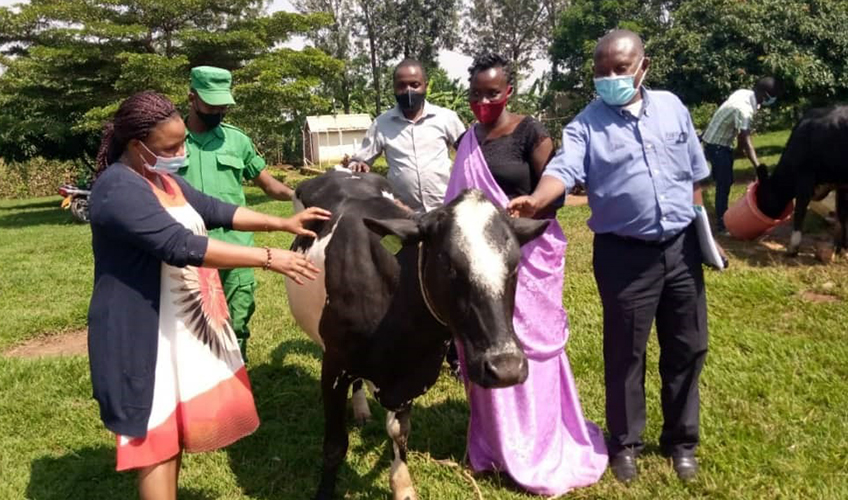 Anothiata is a survivor of the genocide against the Tutsi and was helped by the Duhuze Rwanda project to heal and come to terms with her wounds and deal with the loss of her parents and brothers during the genocide. She also attended trainings and workshops run by the project which included sessions on conflict transformation, psychosocial and trauma counselling and dialogue facilitation. These sessions developed the resilience and motivation within her and allowed Anothiata to help her community to work together and live in harmony.
"My passion for reconciliation was developed when we were engaged by the Duhuze project. At first, I personally couldn't think about meeting and sharing my thoughts with those who killed our people. My heart was always heavy but my interaction with the Duhuze project helped me to overcome this and I developed a desire to help others. Fortunately this was also true of others and we have got several cases of unity and reconciliation among people in our community."
It not only gives me pleasure to see people who couldn't meet and talk now sharing everything including parties, but it also reinforces that reconciliation is possible if everyone is willing to come together and talk.
"This is what we are dealing with as community facilitators under Duhuze."
Anothiata continues to use the skills she developed through the Duhuze project to help others. A perfect example of this is when Anothiata helped a survivor heal from her trauma and psychosocial wounds through individual counselling and group therapy. This helped the survivor to not only forgive the perpetrator that killed members of her family but also led to her giving him a free plot of land where Duhuze project beneficiaries came together to build a house for him after he returned from prison to help them all reconcile and rebuild as a community.
Having set a very good precedence in promoting peace within her community, in March 2021 Anothiata was awarded with a cow by the district's Vice Mayor in recognition of what she and Duhuze project have achieved in making reconciliation and reintegration a reality in Kansi sector.
"Today we recognise this great lady for the work she has done. Achieving reconciliation is a process but we all know that these people (Duhuze project) have achieved a lot in as little time as possible, not only in Kansi sector but also in Gikonko and Kibilizi sectors. We will need to take these practices to other sectors and cover the entire district. As district today we are celebrating the success in Kansi and we have recognised this lady with a cow (a symbol of wealth and respect) to motivate other young people to follow her footsteps."
The Vice Mayor stressed that Gisagara district is one of the areas that were heavily affected by the genocide against the Tutsi and having such a project helping people to unite and reconcile is a blessing and that by working together the community can achieve a lot.
---
About the project
The Duhuze project helps to consolidate peace and inclusion in Rwandan society by enhancing citizens' participation in and ownership of reconciliation processes, policies and programmes. This includes enhancing psychosocial support for young people affected by transgenerational trauma and improving trust among marginalised groups through inclusive dialogue processes and joint economic initiatives.
It also aims to strengthen the capacities of authorities, civil society organisations and companies to effectively implement reconciliation and build peace.
We would like to thank our partners, Association des Jeunes pour la Promotion des Droits de l'Homme (AJPRODHO) and Rwandan Association of Trauma Counsellors (ARCT – Ruhuka).