Keepers of the pact: Josephine's story
Josephine survived the Rwandan genocide against the Tutsi in 1994, where more than one million people were killed. However, she lost all her children, her husband and two of her brothers.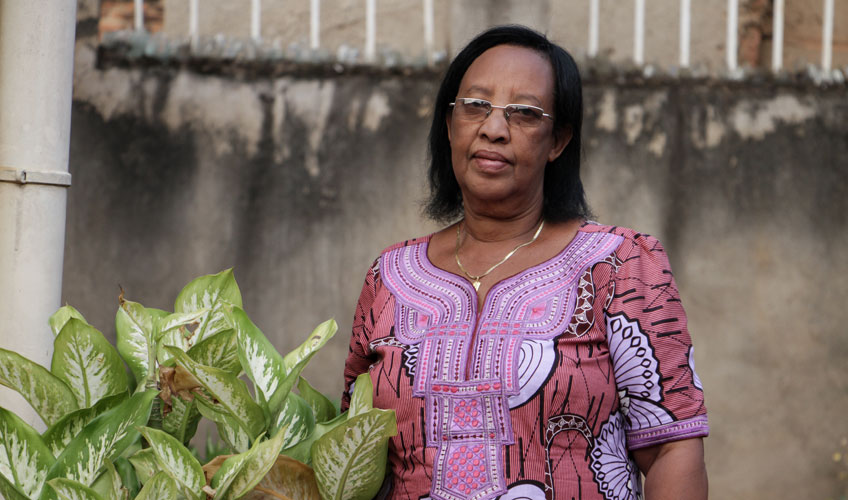 The genocide had a devastating effect on Rwanda, it wiped out economic and political institutions, challenged social constructs, ruined relationships and affected social cohesion. In its aftermath, survivors and perpetrators of the violence had to live side by side again, in some cases, without dealing with what had happened, leading to more trauma and mistrust, hindering reconciliation and genuine healing.
Within this backdrop International Alert's reconciliation work brought together genocide survivors, former combatants, ex-prisoners and young people to help them build peace, help communities to move forward and rebuild their lives together, and avoid the risk of renewed conflict. We did this by using a unique model based on a three-tier approach – providing trauma counselling to help the survivors deal with their trauma and express and mitigate their suffering, establishing dialogue clubs – a safe spaces for the different groups to come together to talk, bridge differences and heal wounds, and finally giving them access to microfinance so they can work together to alleviate poverty.
"I was able to benefit from trauma counselling and dialogue clubs, I benefited from the trainings that were being given and I am still using those skills today. This project helped me to approach those who I wouldn't dare to do so before."
Trauma counselling specifically helped me to heal because I could share my own story and the stories of my loved ones who perished.
"The dialogue clubs offer the opportunity to reflect with others, connect with them and for me it has been an interesting journey," says Josephine.
"Keeper of the pact"
Over 800 dialogue groups and 200 therapy groups have been established through the current project, helping over 26,000 people (a mix of genocide survivors, former combatants, ex-prisoners and young people) to identify common ground to live and work together, and learn how to resolve conflicts peacefully.
Josephine has been so inspired by her engagement with the project that using the newly acquired skills she developed through the club, she is now helping others in her community.
"I continue to be engaged and active in peacebuilding work in my community even today. Joining the dialogue clubs some years back gave me a new beginning, recently I was nominated as a 'keeper of the pact' at the national level. A keeper of the pact is someone who after the genocide, whether they were targeted or not during it, actively gets involved in reconciliation and peacebuilding work in their community."
I am still committed to building peace and I will continue to do so until my death.
Inherited trauma
Twenty-five years after the genocide, Rwanda has made great strides toward rebuilding the country and Josephine demonstrates how our reconciliation work is having a positive impact on those that were directly affected by the genocide. Her advice to others trying to come to terms with what happened is:
Be strong and seek help, especially counselling. I would let them understand that by taking certain steps in life they can help themselves begin to heal.
She also highlights the need to continue working with young people and shares some advice for them too:
"The young ones have been impacted seriously because they inherited a situation they never had any role in. The youth in Rwanda have a role to create change and make sure that what happened never happens again. But we should be mindful that some have inherited the trauma from their parents or what happened to their loved ones and therefore its our responsibility to help them heal and move forward. I would say to the young ones that they are the future and their actions are critical in shaping this country."
This is why International Alert runs peace clubs in communities and schools with young people to provide them with a space for healing through dialogue – helping to build trust, provide psychosocial support and build a better future together.
Explore more stories to see how our work has helped to rebuild lives in Rwanda.
About the project
The Duhuze project helps to consolidate peace and inclusion in Rwandan society by enhancing citizens' participation in and ownership of reconciliation processes, policies and programmes. This includes enhancing psychosocial support for young people affected by transgenerational trauma and improving trust among marginalised groups through inclusive dialogue processes and joint economic initiatives.
It also aims to strengthen the capacities of authorities, civil society organisations and companies to effectively implement reconciliation and build peace.
The project is being carried out in 1,260 communities from 21 sectors across seven districts: Gasabo, Gisagara, Huye, Musanze, Ngororero, Nyamagabe and Rubavu.
Alert works on this project with the following local partners: Association des Jeunes pour la Promotion des Droits de l'Homme (AJPRODHO) and Rwandan Association of Trauma Counsellors (ARCT – Ruhuka).