Furthering conflict-sensitive economic governance
Last month, International Alert lent its expertise to the Mindanao Peacebuilding Institute (MPI) by handling a five-day course on conflict-sensitive economic governance (CSEG).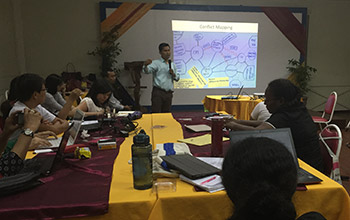 This was the second year running that Alert delivered the module for MPI, a training and research institute based in Davao City in the southern Philippines.
The course, which was held in Davao City from 1–5 June, was organised as part of MPI's annual training for peace workers. Participants came from Afghanistan, Bangladesh, the Democratic Republic of Congo, India, Indonesia, Myanmar, the Philippines, the Solomon Islands, Timor-Leste, the UK and the US.
The course covered a range of topics, including: CSEG, institutional multiplicity (the ability of individuals to adapt to or work within different sets of rules), political settlements, social contracts, conflict dynamics, conflict mapping, social movements, and communication strategies and narratives. On the final day of the course, participants presented their projects that apply CSEG principles on existing or latent conflicts (pictured above and below).
MPI's annual three-week peacebuilding training is designed as a space for peace workers to meet, bond and enhance their skills. This year's event was held in the Mergrande Ocean Resort from 18 May to 5 June, with facilitators and participants attending from around the world.
"We share the MPI's commitment to build institutions and capacitate individuals who can contribute towards making a peaceful and just society," said Nikki Philline C. de la Rosa, Alert Philippines Deputy Country Manager and lead facilitator of the CSEG course. "The annual training also allows us to share a political economy and historical-institutional approach to conflict – and to building peace – that takes cognisance of the multiplicity of institutions, interests and political settlements forged by politico-economic actors."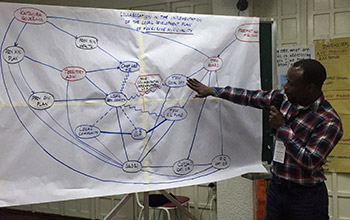 Alert's CSEG course was designed to equip peace and development workers, private sector and government workers, teachers and students with skills on CSEG, a framework for making economic decisions that take into account the people or parties that will be affected and the conflicts that may be aggravated or created. It is particularly suited for those coming from states in transition, where the economic and social change can trigger conflicts.
Most of the 16 participants work in the area of peace and development, holding middle or top managerial positions in government and non-governmental organisations.
"We had a good mix of students this year," de la Rosa said. "That many of them are influencers in their organisations made us excited they would be able to drive change in their respective countries."
The other Alert facilitators were: Francisco Lara, Jr., Philippines Country Manager; Ever Abasolo, Methodology Specialist; Ruel Punongbayan, Senior Programme Officer; Kloe Carvajal, Corporate Engagement Officer and Monitoring and Evaluation Coordinator; Judy Gulane, Communications Specialist; and Eddie Quitoriano, Independent Consultant.
You can find out more about our work in the Philippines here.