Friends reunited: How dialogue is reuniting people in Rwanda
"Everything suddenly changed. It was like we were not friends anymore," recalls Primitive.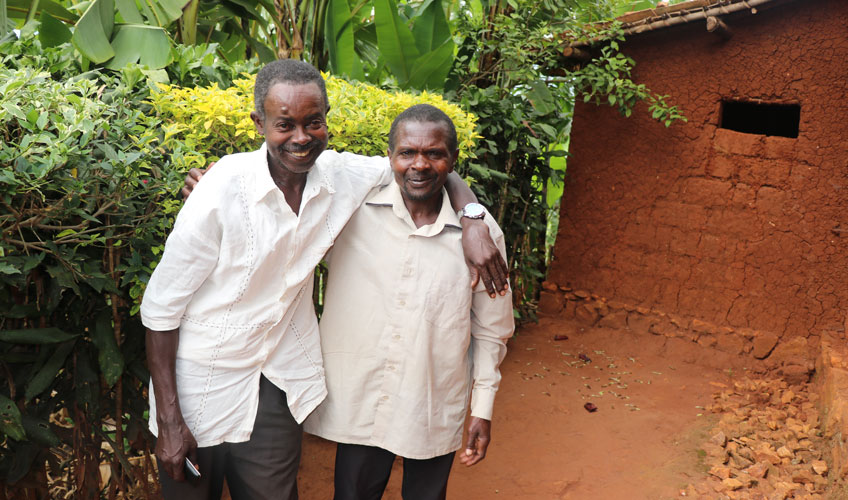 Primitive, 59, and Pascal, 61, were childhood best friends. Growing up together in rural Rwanda, they shared everything. However, everything changed in 1994 when the country was engulfed by a catastrophic genocide perpetrated against the Tutsi. Years of friendship came to an end as the killings started – Pascal took part in the genocide while Primitive fought to survive it.
During the genocide Pascal turned up at Primitive's home with a group of Interahamwe militias, took away his children and participated in their murder. It was a sudden change in personality and behavior that Primitive says he still struggles to understand it.
"I felt disgusted. I could not understand why anyone would do anything like that," says Primitive.
Pascal's actions robbed his childhood friend of two beloved children among the five that he would lose during the genocide.
During the Gacaca court process Primitive testified against Pascal, who was ultimately jailed for his role in the genocide. Pascal felt that he deserved to be punished for what he had done and during Gacaca, he took the step of asking Primitive to forgive him.
After serving his sentence, Pascal returned to his home village where he had no other alternative but to live side by side with Primitive again. Not wanting to constantly come face to face with his children's killer, Primitive moved his family to another area.
"I felt surrounded by enemies and did not feel safe. Because of that, I decided that it was probably best for me to relocate," says Primitive.
Importance of dialogue
When International Alert started implementing the Duhuze project in Rwanda, Primitive came to one of the dialogue group sessions. He said he felt isolated and was in search of a platform through which to express his feelings and share his story with others.
I didn't want to keep going to the bars. I wanted somewhere safe, somewhere where I could freely share my story and have a chat with people for the better.
"I realised after a few sessions that this was a good place not only for me but for others too, including Pascal. This is why I asked members of our group to visit and invite him," he says.
Perhaps unsurprisingly, Pascal found the invitation hard to accept. He had been told that Primitive was a regular to the dialogue club and therefore was unsure of how he would be received. But following several requests by the group chairperson, he submitted and attended a session.
"Naturally, I was very afraid to see Primi (as they call him), but he welcomed me warmly and made me feel at home," remembers Pascal before adding:
The dialogue group has mended, rebuilt and strengthened our relationship … We may not change the past, but we can change our future.
"Even when his daughter was getting married, I contributed and he accepted the contribution," Pascal says.
Primitive who seemed so happy about the situation said: "dialogue has brought us together again. It has built our confidence and trust. I have met children whose parents are in jail because of my testimony, and they understand my situation. The good news is that unlike before, we can now talk."
Primitive has decided to forfeit the compensation that he was due from Pascal for damage to his property and the harm caused during the genocide.
Pascal told us he hopes that one day there will be some way to show Primitive his appreciation for forgiving him and accepting him back. According to the village chief, since joining the dialogue club, the two have become more like brothers again:
I see these two as a good lesson for others in the future. They have made significant steps towards their reconciliation and this has impacted their families.
About the project
This Duhuze project helps to consolidate peace and inclusion in Rwandan society by enhancing citizens' participation in and ownership of reconciliation processes, policies and programmes. This includes enhancing psychosocial support for young people affected by transgenerational trauma and improving trust among marginalised groups through inclusive dialogue processes and joint economic initiatives.
It also aims to strengthen the capacities of authorities, civil society organisations and companies to effectively implement reconciliation and build peace.
The project is being carried out in 1,260 communities from 21 sectors across seven districts: Gasabo, Gisagara, Huye, Musanze, Ngororero, Nyamagabe and Rubavu.
Alert works on this project with the following local partners: Association des Jeunes pour la Promotion des Droits de l'Homme (AJPRODHO) and Rwandan Association of Trauma Counsellors (ARCT – Ruhuka).