A football team to bridge divides: Dorothee's story
"Before joining the peace club I was extremely bitter about the people who put my father in jail. But after joining I came to understand why it happened. We ended up being friends, even with those people whom I had previously considered as enemies," says Dorothee, the daughter of an ex-combatant.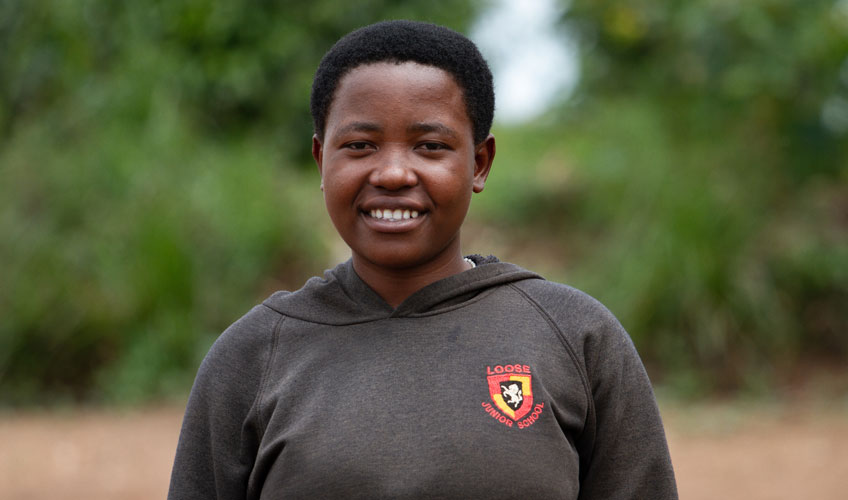 Dorothee is 28, old enough to remember the aftermath of the genocide that tore through Rwanda in 1994, leading to the death of more than one million people.
The 100-day genocide against the Tutsi heavily impacted Dorothee's life. She was 16 when her father was sent to prison to serve time for his crimes during the genocide. With older siblings married, she helped her mother on their farm and would regularly take food to her father in prison, which meant she sometimes had to miss school. Dorothee persevered and managed to finish school by the age of 23. Her father died in prison in 2012.
The genocide's devastating consequences reverberate across generations: it challenged social constructs, affected relationships and social cohesion. Young people like Dorothee grew up with the legacy of the genocide, inheriting the trauma or guilt of their parents. For Rwanda to truly heal, it needed to address the psychosocial wounds and transgenerational trauma of its youth.
This is why International Alert began running peace clubs in communities and schools with young people to provide them with a space for healing through dialogue – helping to build trust, provide psychosocial support and build a peaceful future together.
As a student, Dorothee attended one of Alert's peace clubs in her school. We caught up with her again this year to see how life had changed for her over the past five years, and what she thinks about the future of her country, 25 years after the genocide.
"Being educated gives me confidence"
"When I joined the club I became a completely different person… When I compare myself now and to then, I am in a much better position now. My life has changed a lot for the better. I finished high school and am thinking of going to university. I want to study laboratory sciences, I have been doing some internships which has given me some skills and passion to work in a lab," she told us.
The peace club have given Dorothee the confidence to challenge some of the views of the older generation:
I took the initiative to try and change, not only my family but also my neighbours, to have them reflect on what they did which was horrible.
"The club helped me have the confidence to talk to my family and people from the neighbourhood. Being educated also gives me confidence to speak to them, and they listen to me because I have been to school."
"I can't say they have completely changed but I think the bitterness they had at the time has become less. I now see them attending some commemoration events, that shows me that there is some change in them too."
"Sports help you leave bad memories behind"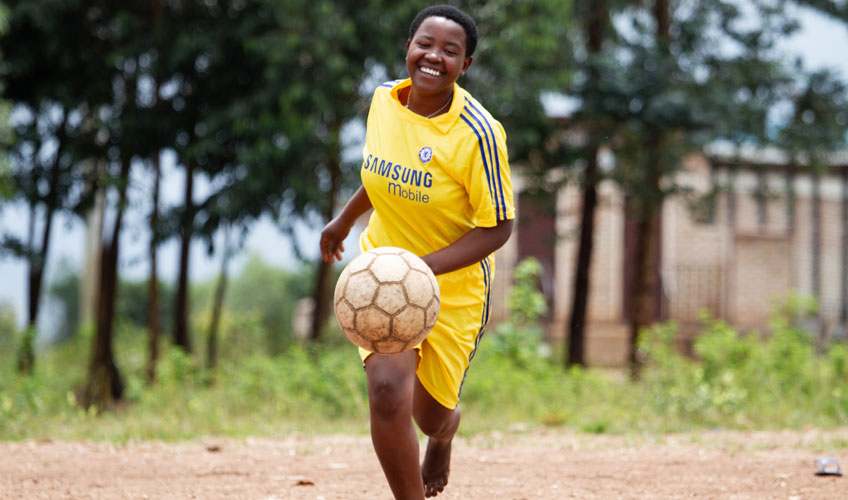 Dorothee loves playing football and plays, as a defender, in competitions across her local area.
Her advice to other young people in similar circumstances is to "educate themselves" and "not be bound by our history."
Education is the foundation of everything. If the person is in school I would advise them to go to a peace club. These reconciliation clubs give you a different perspective and help you heal.
"I would also advise them to take up sports. Sports help you leave bad memories behind and completely detach yourself from what has happened to you."
Her dream is to open a sporting club that promotes social cohesion: "So we use the club to play but at the same time we use it for reconciliation and peacebuilding."
"You need patience to bring people together"
"The biggest lesson I learnt has been that it is difficult to bring people together, when they are still attached to what happened to them … Bringing somebody to the table who killed your loved ones, it is not easy. It is very complicated… I learnt that you need to be patient."
The power to connect people and bring them together is the first step to change people. We need to always find a way to bring people together, for example through doing something together.
Despite the challenges, Dorothee is staunchly optimistic about the future: "I do think the future of this country is great – when I look back on what has happened to this country and how the people have been affected by the genocide and its consequences, and then I look at it today I really feel the future is bright."
Through International Alert's current project, over 800 dialogue groups and 200 therapy groups have been established, helping over 26,000 people (a mix of genocide survivors, former combatants, ex-prisoners and young people) to identify common ground to live and work together, and learn how to resolve conflicts peacefully.
Explore more stories to see how our work has helped to rebuild lives in Rwanda.
About the project
The Duhuze project helps to consolidate peace and inclusion in Rwandan society by enhancing citizens' participation in and ownership of reconciliation processes, policies and programmes. This includes enhancing psychosocial support for young people affected by transgenerational trauma and improving trust among marginalised groups through inclusive dialogue processes and joint economic initiatives.
It also aims to strengthen the capacities of authorities, civil society organisations and companies to effectively implement reconciliation and build peace.
The project is being carried out in 1,260 communities from 21 sectors across seven districts: Gasabo, Gisagara, Huye, Musanze, Ngororero, Nyamagabe and Rubavu.
Alert works on this project with the following local partners: Association des Jeunes pour la Promotion des Droits de l'Homme (AJPRODHO) and Rwandan Association of Trauma Counsellors (ARCT – Ruhuka).