An interview with Rabina Shrestha, International Alert's Country Director in Nepal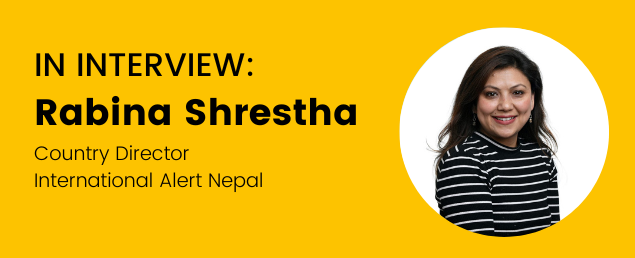 Rabina Shrestha is a peace practitioner and advocate for gender equality, inclusion, and access to justice, who also serves as the Country Director of International Alert's Nepal office.
In this interview, first published by Nepal Live Today, Rabina recalls her personal experiences of peacebuilding work, and explains how Alert is strengthening good governance, gender equality, justice, independent media, sustainable development & peace in Nepal.
To start with, what motivated you to work in the peacebuilding sector?
Well, it's a long story. I was born and raised in Sindhupalchok district. Since my childhood, I wanted to be a lawyer as I had seen several cases of injustice and discrimination in my neighbourhood while growing up. But for someone born to a Newari ethnic family, it was not an easy decision for my parents to send me to study law. Back in those days, a Newari girl studying law or aspiring to become a lawyer was itself a rare thing. Most families and society would be happy to have their daughters study only up to high school. Thus, in a way I had to stand up to pursue my dream against our social and gender norms. And once I started, there was no looking back.
During my law graduation, the Maoist party had declared armed insurgency against the state. Every day, news on the radio and in newspapers was about people being killed, abducted or disappeared. It was then that I began to understand the situation of armed conflict and the need for peace in Nepal. After graduation, I worked as a legal intern and later joined a post-graduate degree on women's studies, during which I got an opportunity to pursue my career as a human rights intern at the Centre for Victims of Torture Nepal. There I learned to document cases of human rights violations and torture of victims and came to know how innocent people were being victimized by both conflicting parties—the state forces and the rebels.
I then worked as a human rights lawyer at WOREC Nepal. When the government declared a state of emergency in the country, I was in Banke district documenting cases of conflict-affected families. It was risky for me to go to remote villages and meet families because you could be arrested, abducted or killed in a crossfire anytime. Many families' loved ones had been killed, gone missing or been tortured. Girls and women were sexually abused, even raped. Houses were burnt down.
To hear their stories of pain, to watch the families being displaced and innocent people being victimized for no fault of their own, it was a pretty emotionally unsettling experience for me. I still remember the face of a 16-year-old Tharu girl who was sexually abused in front of her family. I felt helpless on such occasions. But I wrote letters on their behalf to the International Committee of the Red Cross to find their loved ones. That experience helped me to understand the impact of armed conflict on people, especially women, girls, and marginalized people. It motivated me to work for them.
Even after federalism, women and marginalized groups are largely left out in the development and policy reforms process.
Later, at CWIN Nepal, every day I listened to the stories of conflict-affected children and their families. The only question that came to my mind was: 'Will we ever achieve peace?'. I think this question always inspired me to continue my work for human rights, gender equality, justice, and peace.
I have been able to reunite many children with their families, documented the voices of conflict victims to promote their rights and justice, facilitated civil society networks to declare children as zones of peace, and worked for the justice, rehabilitation and safety of many women and children.
How has your experience been working with International Alert?
I feel honored to lead International Alert Nepal, as its mission, vision and aims match with my life aspirations. I am grateful that I have been contributing, to whatever extent, to sustain peace through my decade-long engagement with a renowned global peacebuilding organization like Alert.
So, what are International Alert's mission, vision and focus in Nepal?
International Alert in Nepal has been supporting local civil society, government stakeholders, communities, the private sector, and media to strengthen good governance, gender equality, access to justice, independent media, sustainable development, and peace. Even before the Comprehensive Peace Accord of 2006, Alert contributed to Nepal's peace process efforts. Alert aims to promote sustainable peace and create conditions for inclusion and build public trust in governance processes, social cohesion, and co-existence across social divides.
Alert works with marginalized people, women, youth, security and justice actors, community leaders, activists, journalists, elected representatives, and government officials to strengthen the citizen-state relationship for open, inclusive, and accountable federal governance and an inclusive peace process. Alert supports journalists and social media activists to promote and advocate for safe, responsible, independent, and evidence-based media. At the moment, we are working in Madhesh, Lumbini, Sudurpaschim and Bagmati provinces.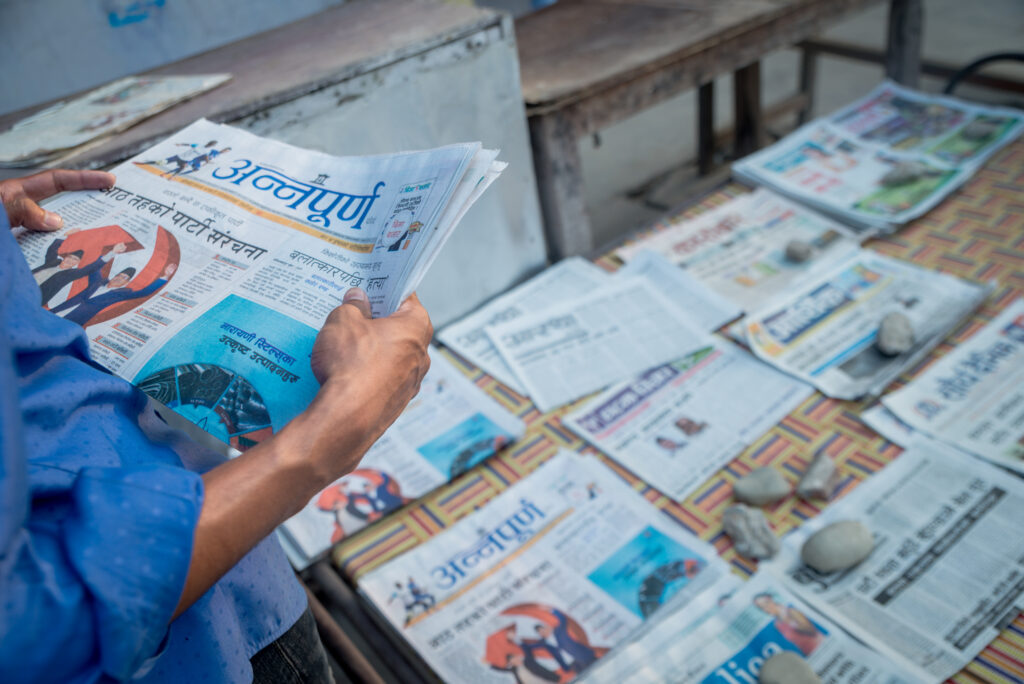 Your organization conducts research on various issues. How do those research analyses contribute to building peace?
Alert undertakes regular research and analysis on different peacebuilding components. Alert has produced different series of research analysis reports on the federal governance process, gender, security and justice, media, climate change and conflict. That research analysis contributes to evidence-based policies and programs. Peacebuilding is a collaborative process that requires efforts from all stakeholders in both vertical and horizontal ways. As I mentioned before, Alert's efforts are to strengthen citizen-state relations, enhance access to security and justice and ensure that the voices of women and marginalized people are included in decision making and that they have better access to livelihood opportunities in Nepal. Our engagement has built trust between citizens and the state and impacted people's lives on the drivers of conflict that otherwise prevent peace. However, there needs to be longer term investment to change people's attitudes, behaviors and harmful social norms, and reform the institutions for sustainable peacebuilding in Nepal.
In your view, what is the state of peace in Nepal at the moment?
Obviously things are much better now than during the decade-long armed conflict. If you look at the current situation from that point of view, we must admit we have come a long way. Federalism has opened up many avenues and opportunities to sustain peace in Nepal. However, many issues which actually caused the armed conflict still remain unresolved. For example, economic inequality, lack of social justice, discrimination based on caste, ethnicity, and gender, and lack of accountability of the state actors towards the people were among the major causes that gave birth to the armed conflict in the 1990s. There has been some progress on these fronts. We don't face the same kind of violent situation as that of the 1990s. But we have not been able to fully address those causes. For example, the issue of transitional justice remains unsolved, even 16 years after the Comprehensive Peace Accord (CPA) and after those many political and government changes.
Transitional justice remains an unresolved issue even after 16 years of the CPA. Political wrangling and interests have put this vital and sensitive issue under the shadows.
As I said, there is no violent conflict like in the past, but the fragility risks are still high. Nepal was ranked 61st out of 128 countries in the Rule of Law Index in 2020. The Human Development Index report 2020 also shows that structural inequality and discrimination are still rooted in society across the country. The youth labor migration is extensively increasing every day. Anecdotal data says that over 1,500 young Nepalis leave the country on a daily basis for foreign employment. In addition, climate-induced disasters like floods and landslides further exacerbate the socio-economic and political challenges for the marginalized, poor and historically vulnerable population, causing tensions and unrest. All these factors indicate that our governance system is poor, rule of law is weak, people have less livelihood opportunities and there is an absence of positive peace.
So, what are the key challenges to sustainable peace in Nepal?
The CPA had opened the opportunities to transform the governance system. The Constitution of Nepal 2015 declared Nepal a federal republic and ensured the fundamental rights of people, especially for women and the marginalized communities. But in practice, these vulnerable groups are still facing challenges to access and exercise their fundamental rights. So for many people these rights mean nothing. The truth is the real peace dividend has not been equally distributed among diverse marginalized groups even after federalism. Real peace dividend should be equally distributed to sustain peace in Nepal.
Nepal is a diverse and multicultural country in terms of geography, religion, culture and languages. There are 126 caste and ethnic groups and as many as 123 languages are spoken in Nepal. But the reality is that we have entrenched horizontal inequality and social exclusion based on caste, ethnicity, sex, religion, and geography. This imbalance is deepened by the lack of state accountability and impunity. Our research suggests that the institutions of patriarchy and caste and its ideology continue to shape power relations between different social groups in all spheres of society, including in federal governance.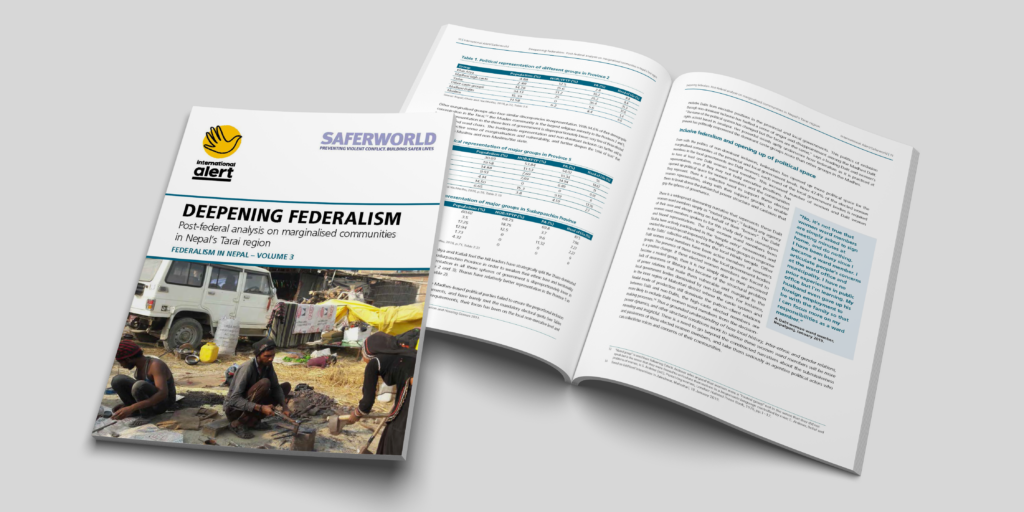 Even after federalism, women and marginalized groups are largely left out in the development and policy reforms process and their voices and representation are limited in the decision making process. They have continuously been facing discrimination, exclusion, oppression, injustice, violence, and poverty. For instance, a child of a single mother or the child of a mother married to a foreign citizen still faces so many hurdles in acquiring citizenship; and a marginalized Dalit woman from a rural village who lost her husband during the armed conflict has been waiting for justice and suffering from mental trauma and struggling for a day-to-day livelihood but to no avail.
Transitional justice remains an unresolved issue even after 16 years of the CPA. Political wrangling and interests have put this vital and sensitive issue under the shadows for many years. Several conflict victims are still waiting for justice and they have not received any support from the state for livelihoods, health care and education. Many victims of sexual violence are not even recognized as conflict victims by the state. The Truth and Reconciliation Act has not been amended as per the international standard and directives of the Supreme Court. This is one major area where the state must intervene to make corrections.
It is imperative to improve the governance system, transform social harmful norms, and provide redress to conflict victims through an inclusive transitional justice process to consolidate Nepal's stability and long-term peace.
The evolving federal system of governance has brought some policy changes to improve the governance system, but the system has not been able to use the opportunities to address the long-standing grievances of marginalized groups, regions, and genders. Failing to address this imbalance, impunity and injustice has not only weakened citizen-state relations, but it has also increased fragility risks and instability in Nepal. Poor governance systems and entrenched inequality and discrimination are highly correlated with gender, ethnic and caste identity. Thus, it is imperative to address these long-standing grievances and improve the governance system and transitional justice process to consolidate Nepal's stability and long-term peace.
Finally, what should the government, development partners and civil society do to ensure that such challenges are overcome to sustain peacebuilding in Nepal?
The Nepali people have lived through tough times in different stages of history. They have witnessed several political transitions and turmoil—from the days of Rana rule to the Panchayat system to multiparty democratic polity. These systems failed to live up to people's expectations for justice, equality, rule of law, peace and development.
The federal republic setup has given us ample opportunities to correct the historical wrongs and past mistakes. The current constitution is more progressive compared to previous constitutions. The first and foremost thing is that the government must follow what it says on paper. The constitutionally guaranteed rights must be respected, protected, and fulfilled by the state and every citizen, regardless of caste, ethnic, religious and geographical origin, gender or class, should be able to take real benefits from these rights.
Many issues which caused the decade-long armed conflict still remain unresolved. We have not been able to fully address those causes.
The social, political and governance system must be enhanced to address the long-standing grievances, exclusion, injustice and impunity. It is imperative to improve the governance system, transform social harmful norms, and provide redress to conflict victims through an inclusive transitional justice process. This will contribute to consolidating Nepal's stability and long-term peace.
At the same time, policymakers, development agencies and civil society need to understand the root causes of conflict and take holistic conflict-and gender-sensitive actions to end unequal power relations, injustice, and social harmful norms for inclusive, just, and sustainable peace in Nepal. There should be coordinated efforts and long-term investment from the government, policymakers, development agencies and civil society to sustain peace.
Finally, Nepal must have a balanced foreign policy with its neighboring countries and with other nations–especially in the current climate of geopolitical conflict. As directed by the constitution itself, Nepal should remain 'a friend to all and enemy to none.' In other words, Nepal should stand for peace at home and beyond.
Achieving lasting peace should be the primary agenda of all state and non-state actors. We all need to work from our sides to ensure that the country that emerged from 10 years of armed conflict and is enjoying relative peace at the moment does not relapse into another kind of conflict.