Does the growing influence of YouTube and other new media support or threaten press freedom and peace in Nepal?
We are celebrating World Press Freedom Day on 3 May 2021 with its theme "information as a public good". Yet the Nepalese media environment is going through a sea change due to the blurring of boundaries between private and public "goods" of information.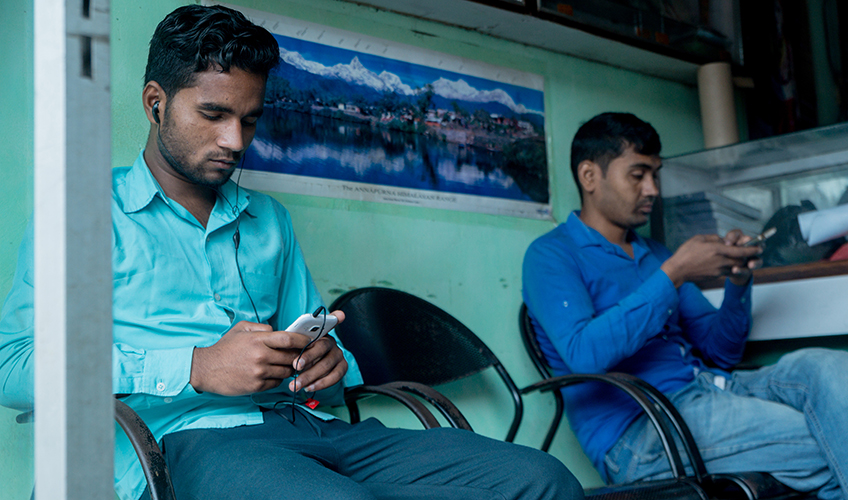 The influence of YouTube and other new media that have only taken off in the country relatively recently is soaring and changing dynamics. The revenue and business models of news production, distribution and reception have been impacted, and the COVID-19 pandemic has accelerated the shift in the mediascape. With democracy, peace and inclusive development underpinned by a strong and free press, it is important to ask what this changing mediascape means for the people and organisations working to build and sustain peace in Nepal and elsewhere.
A media consumption survey conducted last year by Sharecast Initiative showed that 83.7 percent of Nepalis owned mobile phones and of those 61 percent owned smartphones. 88.7 percent of respondents were using Facebook. Most importantly, in 2018 YouTube viewership was virtually zero, in 2019 it was 34 percent and in 2020 it reached 60 percent. With COVID-19 cornering the region, new media is gaining even more viewers.
Virtual platforms now rule the majority of human communication and interaction. Increased access to communication tools is a double-edged sword, specifically for fragile nations like Nepal. On the one hand it creates opportunity for inclusion, decentralisation of the media and opportunity to make states more accountable. But it can also be a source of mis/dis-information, sharing of hatred, and broadcasting content that is insensitive to gender and conflict. This new territory will set the future agenda and narratives of peace, democracy and development in Nepal. Merely ignoring the new mediascape would have devastating consequences, specifically in a fragile environment. The old ivory towers of traditional media are eroding, and new producers, distributors and consumers are emerging. Together it resets the stage for peace, conflict and democracy.
Adaptation
International Alert is currently leading a project on 'Safe Media Nepal' funded by The European Union for the period 2020-22, implemented by the Federation of Nepali Journalists (FNJ) and the Institute of Human Rights Communication Nepal (IHRICON). Even before this project, Alert had been working with FNJ for the past decade.
Based on previous experiences, Alert along with FNJ established the Free Media Network (FMN) in eleven project locations. It is a multi-stakeholder platform consisting of human rights defenders, civil society, justice and security personnel, private sector and government officials. In previous projects, it helped to reduce security risks and threats faced by journalists. But in the new context described earlier in this piece, we are hoping that this platform could be helpful to discuss, debate and address the opportunities, risk and challenges brought about locally, through the medium of peaceful dialogues. We hope that this social infrastructure, set up by the project, will be instrumental in defending media rights and freedom of expression. It can ensure contestations and conflict are resolved through debate and dialogue.
In addition the project acknowledges that we need to invest first, to build the capacity of journalists not only at the national level, but specifically outside the capital in all seven provinces and four palika [municipalities]. We are providing standards and basic trainings in all eleven project locations, following a mentorship approach. We place emphasis on gender equality and social inclusion. Inclusivity in the media sector reduces fragility.
The training supports journalists to be more sensitive while using social media or new media to publish the news. Authorities are debating about coming up with new regulations. It is important to continually advocate the defence of freedom of expression and media rights, while furthering sensitive new media practices. To this end, dialogue and a series of meetings with policymakers at all three levels are planned as part of the project.
Storytelling's new direction
Small initiatives are not enough. The means for people to communicate, imagine and tell stories is taking a historic turn. Without direction, this change risks Nepal regressing to fragility and conflict. Most importantly, democracy would be defeated in a strategically important nation, creating a spiralling impact on other regions.
Therefore, all the donors of the democratic world need to invest in shaping this new mediascape, supporting the flourishing of democracy and sustained peace. This is especially key in areas of research and global collaboration. Development partners are good at doing 'search' not research. Rather what is required is an institutional and systemic approach towards understanding the exponentially changing context in this new emerging virtual world, where communication methods and practices are intertwined with supporting nations, communities and lives. Collective violent movements like those seen during the Maoists' war required common imagination and the same is true when it comes to building peace. That common imagination will form now in the virtual world and identifying risks early on stands to provide peacebuilding opportunities.
Journalism is central to the democratisation process in Nepal. This is the 'story' with most of the world's fragile nations. Without independent media, true democracy and peace cannot be realised. With the shifting mediascape at a crossroads, a new call at a global level is required. The rise of YouTube and other new media can go one of two ways in countries like Nepal. It can become the voice of the voiceless people, or the voice of authoritarian regimes. I believe development partners will choose the right side of history. Happy World Press Freedom Day from Nepal.
---
Watch this video to find out more about our work in Nepal to help build journalists' skills, safety and capacity, as well as promote inclusion and equality. With thanks to the European Union in Nepal for their support and Institute of Human Rights Communication Nepal and the Federation of Nepali Journalists for their partnership on this work.