Ukraine and international partners need to speed up support to Donbas veterans
If Ukraine is to build a cohesive society, it needs to act urgently to reintegrate its veterans.
The figures are alarming: at least 1,000 Ukrainian combat veterans have committed suicide since 2014. Out of the 350,000 men and women who have fought in the Donbas, at least 5,500 are now disabled.
Since 2015, the parliament has adopted over 30 laws on social protection for veterans, with 33 national level committees responsible for implementing them. In a move to develop a more centralised system, the parliament voted in February 2018 the establishment of a Ministry for Veterans Affairs. Yet, the ministry may not be established before 2019, at the earliest. A minister is still to be appointed, and the budget is yet to be developed and voted on. Meanwhile, the in-transition system appears more fragmented than ever.
What are the concrete implications of this fragmented support system on Donbas veterans' reintegration, and on the social fabric of an already divided Ukraine?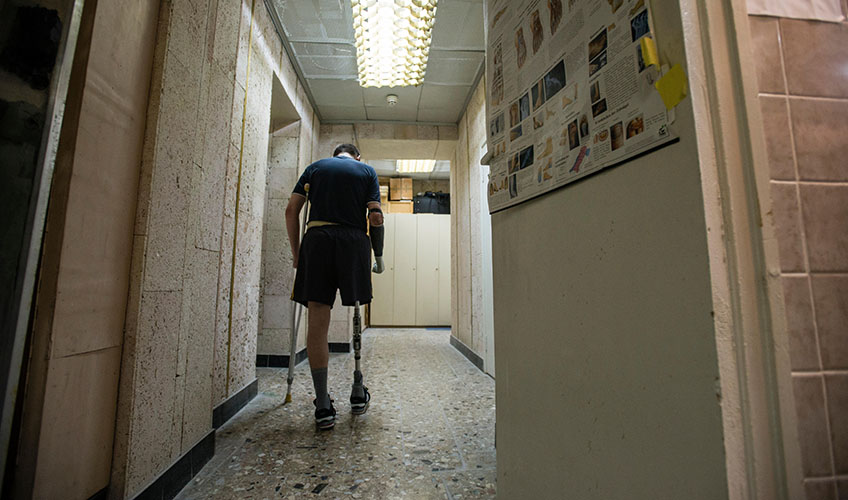 As part of the UK government-funded Peace Research Partnership project, researchers commissioned by International Alert interviewed sixty former male and female combatants to understand how gender norms and expectations have shaped their reintegration into society. The interviewees had all fought in the Donbas in 2014-2017, serving in the Ukrainian Armed Forces (UAF) and pro-Ukraine voluntary brigades which were in 2015 integrated within the UAF and the National Guard.
An uncertain transition for most veterans
Most of the veterans we spoke to described their return to civilian life as a transition fraught with obstacles. "We, the veterans of this war, have our specific problems, our own understanding of what is happening", that differs from those who have not been fighting, one man told us in Kyiv.
Most former combatants felt entitled to specific benefits and status such as the Combat Veteran Status (CVS). Yet, many have experienced challenges in receiving this symbolic and legal status necessary to be eligible for state benefits. The interviewees who served in volunteer battalions, particularly those who served in battalions not formally integrated within the Ministries of Defence or Internal Affairs, had to go through cumbersome bureaucratic processes to get recognised as veterans. Often, their efforts proved in vain. Many of those who have been granted CVS also said that they were actually not receiving the benefits to which they were entitled, which further fueled their sense of marginalisation and frustration. As one veteran told us, the sentiment is rife among former combatants that "nothing has changed [back home]", while they sacrificed all they had.
Beyond the figure of the male hero
For female veterans, gender stereotypes exacerbate the legal, economic and social reintegration challenges. Some female respondents explained that their military service is often questioned. A bus driver for example insinuated that one of the respondents had earned benefits in exchange for sex and not because of her deployment in the Donbas. Male veterans tended to reiterate these gender stereotypes. They questioned the motivations of their female colleagues, by suggesting "they enrolled to find a husband" or describing them as "unmarriageable" after wearing the uniform.
Male and female veterans with mobility impairments experience many specific reintegration challenges. After sustaining injuries, many of them were transferred to specialised hospitals located far from their homes, thus isolating them further from their communities. Our respondents also mentioned that, despite a universal care system in the country, they have to bear the rehabilitation costs. The general lack of wheelchair-accessible infrastructure further hinders their efforts at economic and social reintegration.
When gender stereotypes shape mental health support
Many respondents described mental health issues, including depression, post-traumatic stress disorder and alcohol abuse, as challenges to reintegration and as stigmatising labels. In a context where being a man and showing weakness are incompatible, openly seeking help can be seen as shameful. This is exacerbated by the limited access to psychosocial support. The respondents complained that civilian psychologists do not understand their concerns and consider their issues as rooted not in combat but in their pre-conflict life.
Female veterans said that as women they are expected to cope with their feelings more easily than men. Therefore speaking about their trauma is deemed as socially unacceptable.
To mitigate these challenges, most of the interviewees referred to existing voluntary initiatives established by veterans, as well as chaplains and humanitarian aid workers, such as informal psychosocial support networks or veteran-managed businesses, as a supplement to government assistance.
Why invest in reintegrating former combatants into society?
Reintegration challenges add to the human toll of a conflict. Marginalisation and stigmatisation of groups makes a society more vulnerable to violence. In Ukraine, reintegration challenges seem to be rooted in the same social, political and economic factors that led to the conflict in the first place and may exacerbate them even further.
The plan to establish a Ministry of Veterans' Affairs is a step in the right direction and efforts have been made to set up an effective institution. For instance, the Information & Coordination Centre, in charge of informing the development of the Ministry, developed a list of recommendations to define priorities, and organised in August 2018 a forum on reintegration that brought together veterans, civil society organisations and national policy-makers.
But Ukraine must speed up the process and design a reintegration programme that is holistic and inclusive, meets the diverse needs of its veterans, and rejects combat-related stigma or stereotypes. Investing in integrated and people-centred reintegration is key to building a peaceful and cohesive society, and the international community needs to support the Ukrainian government, civil society organisations and community members in achieving this.
The research was carried out by two teams, Dr Sara Meger from the University of Melbourne and her assistant Hanna Manoilenko, and researchers from the organisation Truth Hounds.