How do you manage a crisis in a conflict context? Case of the Nyiragongo volcano eruption in DRC
On the night of 22 to 23 May 2021, the Nyiragongo volcano located just outside Goma, Democratic Republic of Congo (DRC), started to erupt. Thanks to the quick reaction of the population the number of casualties was relatively low, 32 people died but 3,629 houses were destroyed and key infrastructure such as water reservoirs were destroyed.
In the days following the eruption, over 700 earthquakes registering on average 4 to 5 on the Richter scale shook the city's buildings, causing some to collapse and raising fears that harmful gases could be released through fissures in the ground. The provincial government, currently under a military rule for security reasons, ordered the evacuation of ten neighbourhoods in the eastern part of the city causing the displacement of almost 21,000 people, who were only able to return 2 weeks later on 7 June.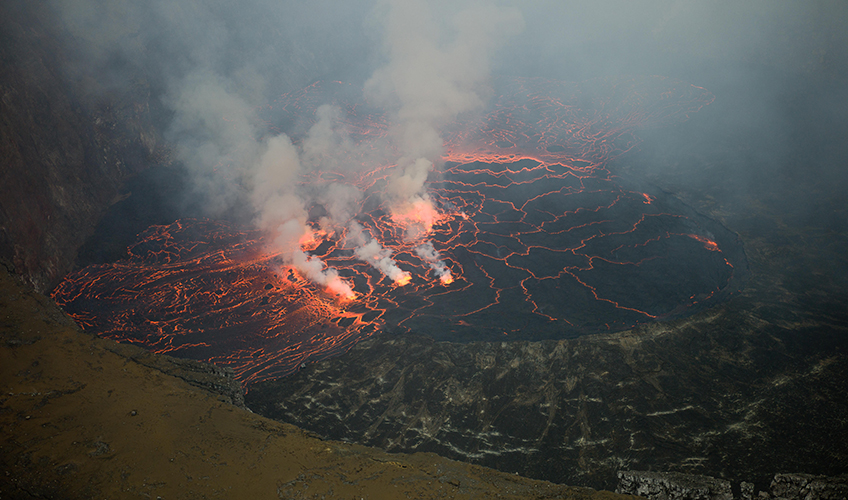 The natural disaster struck Goma at a time when it is grappling with many security and developmental challenges. Recurring conflict, clashes between armed groups and the army, and illegal exploitation of natural resources have weakened state institutions and contributed to the endemic poverty in which much of the population live. Add to this health crises, including the recent Ebola virus and COVID-19 pandemics, as well as recurrent typhoid, malaria and cholera outbreaks in some parts of the city, to name but a few.
In this article we interview Charles Kigungu Bongwa, Alert DRC's Advocacy and Communication Officer within the regional Mupaka Shamba Letu project (the border our livelihood). Based in Goma, Charles tells us about the impact of the eruption, security challenges facing the population of North Kivu and how Alert's projects are contributing to building peace in the region.
What are the specific challenges of managing a crisis in a conflict context?
Conflict contexts complicate crisis management. North Kivu is currently under a military rule. The military was brought in on 6 May to respond to the growing insecurity in eastern DRC, particularly in North Kivu and Ituri provinces, in an attempt to reduce attacks by armed groups against civilians. This means that all civilian positions in the provincial government have been replaced by military actors who only just came into their posts, so were still getting to grips with their roles and had not yet built up a rapport with communities. Therefore, getting credible information about what is happening and communicating this in a way that will encourage the population to act – in this case to flee – is challenging. In the hours following the eruption, we saw chaos on the streets as people feared another eruption like the one of 2002 in which lava flowed right through the city. Thankfully this time it stopped just outside the airport, but people were traumatised. Having had no warning of the eruption but seeing the night sky turning red, they ran for their lives as they have done so many times in the past fleeing from armed conflict. The state wasn't prepared for the emergency at all. Poor early warning systems meant that the eruption took us all by surprise.
With security being a major concern in this part of the country, when people started to flee from the lava they didn't know where they could safely go. Military operations are ongoing just hours outside of Goma and armed groups and bandits operate freely in these areas. Decades of conflict also mean that infrastructure outside the city is incredibly poor. Areas such as Sake, which became a centre for displaced people fleeing the city in the initial days following the eruption, were quickly overwhelmed. Humanitarian agencies rapidly deployed WASH (water and sanitation) teams to the area to try to avoid a cholera outbreak and health crisis.
Security concerns and desperate economic conditions, also the result of decades of corruption that have undermined the foundations of the local economy, were also the reason why many people ignored the state's instructions to stay out of the city while the earthquakes continued. Fear that bandits would break into our homes and overwhelm the poorly trained, poorly paid police services drove many of us to return before we were 100% sure it was safe to do so.
What is the role of peacebuilding organisations like International Alert in such situations?
Peacebuilding organisations have an important role to play in supporting civil society, government and community leaders to bridge communication gaps with all sectors of the population. Our work aims to build confidence between these leaders and the wider community. This confidence has been shredded after years of communities being left to manage crises on their own, either because the state is unable or apparently unwilling to protect them – for example where individual state actors are themselves party to the conflict. Peacebuilding aims to support civil society, government and leaders to bring decision makers back together with communities affected by conflict; we aim to help communities get their voices heard in terms of their needs and how they would like to see crises being managed.
Conflict sensitive communication requires a clear reading of the root causes of conflict and how it is played out in specific areas. For example, in North Kivu, conflicts have also driven communities apart, as leaders manipulate the importance of people's ethnic identity to divide and rule over them. This needs to be carefully taken into consideration when communicating messages to communities to leave their homes – if the person delivering the message is from a certain background or is known to have played a role conflict before, the message may be perceived by some that they are being forcibly removed from an area and may not ever be allowed to come back. This is just one example of the ways in which perceptions play on messaging and crisis management. Our role is also to strengthen advocacy for better crisis preparedness and management, particularly at the community level. We want to ensure that crisis responses appropriately address the vulnerabilities of different groups affected by conflict and crisis. When delivering aid to communities, prior inequalities and conflict dynamics need to be taken into account to avoid reinforcing pre-existing tensions between different groups.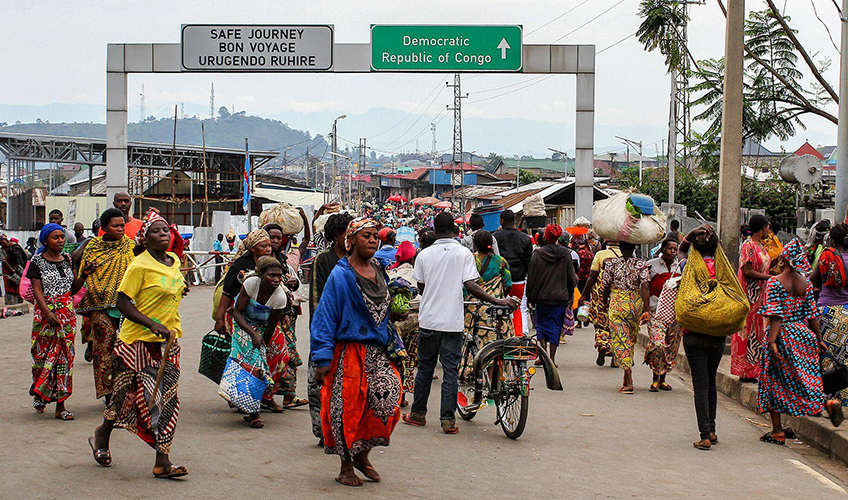 Eastern DRC has been experiencing successive violent conflicts for years, superimposed on repeated crises such as epidemics and recently the eruption of the volcano. Have people built up a certain degree of resilience which allows them to better manage crises?
Yes, some people have become more resilient because of their experience of repeated conflicts – they have had no choice. Massive corruption and the heavy cost of constantly fighting conflict means that the state can offer very little in the way of protection for communities. Health services are severely under-resourced in the areas of North Kivu under conflict, and are sometimes viewed as accessible to only one side of the conflict or to certain communities and not others. There is no safety blanket for families who have lost the main breadwinner in their family because of the fighting, or orphaned children who are taken in by their extended families and neighbours. Children's education has been severely disrupted because every so often they are forced to pick up their belongings and move as the clashes between armed groups and the army approach again. Humanitarian agencies and the UN MONSUCO mission do their best but also have limited means.
Families, communities and church or civil society groups have developed extensive social networks to take in displaced relatives or friends, they give access to their already small fields so that these displaced people can grow food to feed themselves or sell in the market. Children are put to work in the fields or support the household, walking hours to access clean drinking water or looking after younger siblings. Young men are often pressured by their families to go out in search of work – or join armed groups to defend their communities on the promise of earning something. This experience means that communities no longer expect any support from their state. But that doesn't mean they don't need it – they are incredibly dependent on the few sources of support that they can get. People die every day of preventable diseases, children and particularly young women are denied their rights to education and safety, and levels of violence, including gender-based violence, remain as high as ever. The crumbling judicial system is overwhelmed and cannot defend the basic rights of the population, while impunity and intimidation by armed group leaders and state officials leave many with no recourse to justice. The communities that Alert talks to through its programmes are tired of not seeing any progress in their villages and towns, and of having to cope with the bare minimum where the state is unable to support them. Moreover, this reliance on basic community social networks doesn't lend itself to an efficient response in a crisis – the state has a role to play in ensuring that populations have access to reliable information about how the crisis is unfolding and government advice; they also have a coordination role and need to be able to ensure that basic protection standards are being observed in the response (so that some actors don't use the chaos of a crisis to commit abuses against communities, or specifically women and children).
Personally, how did you manage this crisis? It must be stressful building peace in this context. How do you manage your work, and your personal concerns for your family and your own safety?
When I first started hearing that the volcano was erupting again on social media, I had flashbacks to the 2002 eruption. We lost our family home then, which was burned down by the lava so we had to start from scratch without any government compensation or support. I didn't expect any information to come through the state channels, and started to prepare my family to leave Goma using the advice that the Alert management team was able to share about safe zones and routes out of the city. My experience of working in conflict zones has taught me the importance of remaining calm in a crisis, being there for my family and friends, and thinking fast. Thanks to this, we were able to flee the city and, like so many other families, spent several weeks in Bukavu, where at least we were able to shelter in safety and I could carry on working from Alert's second office. I am thankful to my colleagues for the support they offered me during this time, keeping our spirits up and helping us to remain positive. We were amongst the lucky ones – when we returned to Goma we didn't know what would be waiting for us and while we were shocked to see cracks in the roads and public buildings, we were thankful that our house remained intact with little damage.
I went into peacebuilding to help others. During moments of stress such as this one, focusing on the needs of others and brainstorming with colleagues over how we can contribute to the response helps me to forget my own worries for a few hours each day. But it's not possible to separate my own personal experiences from those of the communities we are helping. It was because of my own family's experience of the conflict and instability in North Kivu that I decided to go into peacebuilding and see how I could support others so that the next generation of young people in DRC do not have to go through what we have suffered.
How did the crisis impact Alert's work and your cross-border trade project in particular?
Alert implements a project called Mupaka Shamba Letu (MSL) "the border our livelihood" with support from the Swedish Embassy and Swiss Cooperation. This project aims to build stability across the Great Lakes region by supporting small scale women cross-border traders to build up their social and economic capital across borders, and show policy-makers in Rwanda, Burundi and DRC the benefits of stability for peace and prosperity.
The volcanic eruption disrupted trade across the border; women traders were forced to flee the area – some were able to stay with traders they had met through Alert's programme on the other side of the border in Rwanda, a sign of the confidence and trust built up through the project. Market infrastructure was damaged, power lines were down in the days immediately following the eruption and some warehouses and depots were damaged by the earthquakes. These depots stand right in the projected lava path – we were lucky the lava didn't continue down the hill otherwise thousands of dollars' worth of goods would have been damaged in seconds. Movement restrictions also impacted the wider value chain and movement of goods – most of the women trade in fresh fruit and vegetables that arrive each day from other provinces. They have very little in the way of savings and so were rocked by the disruption to trade flows in the weeks following the eruption. Some of the MSL project activities – such as literacy circles and dialogue groups – had to be suspended for a few weeks as group members were dispersed across the city.
The staff of Alert's own project partners also had to flee the city. This made starting up activities more difficult than usual after evacuation orders had been lifted. However, we adapted to the context, working with the cross-border trader platforms to quickly analyse the impact of the eruption on market infrastructure and rediverting funds for rapid rehabilitation of a small number of these market hangars. We worked with the dialogue and literacy circle leads to contact and locate the women traders who are part of the project, which allowed us to pick activities up again once they were back in the same city. Some of the cooperative leaders that the project supports facilitated contact between traders as they tried to locate missing members of their families. Our support to the cooperatives and savings associations has become even more important now that the women traders need to access these funds to be able to provide for their families and make up for the loss in income that they suffered during this time. The project also works with local enterprises through its "business for peace" approach. We are currently trying to facilitate government/business consultations around the needs of businesses that are trying to pick up trade but need repairs to damaged key infrastructure such as warehouses, roads and depots to help facilitate trade.
What are your recommendations for actors responding to the crisis (government, donors, NGOs, UN, civil society/population) to ensure that the response is sensitive to the conflict?
It's really important that provincial leaders improve the way in which they are communicating with the population in North Kivu – and that all governments have a clear communication plan in place for moments of crisis. This will strengthen the confidence of communities in the state's response, and allow for more coordinated action towards the needs and priorities of the most vulnerable during such moments. This could also reduce levels of conflict and tension between communities and state actors, and reduce preventable deaths and human rights abuses. Governments and humanitarian agencies responding to the crisis need to take into account the historical conflict dynamics and consider how their messages or actions may be perceived by different communities based on their past and current experience of conflict.
International development partners of the DRC government should support military leaders in reaching out to civil society and businesses to understand the impact of the volcanic eruption on the already fragile socio-economic context in Goma and its surrounding areas – and involve them in the response. Local structures are an invaluable resource at a moment like this and often have the confidence of communities who see them as credible actors.
Longer term, we would encourage more lessons sharing between INGOs, government and UN agencies on how to manage crises in periods of conflict, so that they can effectively respond to community needs and do not exacerbate existing tensions. There's also a need to assess the DRC government's ability to manage crisis and see where there is need for greater support and contingency planning. Civil society organisations have an important role to play here by feeding into these discussions the recommendations and asks of local communities most affected by conflict and crisis.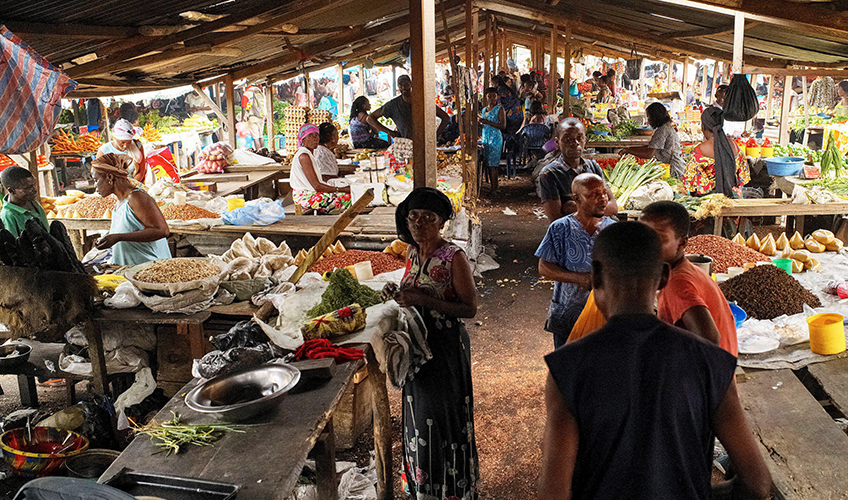 Spotlight
International Alert works closely with partners and community members. For this reason, we wanted to address a series of questions to Mr Djamba Michel from the Association of Cross-Border Trade, ACT-Goma to find out more about their experience of the Nyiragongo volcano eruption of 22 May 2021 and its socio-economic impact on small cross-border trade, the difficulties they faced and how they were able to overcome these challenges.
How are traders adapting to the crisis?
Cross-border trade has now slowly resumed, as women traders come to terms with the loss of their stock and profits. A number of traders were the victims of theft and robbery during this period when they were forced to abandon their homes and warehouses to flee the eruption. The cooperatives and trader platforms are supporting their most vulnerable and affected members through social contributions and joint stock purchases, unfortunately we can only do this for limited numbers of traders.
Are there any recommendations from the women cross border traders for the Congolese government and other actors involved in the management of the crisis?
Women traders want the government to help and support cross-border trade to quickly recover from this crisis by:
Introducing free COVID-19 testing at the borders and using rapid testing that gives results in 15 minutes; this will reduce the time and cost to women traders.
Encourage border services to be as open and constructive as possible in engaging with women traders to understand their concerns and facilitate legal trade at the border. We encourage joint problem identification and trouble-shooting through open trader- authority dialogue to reduce the already heavy burden on women cross-border traders.
Look at ways to rapidly strengthen women trader's access to credit so that they can better manage the impact that the crisis has had on their household income.
Facilitating trade will allow these women to not only bounce back quicker but it will also help their families and communities to bounce back too. We need to build on the trust and confidence that has been developed through cross-border trade – allowing more women traders to benefit economically and increase social cohesion, which allows these traders to support one another in their critical time of need.