"Peace starts from within us": Fatima's story
Fatima Alhaji Kolo supports the reintegration of survivors of sexual violence by Boko Haram, as well as those internally displaced by the conflict, and helps them move forward with their lives in our project in Damboa, Nigeria.
She was selected to join the project as a community leader by International Alert and our partners Federation of Muslim Women's Associations in Nigeria (FOMWAN) and received training in peacebuilding and non-violent conflict resolution.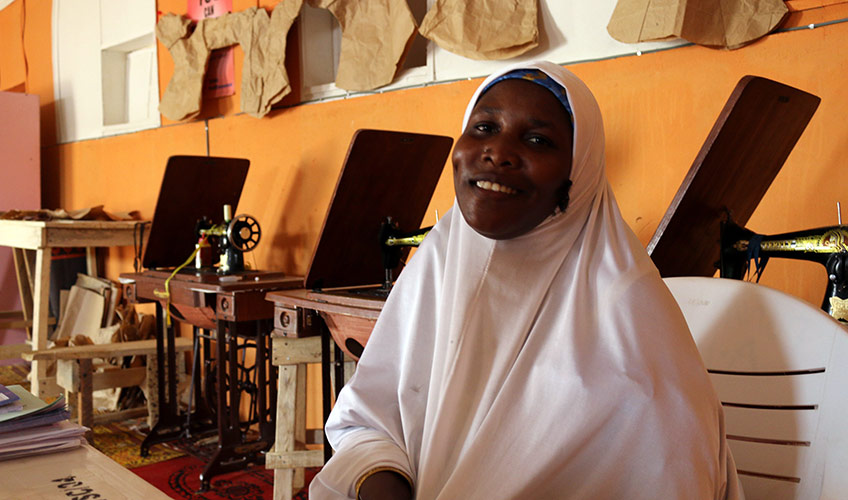 Peace begins from within
As a community leader, I try as much as I can to make women understand that peace starts from within us; especially those that are affected with crisis, so they can be an example to others and help make a positive future for all women and girls growing up.
"I lead groups sessions for women and young girls within the internally displace persons (IDPs) camp in Damboa, where they live. In these groups I use what I have learned from International Alert's peacebuilding session and try to reach as many women and girls as possible, helping to establish unity between them and help them reintegrate within the community again without any problems.
In cases where I meet women that do not understand or are somewhat holding back, unwilling to accept peace, I personally intervene on friendly and approachable grounds. I don't give up, hence they become inspired, develop interest and end up trying to get others involved too.
Using the skills I've been taught, I once came up with an idea. I organised an event every evening for a week – social gatherings where we would hold dramas, sing peace songs, play games and swap families (a member of a family would visit another family to share stories and get to know and understand each other). These activities brought a great deal of unity and peace among us and helped us to tackle so many of the problems we were facing within the community. There was so much demand for these activities that we started doing them three times a week and are still doing them. This movement made me proud of myself and I have noticed the change I've brought to the community. We all now know and understand one another better. As a result, this has created friendships, even courtships. We don't have situations within this community where survivors are stigmatised anymore."
We need to believe in ourselves
"I really want to see women, young or old learn how to love and appreciate one another. I want to see them do well. I hope that women understand that no matter what has happened to them, once they have peace within them, everything will fall in place. I want to see women have strength and courage, and stand tall. I do not like to see women have their rights violated just because they have issues that have made them give up on a lot of things – they must believe there is hope for us.
This year, I also want to see women go to school. Don't think you are not capable of exceling just because you are a woman.
Currently, I am attending an adult education program because it's never too late to learn and I can see this has encouraged other women in my community to go back to school. I have noticed that women and girls feel pressured to depend on the opposite sex for money and stability, and the main cause of this is violence against women and girls. We must learn to manage the little we have and believe that with time and focus, everything we dream of will eventually come to reality."
'Mai shiryarwa'
"Falmata Goni is a woman I met here in the IDP camp. She used to be a community leader and she is honestly one of my role models because wherever she goes, she makes peace due to how cheerfully she approaches people. A lot of people here at the camp look up to her. She is a true definition of a peacebuilder. She has mediated between so many families and couples She always tries to see that peace is established at the end of the day.
Before I started working as a community leader, I had nothing to do other than take care of my children. This platform has made me see everyone like my own. And as a result, all my kids are now in school. I am really grateful to have been a beneficiary of international Alert. People who didn't even know my name now look up to me, I have gained a good reputation within this community; people respect me a lot, they come to me for advice and mediations."
In the camp here, I've been nicknamed 'mai shiryarwa' which means peace advocate.
Discover more inspirational women peacebuilders
---
About the project
Supporting vulnerable communities and conflict-sensitive reintegration in northeast Nigeria was a project to help reintegrate survivors of sexual violence by Boko Haram as well as support people internally displaced by the conflict.
International Alert Nigeria did this by holding victim support and family dialogue sessions – especially for women, girls and children, running public awareness campaigns on stigma reduction, and training local leaders on peacebuilding and non-violent conflict resolution.
Through the project we have seen a clear reduction in the stigma and marginalisation of women and girls associated with Boko Haram and their children; and these women and girls have exhibited an increase in self-confidence and self-esteem, are able to sleep better, feel calmer, and talk about their experience, which are all positive steps for trauma healing.