"Labels create divisions and jealousy": Cecil's story
"Growing up I was told several times by my mum how the Hutus were bad towards my family, how they completely wiped it out. I grew up with that bitterness and when I saw other friends with their parents and siblings, it was always a reminder about the pain of not being able to enjoy similar company because they had been killed."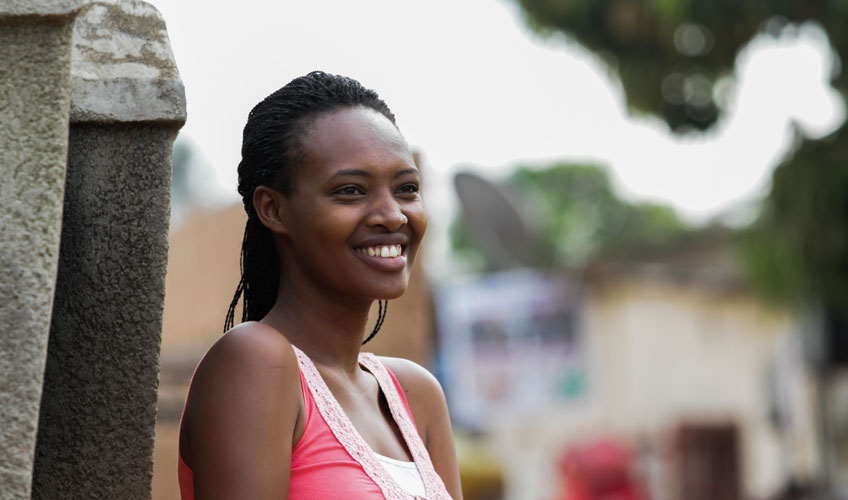 Cecil is the daughter of a victim of the genocide in Rwanda. She is one of many young people who have grown up with the legacy of the genocide against the Tutsi, with their views influenced by their parents. International Alert soon discovered that the trauma was being passed through generations, affecting young people who did not experience the genocide themselves.
If Rwanda is to achieve genuine reconciliation, it must find ways of addressing the psychosocial wounds and transgenerational trauma of its youth. This is why International Alert began running peace clubs in communities and schools with young people to provide them with a space for healing through dialogue – helping to build trust, provide psychosocial support and build a peaceful future together.
Peace clubs
Over 1 million people, mostly ethnic Tutsis and moderate Hutus, died during 100-day Rwandan genocide in 1994. Twenty-five years on, what lessons have been learned, what has changed? We talk to Cecil about her experience and her hope for the future.
Cecil was few months old when the genocide happened, during which she lost her father and 5 of her siblings. While in high school she joined the peace club set up there, she has since completed high school and is waiting for the opportunity to join a vocational training course.
"I am still engaged in the peace club sessions in peacebuilding and reconciliation. We continue to meet weekly at my former school and I mentor the young students who join the club.
The peace clubs helped me a lot and they still help me to deal with my trauma and to accept what happened to me as I move forward. Before joining the club, I used to be so silent, I could not talk to anyone, but the facilitators helped me to heal. Now am I able to interact with others and talk freely with them, this makes me happy."
I have also been passing the message of the club to my family and friends, who didn't have any chance to join the peace club like I did.
"I am steering the wheel"
"To me the future of this country looks great, young people are encouraged to join peace clubs and the reconciliation process. I see this as an opportunity since many young people are now aware of the dangers of genocide.
I feel my future is bright because I am steering the wheel, I am helping to create change.
I can also say that with time the narrative is changing, the older generation have come to understand that killings shouldn't be generalized and that we should attribute this as individual responsibility and not a whole group. This is helping us to connect with Hutus families, especially the youth."
Cecil's advice for young people growing up in Rwanda, "my parents' generation used labels to identify Hutu and Tutsi. Labels create divisions and jealousy. Therefore, my advice would be to join the healing sessions and join counselling, either at an individual basis or in group, because this will help to heal your 'inner wounds.' I am optimistic about the future because I am healed and able to join others – this gives me happiness and power to do more and succeed in life."
Building peace is the foundation of everything, I believe it is the beginning and without it nothing else is possible. The connectivity that building peace brings within a community enables societies to prosper together and this diminishes fear and anger in the long run.
Over 800 dialogue groups and 200 therapy groups have been established through the current project, helping over 26,000 people (a mix of genocide survivors, former combatants, ex-prisoners and young people) to identify common ground to live and work together, and learn how to resolve conflicts peacefully.
Explore more stories to see how our work has helped to rebuild lives in Rwanda.
About the project
The Duhuze project helps to consolidate peace and inclusion in Rwandan society by enhancing citizens' participation in and ownership of reconciliation processes, policies and programmes. This includes enhancing psychosocial support for young people affected by transgenerational trauma and improving trust among marginalised groups through inclusive dialogue processes and joint economic initiatives.
It also aims to strengthen the capacities of authorities, civil society organisations and companies to effectively implement reconciliation and build peace.
The project is being carried out in 1,260 communities from 21 sectors across seven districts: Gasabo, Gisagara, Huye, Musanze, Ngororero, Nyamagabe and Rubavu.
Alert works on this project with the following local partners: Association des Jeunes pour la Promotion des Droits de l'Homme (AJPRODHO) and Rwandan Association of Trauma Counsellors (ARCT – Ruhuka).