Education in legal rights builds bridges between Syrian refugees and Lebanese communities
Early one afternoon in West Bekaa, Lebanon, a group of Syrian men and women head to a community centre for a legal awareness session to better understand their legal status and rights in their host country and its implications for their families.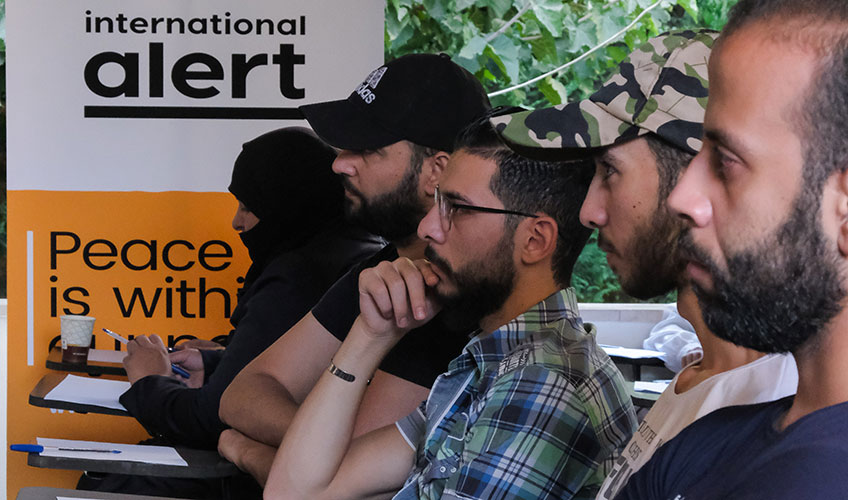 In the Bekaa Valley, where many Syrian refugees have settled, there have long been tensions within the community which suffers from high levels of poverty and marginalisation. Scarcity of resources, unemployment and unequal distribution of services and aid have led to grievances and negative perceptions between refugees and their host communities.
Lebanon's economic downturn since September 2019 has further negatively impacted vulnerable groups, including Lebanese as well as Syrian refugee communities, who are struggling to make ends meet. This is increasing dissatisfaction and frustrations among vulnerable Lebanese, who perceive Syrian refugees as receiving assistance whilst they continue to suffer from reduced access to basic services and low-wage jobs. This manifested in increased reported tensions in different parts of Lebanon, including in Bekaa, and heightened fears amongst Syrian refugees of more restrictive measures targeting them, including curfews, arrests and detentions, as well as evictions by landlords due to their inability to pay rent.
Today's legal rights session is part of a wider dialogue project set up by International Alert Lebanon to reduce community conflicts.
Legal rights' advice for Syrian refugees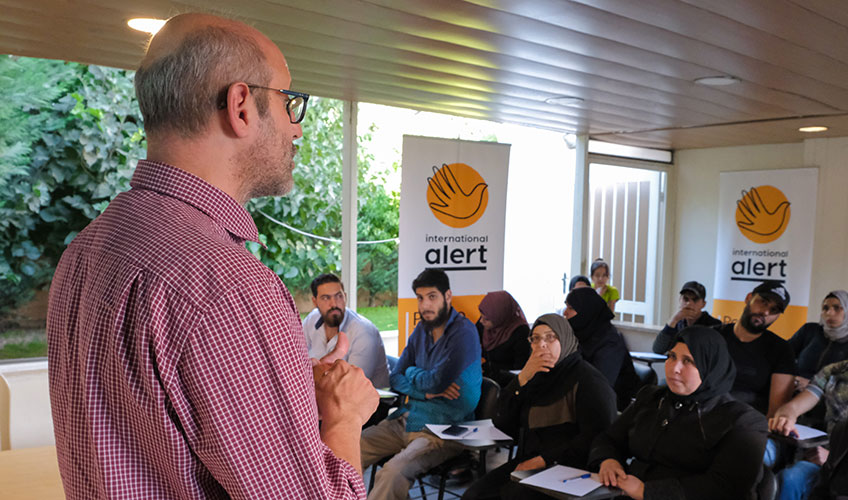 "We come here to attend awareness sessions focused on legal issues that are highly important to us," says Ahmad*, a 32-year-old refugee from Syria. "I value each second I spend here, it allows us to receive direct and useful answers from a legal expert on issues that really matter to us such as residencies, work permits, and personal status. This is the kind of tailored support we really need."
The sessions are run by the Bekaa Dialogue Group, which is funded by the Human Security Division of the Swiss Embassy in Beirut. The group gathers community activists to share their experience and expertise, in order to address the concerns of Lebanese and Syrians, lead on initiatives such as these legal awareness sessions, and promote understanding and build relationships between communities.
Since 2016, the Dialogue Group has been working to improve relations between communities and supported people to raise their concerns around access to resources, employment and services, discuss tensions and develop ways to prevent violence.
Lawyer Mohamad Araji is part of the Dialogue Group and led this legal awareness session.
Throughout these sessions, we are making sure that we address each case individually, to maximise the support we can provide. We also make sure to remind the attendees, throughout the session, that we are supporting them to regulate their residency or personal status in Lebanon in order to decrease any kind of tension with the Lebanese authorities and host communities while they await their return to Syria.
"It's important to stress here that in these sessions we focus on information and legal rights. Facilitators are careful not to provide anyone with opportunities to politicise the advice sessions around the issues of refugees' returning to Syria."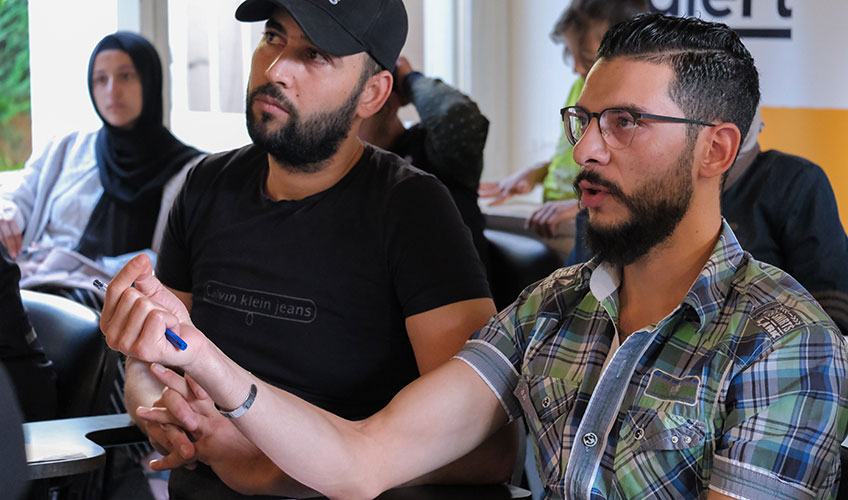 Promoting social stability
A primary focus of the legal awareness session is to promote social stability by enabling Syrian refugees to be more in control of and informed about their legal status. This is done by creating a safe space for dialogue, provision of highly sensitive and critical information, and sharing different points of view, stories and experiences without fear of repercussions. Further, the provision of the legal awareness session was chosen based on the requests of Syrian participants. Collectively they assessed that they lacked knowledge regarding their legal status and want to change that.
"Since we came to Lebanon, the laws and decisions that tackle our presence in the host community kept changing and being updated. The laws directly impact everything – work permits, residency and even marriage registration! We need to have the proper and adequate information to understand where we stand in our new community. More misunderstanding would only create a gap between the Lebanese and Syrian societies," says Ahmad.
Rouaa*, a 28-year-old refugee from Syria and a mother of three says: "From attending the sessions, I understood that the birth registration procedures for Syrian refugees in Lebanon had been updated. Therefore, the details around my last born needed to change, especially if we needed to visit Syria from time to time to check up on my mother."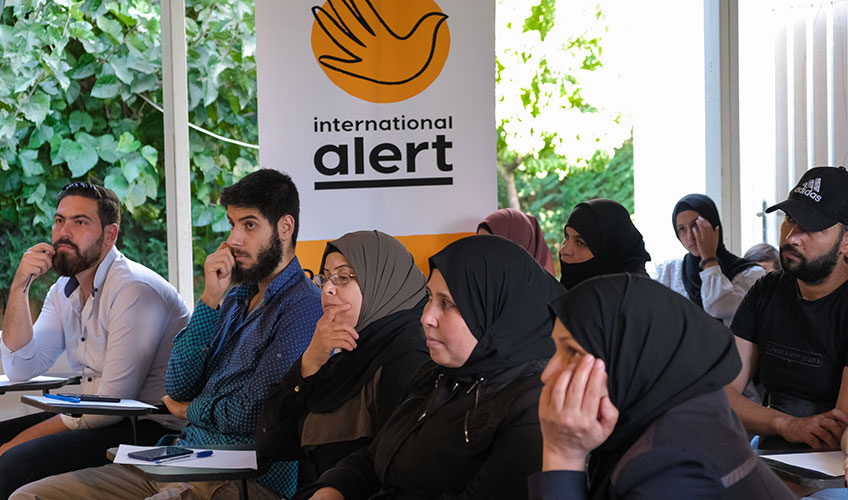 "Living in displacement has had its heavy toll on us," says Rouaa. "Sometimes I don't know where to start, where to go, who to ask. These sessions are supporting me to narrow down my options and to know exactly where I should invest my time and efforts."
Sometimes we are swamped with incorrect and inaccurate data, and we just wish for someone who is open and patient like Mr. Araji to hear us, and to guide us on the right track. This might not sound so important to others, but to me, it's a necessity like food and water.
These sessions are led by specialists from the Bekaa Dialogue Group, such as Mohamad Araji, who provide their services and expertise pro bono in an effort to support vulnerable communities. The Bekaa Dialogue Group includes people from all backgrounds, including social activists, religious leaders, lawyers, representatives of municipalities and political parties, and journalists. International Alert provides opportunities for the group to come together frequently to create peacebuilding initiatives such as these legal awareness sessions. The experience and wealth of knowledge of the group's members continues to bring Syrians and Lebanese together to exchange views and create social stability.
*Names have been changed to protect the privacy of participants.
About this project
This project is about preventing spill over conflict by minimising sources of tension between Syrian and Lebanese communities in the Bekaa region of Lebanon, where relations have been strained by the war in Syria and resulting refugee crisis.
Alert is strengthening local networks in the Bekaa by connecting local and influential leaders in dialogue. Communities are sharing their understanding of the risks and the ability of individuals and groups to intervene and prevent or contain violence.
This dialogue is creating a space for Syrians to raise their concerns and discuss tensions that need to be voiced and addressed. Outreach activities are running as part of the project to strengthen its impact and sustain positive relations between Syrian and Lebanese communities, including between young people.