Cross-border trade: Generating income, building trust
Borauzima is from the Democratic Republic of Congo (DRC) and makes her living by crossing the border, where she can sell oil for a few dollars a day. In the past, she faced harassment and extortion from border officials, which made business difficult.
However a project run by International Alert DRC is helping women like Borauzima gain confidence, protect their rights and improve working relationships with Rwandan traders.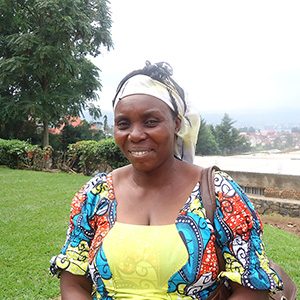 "I used to work in fear every day because the legal system governing cross-border work was quite obscure and complicated, so I had to choose the illegal route. It was cheaper than the legal route, but also meant getting harassed if you got caught. There was an atmosphere of mistrust between us and the Rwandan tradeswomen; I couldn't spend more than three hours in Rwanda – I would always hurry to get out of there as soon as possible. We had no idea whatsoever about our rights and obligations as cross-border tradeswomen, or about the basic principles of management, so we couldn't make our business prosper or move forward.
"Personally, a lot has changed for me because of this project. I understand my work much better. Now if I'm crossing the border, I know where to start and finish and what fees I need to pay to which person, so it all gets done quickly and, most importantly, in an atmosphere of respect between us and the border officials … Now I put my savings in my bank account, which I finally opened after working for 18 years without knowing these things. I did it thanks to the training I had on how to manage small businesses…"
The main lesson I've learned from the project is that what matters most is love, at all levels. Now when I go to Rwanda I feel like part of the family; the Rwandan tradeswomen invite me to share meals with them, or to attend other social occasions, and sometimes I spend the night in Rwanda and feel completely at ease.
"At the border, we are now on friendly, cooperative terms with the border officials, so even when we run into difficulties they give us advice and put us back on the right track. In my family too, we're now more open to dialogue, especially when it comes to budgeting with my husband, so we avoid everyday little family problems. Having a bank account has changed how I see things; now I'm planning to go into large-scale business on the trade route between Bukavu (DRC) and Kampala (Uganda) around the end of 2014.
"We have gained a lot from this project. It has been very useful for us. But I must point out that not all women working in small-scale cross-border trade have benefited from this project, on both the DRC and Rwandan sides, so another project to help them is really needed."
Cross-border trade plays a vital role in the Great Lakes, where goods are traded between DRC, Rwanda, Uganda and Burundi. It not only provides a source of income for tens of thousands of people – most of them women – but can also help build trust in a divided region.
---
About this project
The Improving the conditions of cross-border traders in the Great Lakes region of Africa project, aimed to provide a safe environment for small-scale cross-border traders in the Democratic Republic of Congo (DRC), as well as neighbouring Great Lakes countries, improving their economic situation and forging closer ties between traders in the region.
We trained women traders and border officials, and brought together state agents and traders to voice and address grievances and tackle obstacles to trade.
These efforts have resulted in 60% fewer cases of harassment like physical or verbal abuse and extortion at the border.