Cross-border trade during COVID 19: Julliene's story
Women small scale cross-border traders are one of the groups most vulnerable to exploitation, violence and harassment, as they try to earn enough to support their families.
The current outbreak of the coronavirus disease (COVID-19) pandemic has created additional pressures for these cross-border traders in Rwanda. This includes, to name but a few, loss of income due to the border closure, lack of customers and supplies, poor performance of saving groups and cooperatives due to absence of regular meetings, trauma and anxiety surrounding COVID-19 that has reduced community social cohesion, and an increase in sexual and gender-based violence at home emanating from inadequate food and lack of income.
Women like Julliene, a mother of 4 children, have disproportionately suffered during this period. The lockdown has meant her daily income has reduced because of a lack of customers – making it hard to make ends meet at home. Her husband left her to fend for herself and her children, immediately after lockdown in Rwanda was announced citing his inability to cater for the family.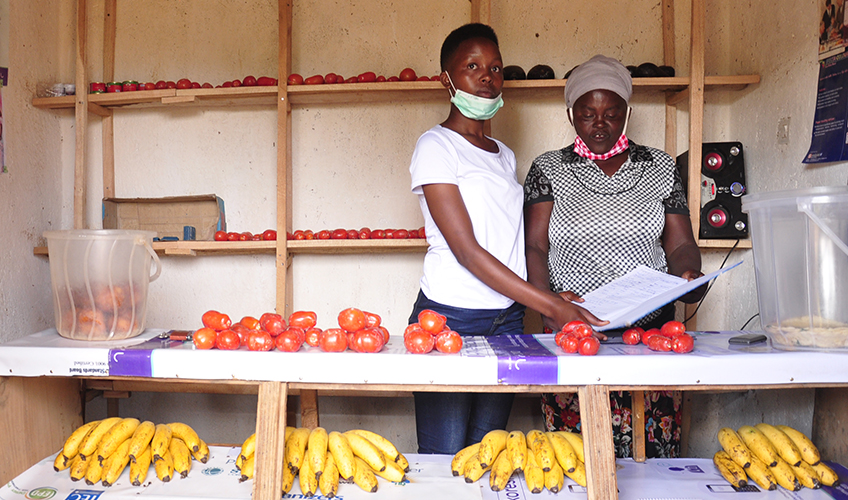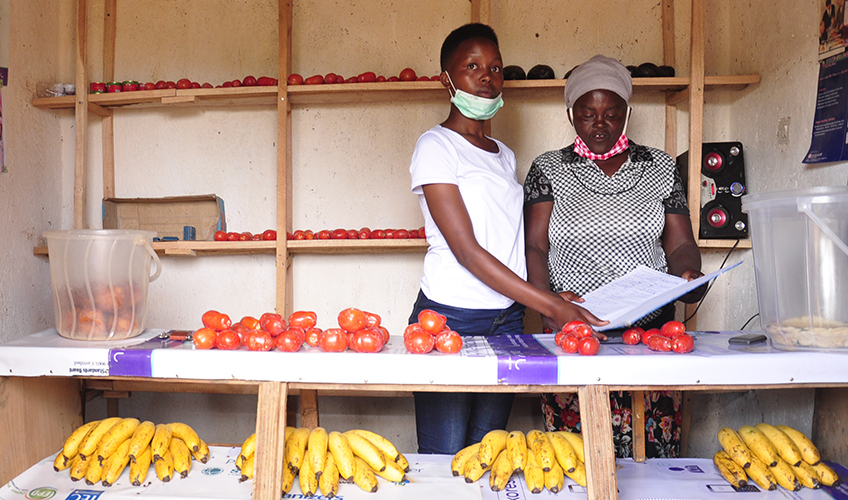 Challenging gender norms
Before COVID-19 Julliene had been participating in business facilitation trainings organised as part of International Alert's Creating off-farm Rwanda enterprises (CORE) project. The training helps women in cross-border trade acquire more knowledge in the areas of entrepreneurship, business planning and management, gender equality and gender-based violence. This allows women to challenge gender norms and move them from being economically marginalised to becoming empowered, so that they can work with local leaders to overcome barriers to business operations and growth and address the concerns and conflicts of community members.
"Despite gender-based violence experienced and unequal share of family responsibilities, I have been able to smoothly run my business, joined a saving group, opened a bank account and have now expanded my savings to sixty thousand Rwandan francs from twenty thousand Rwandan francs," Julliene said.
Overcoming obstacles posed by COVID-19
Despite the obstacles posed by COVID-19, Alert and our partners continue to support vulnerable cross-border traders using existing cooperatives and associations networks established in Rwanda and the Democratic Republic of Congo (DRC). We have been helping them think through how to reduce costs and opportunities to grow and diversify their businesses despite the closure of the border. We have provided guidance on business continuity and risk through WhatsApp group chats. We have been collecting information around emerging conflicts in the communities we work in and are reaching out to those in need of counselling and psychosocial support through our community-based dialogue facilitators.
Using the trainings and support Julliene received through our project, she has been able to save enough money to help her daughter, Manuelle, to start and operate a small business of her own during this difficult period. If it wasn't for COVID-19 Manuelle would be in school but now, thanks to her mother's initial help, her small shop turns around a profit of Rwf 400 – 500 a day. Julliene has been encouraging her daughter to join the village saving group, where she can save Rwf 2,000 per week. Mauelle is happy and excited about this new occupation, and she still has ample time to read her books and follow lessons on the radio so that she doesn't fall behind on her education.
"I am happy for my mother, I have seen her struggling since I was a baby. Through her, I have learned that through determination, patience and hard work one can achieve the best. In this shop that she set up for me during COVID-19, I aim to make enough profit to expand the business and also to meet my school fees," Manuelle said.
---
Women cross-border traders in Rwanda
Read more about the women working as cross-border traders in Rwanda and how they are persevering despite the challenges posed by COVID-19.
---
About the project
Through training and dialogue sessions, business is being leveraged to adopt conflict and gender sensitive practices. It is also used to collectively influence post conflict development policies and practices for more inclusive and sustainable development within communities and to end violence and gender issues facing women and youth cross-border traders. Conflict hampers trade and socio-economic development but peace does the opposite.
The CORE project aims to support women and youth run cooperatives and help them build off-farm entrepreneurship skills so that they increase their opportunities to make a living and keep their families safe.
It also links participants with long-term business mentors to support them to grow and sustain their enterprises. The project strengthens the environment for the successful management of cooperatives and business groups run by women and youth cooperatives through dialogue, research and advocacy. It also helps these entrepreneurs to access financial services in order to invest in their businesses.