Climate change, conflict and the COP
Climate change is having a major impact on conflict and security around the world, but these issues failed to make it onto the agenda at COP26 in Glasgow. International Alert's Head of Natural Resource Management and Climate Change, Jessica Hartog, says this was a mistake.
"Climate change has catastrophic effects on people's lives, livelihoods, and a country's socio-economic development, which means it has implications for peace, stability and security," she says, pointing out that as much as climate change can jeopardise peace, so too can the response to climate change.
Mitigation and adaptation actions that are blind to conflict dynamics could play into those same dynamics with significant implications for the stability in that context. With increasing recognition for these risks, these issues should have had a place on the table at COP-26.
As ambitious targets failed to materialise in Glasgow, with world leaders delivering a pact widely criticised for falling short of what's needed, the focus is now turning to COP27 in Egypt next year, where negotiators will lay out further national plans intended to limit global temperature rise.
"We need to step up our conversations with key stakeholders in the lead up to COP27 in Cairo to make sure peace and security is considered as part of these actions, it's essential," Jessica says.
International Alert draws clear links between climate change and conflict. In the lead up to COP26, Executive Director Nic Hailey wrote in The Independent that climate breakdown was becoming a greater driver of conflict than traditional sources of violence.
Not only does climate change pose huge risks to people living in the world's most conflict-affected regions, but the global response to climate change poses a risk, too, unless we all put more thought into getting that right.
"This requires new ways of working across divides between and within governments, the private sector and development organisations," Nic wrote.
During COP26, Mehdi Barhoumi, Programmes Manager at International Alert Tunisia, took part in an online session hosted by Chatham House and the Geneva Peace Platform on the peace and climate security agenda. He described how water scarcity was impacting unequally on marginalised areas of the country, despite the right to clean water being guaranteed in the constitution.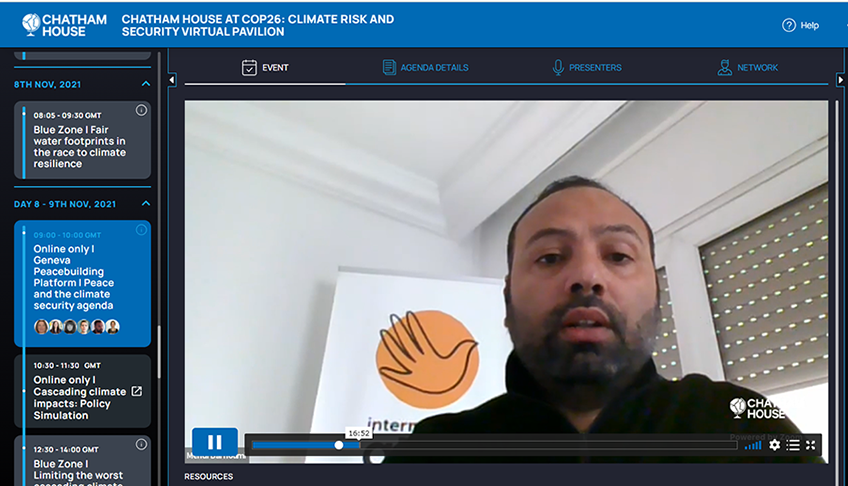 Mehdi says that lack of water has become one of the main causes of social conflict in these areas, where access to clean water and sanitation is well below the national average. Alert Tunisia is working to strengthen participatory and democratic governance of water resources, calling for increased investment in infrastructure and a shift in the economic model so that sustainability prevails over productivity.
The involvement of local communities in adaptation and mitigation solutions is crucial. In Alert's 'Turning up the Heat' webinar, activist Ikal Ang'elei made it clear that solutions that didn't involve local people were 'false solutions'.
As #COP26 unfolds, how do we make sure people in fragile and conflict affected communities are not excluded or exploited by the green revolution? @Ikal_Angelei spoke at our #PeaceDay event. pic.twitter.com/ouOOX6zfuP

— International Alert (@intalert) November 2, 2021
In New Security Beat, addressing the question 'Can COP26 Meet the Climate and Conflict Challenge?' Jessica Hartog looked at the potential impact of much needed pledges for the 1.5 billion people living in fragile and conflict-affected areas, highlighting predictions that for every half-degree of warming, societies will see a 10-20 percent increase in the likelihood of armed conflict.
"Fragile and conflict affected states are at particular risk when it comes to extreme weather events, for example. Such phenomena has been seen to further erode citizen trust in already fragile government institutions where they are unable to respond to the impacts of these disasters."
One of the places where this has been highlighted is in Mali where International Alert has argued that trying to resolve the conflict there with a purely military response is not working. It requires a whole-of-government approach driven by informed decision-making, something that International Alert, as part of the Netherlands-funded Water Peace and Security partnership, is calling for in Mali amongst others.
Jessica also pointed to the situation in Darfur and Syria where prolonged droughts severely affected people's livelihoods, which in turn added to an already explosive mix of challenges and grievances, ultimately culminating in violence.
As the dynamics between climate and conflict will only intensify in the years and decades to come, we need to start seeing this being discussed at the COP tables. Next year, COP27 will take place in Egypt, a country experiencing extreme water scarcity and locked in an escalating diplomatic dispute with Ethiopia over the Grand Ethiopia Renaissance Dam. There cannot be a better location to demand from world leaders to act upon the potential conflict risks associated with climate change and climate action.
"Whether climate change will cause conflict is not really a question. It is already happening." #COP26 pic.twitter.com/x00G4jNBKU

— International Alert (@intalert) November 4, 2021
What needs to happen
Governments, humanitarian and development organisations, private sector, and climate experts working on mitigation and climate adaptation in fragile and conflict-afflicted states (FCAS) must ensure policies and programmes do not exacerbate conflict and strive to contribute to peace.
Governments, donors and financial institutions need to finance incentives to drive the design of climate efforts that consider conflict dynamics and simultaneously aim for peacebuilding outcomes.
The design of climate mitigation and adaptation programmes in fragile and conflict-affected states must be driven by the people most affected and informed by conflict analysis to avoid increased conflict risks.
In FCAS, governmental shortcomings in responding to the impact of climate on conflict dynamics, can erode people's trust in their governments. Pledges made to address climate change need to bring people together to shape the climate response and to agree on how to share and use scarce resources. If done right, this will not only help to prevent conflict, but it can also be an opportunity to build peace.
To avoid the real risk of climate action playing into conflict dynamics, governments in FCAS, international agencies and climate experts must build alliances and partnerships at the local, national and regional levels, break through siloes and work together.