Business, civil society, and local states collaborate for inclusive and conflict-sensitive energy production
To sustain development and prevent conflict, former foes have agreed to work together to create power, build peace, and secure the communities they live in.
The story of an innovative and pioneering partnership between big business, civil society and local governments, who agreed to drop their differences and address a Mindanao-wide power crisis in the Philippines in 2010, has been captured in a study jointly released by International Alert and Aboitiz Power Corp.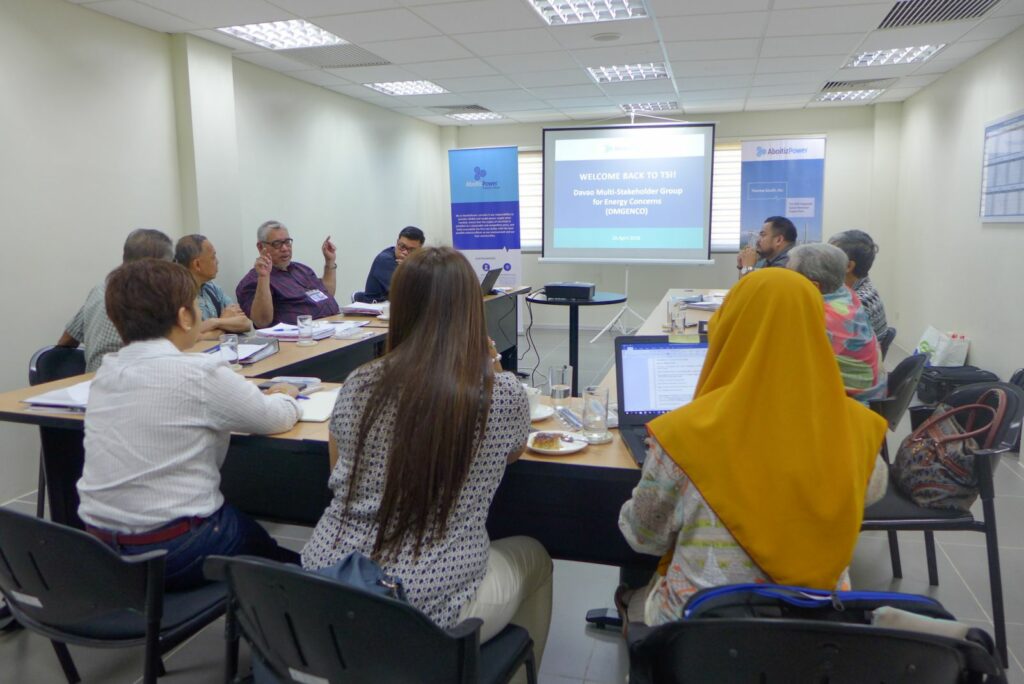 An online launch was held on Human Rights Day to highlight the rights-based approach that guided the dynamics surrounding the construction and subsequent operation of the Therma South Inc (TSI) coal-fired plant in the Philippines on the border between Davao City and Sta Cruz, Davao del Sur.
The study, Power, Peace, and Place: Why firms account for their actions[LINK] illustrates the story of the Davao Multi-Stakeholder Group for Energy Concerns (DMGENCO) and how collaboration among it's members, the private sector, civil society actors, and local government, helped shaped the paradigm and practice on multi-stakeholder and conflict-sensitive community engagement of AboitizPower, one of the biggest energy companies in the country.
The UK-based peace and economics scholar and CEO of Faith and Belief Forum, Philip Champain authored the case study. He conducted in-depth interviews with local executives, business leaders, and community activists, and immersed himself with the people and communities in Sta. Cruz, Davao del Sur and Davao City. His study focused on the pivotal role played by DMGENCO in securing wider support and buy-in from different groups in Davao. Champain concluded that DMGENCO was united to "maximize the benefits of non-renewable yet reliable energy provisioning to local economies and the social welfare of local communities while reducing negative externalities often associated with non-renewable energy."
"Members of the DMGENCO were able to voice and solve problems, which built trust, relationship satisfaction, and loyalty. The dialogue process held the company accountable," Champain said.
Champain explained that it was AboitizPower's openness and willingness to act that were highly valued by communities.
"A dynamic evolved whereby community leaders would come directly to the company with an issue rather than through a third party. A relationship of trust and openness began to develop between the community and the company. That problems were being solved was critical to this relationship," Champain said.
Nikki de la Rosa, International Alert Philippines Country Director explained, "relying on the compliance of companies to voluntary principles on conflict-sensitive practices is not enough. Businesses must go beyond the do-no-harm framework and recognise that contributing to social impact is ultimately to their benefit. This is especially important in conflict-affected areas like Mindanao where the actions of companies can aggravate conflict and cause further instability."
De la Rosa shared that Alert convened the DMGENCO in 2012, when Mindanao was facing a severe power crisis that was delaying multi-sectoral economic growth and deepening poverty.
"During this time, AboitizPower offered to set up a coal-fired power plant in Davao City to cater to the power-hungry Mindanao," de la Rosa recalled, "but community members from different ethnic and religious identities who lived near the proposed site were rightfully concerned about the plant's effect on their way of life."
This was a challenge for former Vice President for Mindanao Affairs of AboitizPower and DMGENCO member Manuel 'Bobby' Orig, who was tasked to spearhead the establishment of a coal power plant between Davao City and Sta. Cruz municipality.
"People were averse to a coal plant as they had been deluged with messages from many sources that coal is harmful to the health of people and to the environment," Orig said.
"The trusting relationship that Alert has built over the years with groups that manifested their opposition to our proposed plant made their leaders agree to sit down with us in a series of meetings with Alert as convenor and facilitator," Orig said.
Flora Salandron, DMGENCO member and former barangay councilor in the TSI site, who was active in civil society groups earlier, opposed the use of coal.
"I was right away interested, although I had misgivings it was going to work," Salandron said.
"The first meeting was not a straightforward and easy one, but there we came to an agreement that we would be a dialogue and problem-solving group, a bridge between the company and communities that would be affected by the establishment of the plant," she recalled.
"It has been seven years since we started our group. We discussed problems and solutions alongside the executives of the plant. We learned to be evidence-based and objective in our analysis of issues and have built a collegial and transparent relationship with each other, we learned to agree to disagree and find optimal solutions," she added.
Among the issues tackled by the group included the fly ash or dry "fugitive" dust carried into the affective nearby communities, exclusion of fisherfolk from a portion of the municipal waters where the plant was located, foul odour reportedly from ships delivering coal, resettlement and compensation for 245 families that live next to TSI and were affected by flooding from stronger typhoons and rising sea levels, weakened water pressure in residences near the plant, respiratory problems, complaints of dust and noise pollution, and demand for job opportunities.
De la Rosa noted that more needs to be done, and key problems remain unresolved, such as the issue of resettlement. Although the development of TSI did not require neighboring communities to move, the actions of the company to help facilitate the resettlement was halted largely in part to a change of leadership in local government. However, de la Rosa emphasized that the DMGENCO initiative demonstrates that energy companies can work with local communities in solving problems collaboratively.
Champain also noted that questions relating to longer-range issues of coal and climate change remain. In October 2020, the government of the Philippines through the Department of Energy declared a moratorium on endorsements for greenfield power plants. This comes amidst a global shift towards renewable energy resources and companies investing more on clean energy and committing to withdraw from coal-fired power stations.
"AboitizPower itself has indicated it is open to renewable alternatives to coal as they become affordable, viable, and reliable, with the latter being the most challenging. It points to an important chapter for the company and the energy sector more broadly—a chapter about how a process like DMGENCO can assist the transition to a low-carbon economy which, historically, is not faultless in terms of causing violent conflict, destruction of habitat, and displacement of families," Champain said.
"Working with business has long been at the core of Alert's programming the Philippines because business has a powerful voice that can be harnessed for peace," shared de la Rosa, "and we continue to do so as business, governments, and communities continue to experience parallel paradigmatic shifts towards clean energy and the belief that power relations can be altered, peace can be achieved, and a sense of place can secure lasting peace."
---
International Alert Philippines studies both new and enduring causes and triggers of conflict, works with people directly affected by conflict, and advises governments, organisations, and companies on how to support peace. International Alert Philippines serves as the secretariat of the DMGENCO.