Northern Ireland: Our young people should not be tools for violence
There are things we can do to protect our young people from becoming tools for the few pushing for a collective return to violence, argues the Northern Ireland based mediator and International Alert trustee Lisa Rose.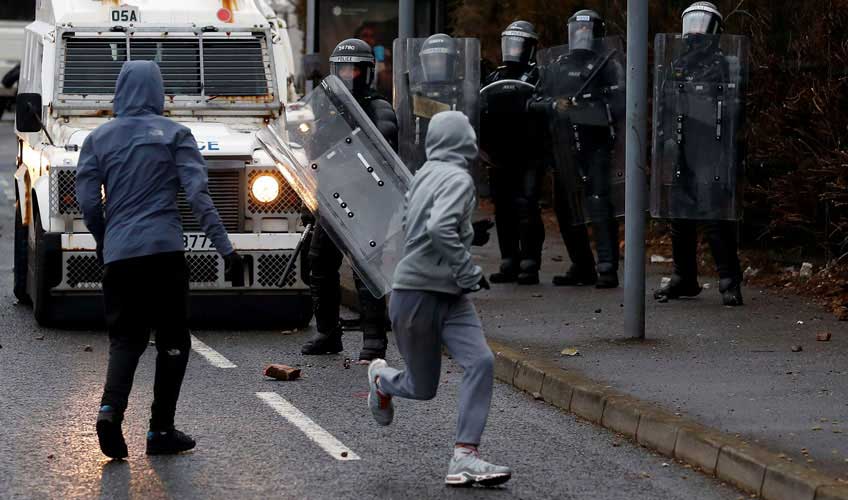 In December 2012 the Belfast City Council voted to limit the flying of the Union Flag to 18 specific days a year. This decision sparked months of protests, many violent, and it injured more than 60 police officers. While the centre of the unrest was Belfast, it rippled out to Unionist communities throughout the province. Like many other community peacebuilders, I went out and spoke with young people to try to offer a space for dialogue as an alternative to rioting. Unilaterally, when questioned about why the decision was so upsetting, young people essentially answered that the decision was a threat and an insult to their community identity. An understandable interpretation, regardless of the actual intention of the Belfast City Council's choice or anyone's opinion on the actual decision. Moving conversations with the young people to ask them to define their identity is when the situation became more enlightening.
Overwhelmingly, I discovered that youth really weren't sure what "being British" was, but they were very clear on what it wasn't. Of course, British holidays and British historical dates and marching traditions were mentioned, but nothing really beyond that. What they did know was that being British was not being Irish, and, usually, the answers included long lists of what they believed Irish people were and did. Unsurprisingly, as Northern Ireland continues to have segregated state school – Protestant/Unionist communities traditionally attend Controlled schools while Catholic/Nationalist communities traditionally attend Catholic Maintained schools – both communities are quick to string off stereotypes and presumptions about the "other" rather than share stories from lived experiences.
If our Unionist youth do not have a strong sense of Northern Irish British identity, they will be vulnerable to minority adult factions harbouring residual sectarianism at times when tensions are high.
The recent riots are a clear example of this, when controversies over Sinn Fein's attendance at an alleged IRA funeral added to the community's concerns about the Irish Sea border came to a head.
Young people, like youth around the world have just experienced a year of lockdown and restrictions, whole communities are suffering from the social and economic impact of the pandemic. In January, a public letter was issued calling the impact of COVID-19 a "national emergency" with regard to children's welfare. It said "the spiralling numbers of young people suffering mental illness and psychological distress look certain to increase with every day that lockdown keeps them isolated and uncertain about their futures". Add to that the result of a recent Health and Social Care Board study (October 2020), which found that one in 10 children and young people in Northern Ireland experience emotional difficulties; one in 10 have conduct problems; and, alarmingly one in 20 young people aged between 11 and 19 display symptoms of post-traumatic stress disorder (PTSD) or complex PTSD.
Adding the impact of the pandemic to a generation of young people unsure of the meaning of their identity creates the perfect opportunity for those Loyalists who have not moved on with the majority of their community, to manipulate our young people. The avenue being offered to them, what they are being manipulated by, is the sense that their identity is relational to the community outside of their own – again to be British is not to be "not Irish". When defined by perceived "others" it is easy to see how upset and insult can be so quickly received. Cultural identity offers a way for people to structure their personality based on shared traditions, norms, values, heritage and beliefs. Basing identity on difference, i.e. what you are not, is an area we need to address as a collective society. We must be prepared to help our young people recover and understand the past as a part of the process of constructing our shared identity.
So what can we do to protect our young people from becoming tools for the few pushing for a collective return to violence?
We must support young people to explore their cultural identity using new models that allow them to research and explore identity as a concept and the history of their own, specific to Northern Ireland. Studies have shown that a strong grounding of identity, cultural or personal, lends to feelings of security. If young people feel more secure, then manipulation will be less effective in future, especially if young people are supported by others and we will not see division on the scale we have seen recently.
We must offer peace education in schools. As International Alert's collaboration with the British Council put forward in Peace education in formal schools, curricula should include "peace education with approaches that focus on socio-political outcomes, and help students realise their own contribution to conflict dynamics in wider society". Teach our young people to navigate difficult conversations, demonstrate that we are strong enough to disagree and still stay together as a society without resorting to violence.
Amplify the work of the Northern Ireland Executive's 2013 Together Building a United Community (T:BUC) Good Relations Strategy. Two of T:BUC's key priorities are to:
promote good relations and reconciliation with our children and young people;
support cultural expression.
While inarguably over the 22 years since the Good Friday Agreement our society has worked to improve good relations and programmes like T:BUC have improved good relations in the province, there is a need for a bolder and more direct approach when engaging with majority cultures. Often diversity programmes have focused on minority, "safe" cultural explorations, which certainly have a place in programmes, but in some way it avoids the "elephant in the room". Also, rather than the historical emphasis on leadership, engage young people more on citizenship.
The future belongs to our young people, but it is our responsibility to give them the best opportunity for a better one.
Seamus Heaney, a son of Northern Ireland, puts it best in his last great work, A Shared Homeplace, saying: "As I prepare to take my leave of our shared homeplace, I take comfort in an old Greek proverb, 'A society grows when old men plant trees in whose shade they know they will never sit.' We must keep planting those trees. We must create the shade."