Inclusion through health: How we're involving young people in healthcare services in Tunisia
Youth-friendly healthcare services are one way of addressing the marginalisation of young people in Tunisia, writes Mariam Abdel Baky of International Alert Tunisia.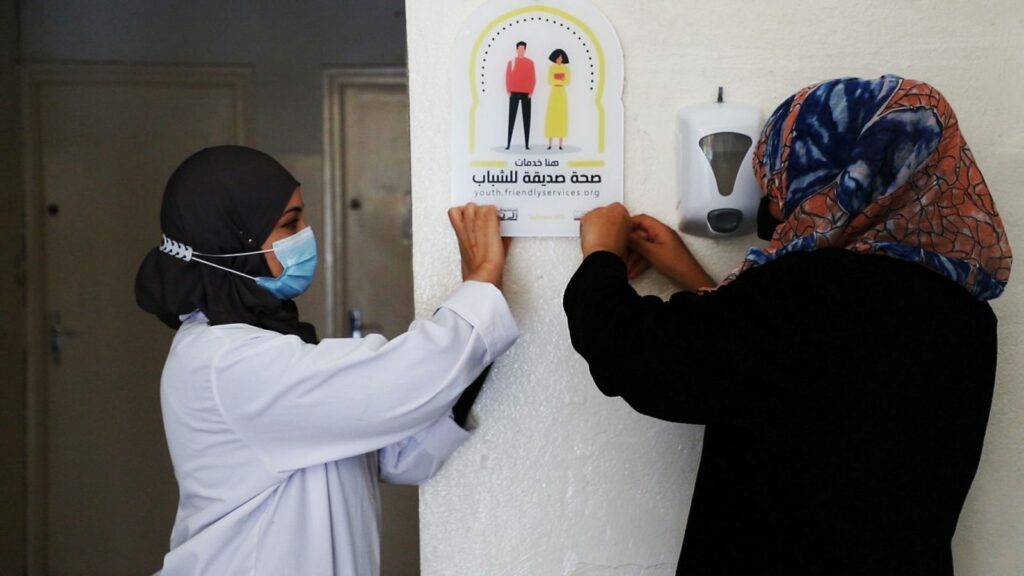 The Tunisian healthcare sector faces challenges that predate the outbreak of the COVID-19 pandemic, which has underscored regional disparities and the depletion of the public healthcare sector.
Regional marginalisation is a main feature of post-colonial Tunisia, where interior regions and border governorates suffer from a myriad of socio-economic problems that are exacerbated in comparison to the capital and coastal governorates. Rates of school dropouts, poverty and unemployment in the interior governorates are often twice as high as in coastal regions.
Access to healthcare is no exception. Based on official 2018 numbers, the governorate of Sousse has 391 specialists in the public sector, while the border governorate of Tataouine has nine. Given International Alert Tunisia's longstanding experience of working on bottom-up mechanisms of participatory democracy and the inclusion of youth, an innovative project has been developed to respond to marginalised youth's exclusion on decisions relating to access to health.
Why youth?
Youth in Tunisia constitute a large proportion of the total population, estimated at 24.9% and have needs that include achieving financial independence and obtaining social protection through entering the workforce. Yet, many in marginalised neighbourhoods and border regions face a reality of unemployment and lack of social protection. A reality in which the healthcare services are either inaccessible or do not respond to specific needs. This comes on top of other deep-seated structural issues, namely, the declining performance of the public sector, the high cost of services in the private sector and the absence of a strategy to incorporate groups that have no social and health coverage of which youth constitute a large segment, and the inability of the healthcare system to evolve with the aspirations of citizens.
Thus, healthcare services directed at young people should realise the right to health, as stipulated in the 2014 constitution, in addition to fulfilling all components encompassed by this right, such as accessibility, availability, appropriateness and quality of the service, as defined by international treaties and conventions ratified by the Tunisian state. In more practical terms, the services and the places in which they are offered must correspond to particular needs and expectations of young people today. A way of measuring the extent to which youth view the healthcare services provided to them is through enabling them to directly assess those services and engage in policy recommendations with relevant decision-makers.
Youth-friendly healthcare services
Alert's innovative project Youth-friendly healthcare services is informed by the aforementioned realities and by the engagement Alert has maintained with youth networks in the three regions of Kasserine (on the Tunisian-Algerian border), Tataouine (on the Tunisian-Libyan border) and Douar Hicher, a marginalised neighbourhood in Greater Tunis. Alert has set-up three youth networks, where its young men and women take part in informing and implementing the different project lines.
The importance of this project stems from its approach 'from the youth, to the youth'. Through an interactive mobile app, young people are able to assess seven different kinds of healthcare facilities (hospitals, primary healthcare centres, reproductive health centres, clinics, pharmacies, laboratories and gyms), identified by them as locations they frequent for health services. The assessment measures and criteria are based on a series of in-depth focus group meetings with youth from the three regions. Each meeting incrementally builds on the preceding one, aiming at arriving at a consensus on the measures and indicators.
The data collected through all these meetings was further developed by medical specialists to ensure that all measures and criteria correspond to the mandate of the different healthcare facilities, but also by tech specialists to convert them into an accessible user-friendly app. At a later stage, Alert's youth networks from the three regions came together for a test run of the app, where they took off to the field in the governorate of Sousse and came back with feedback on improving it. Sousse was selected as a middle ground, so that youth can use the app in an area where no group has advantage over the other.
Back in their regions, all identified healthcare centres received a guide booklet introducing the project and informing them that successful facilities will be awarded a sign to be hung at the entrance of the facility. Shortly after, the youth networks ran the assessments anonymously based on a well-defined plan. Each facility was assessed by two people, at different times of the day, to ensure that the data collection was as precise as possible. After the first round of assessments, 'unfriendly' healthcare services received a detailed assessment from the youth and a discussion was held in each facility between members of the youth network and the person responsible of the facility. In those meetings, a duration of amnesty is mentioned to the facility in which they can work on improving their services before a re-assessment takes place. Overall, 91 assessments of different healthcare services have been conducted between 2019 and 2020.
Feedback from the field and peacebuilding implications
After the first round of assessments, many healthcare facilities not identified as 'youth-friendly' contacted our youth networks to request a reassessment after introducing changes related to the recommendations made by the youth networks. In the midst of discussions, members of the youth networks noted the fact they can now engage objectively with relevant healthcare authorities on the quality of services, a discussion from which they have long been excluded. Additionally, healthcare facilities were encouraged by the recognition through the sign to improve their services, creating an environment of positive competition. If a clinic is not awarded the sign, but another on the same street or in the same neighbourhood is, the clinic will be motivated to prove the same quality of serviceWe also noted that many of the public healthcare services can introduce changes that do not require more budget to yield a positive result.
This pilot project, like other pilot field projects, benefitted from a wide range of recommendations for improvement by the implementing parties and demands for expansion by the youth networks and healthcare facilities alike. With social movements erupting in marginalised areas and irregular migration reaching its peak last July after the declaration of deconfinement, with the highest numbers of youth leaving for Europe, social stability in many marginalised regions seems volatile. The outbreak of COVID-19 affects vulnerable communities the most, but also presents an opportunity to push forward much needed debates on access to healthcare, the quality of public healthcare services and public spending on health. This pilot project not only serves to improve relations between youth and local authorities, but also provide objective and concrete recommendations that can inform policy reform.
---
About the project
The Promoting the social, economic and political participation of marginalised youth in Tunisia project aims to promote the participation of marginalised youth through their social, economic and political inclusion. It is focused on three specific regions where youth are regarded with suspicion from authorities and are impacted by high poverty rates, school dropouts and phenomenon of radicalisation and violent extremism: Douar Hicher (Tunis), Kasserine (Tunisian–Algerian border) and Tataouine (Tunisian–Libyan border).
For the past eight years, we have worked on supporting Tunisia's democratic transition by developing locally led mechanisms of participatory democracy and the inclusion of marginalised groups from poor neighbourhoods and border regions.
This work will help to increase young people's capacities to engage in bottom-up mechanisms of participatory local governance, so that they can be part of the decisions that affect their lives and bridge the gap between citizens and the state. The project will also help to increase youth activists' ability to advocate for change in a peaceful manner.