From humanitarian worker to peacebuilder: What I've learned
International Alert's Yara El Moussaoui made the transition from the humanitarian to the related, but often misunderstood, peacebuilding field. To mark International Humanitarian Day, she talks about how the fields intersect to change people's lives and shares stories from people she has met.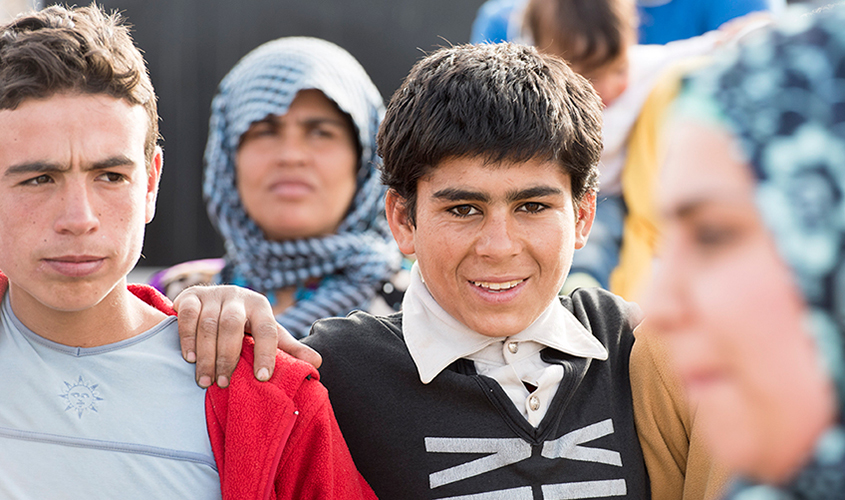 It has been three years since I made the transition to the peacebuilding sector. Prior to that I worked in emergency communications within the humanitarian field, focusing on the protracted Syrian crisis in Lebanon, getting people from all over the world to care about Syrian refugees. I soon learned that both fields save lives but in different ways and over different timescales.
Peacebuilding seeks to address the underlying causes of conflict and build people's ability to resolve conflict peacefully. However, the challenge is great. Around two billion people live in fragile and conflict-affected areas, while 70.8 million people around the world have been forced from their homes by conflict. Conflict now drives 80% of humanitarian need.
During my many field visits meeting people from different backgrounds, there was one common trait: people think peacebuilding is something that happens at the end of a conflict. But contrary to prevalent convictions, peacebuilding has a very important role to play in humanitarian settings and ongoing emergencies.
In Lebanon, where I'm from, peacebuilding plays an important role in promoting social stability. Humanitarians know that tensions can arise between refugees and host communities over scarce resources. Therefore, we focus on peacebuilding approaches that help development and humanitarian programmes ensure they contribute to social cohesion rather than inadvertently exacerbating conflict.
One of International Alert's projects in Lebanon, the closest to my heart, focuses on minimising sources of tension between Syrian and Lebanese communities in the Bekaa region, where relations have been strained by the war in Syria and the resulting refugee crisis. We bring together young Lebanese and Syrian students who are interested in finding peaceful solutions to everyday situations that challenge them, such as refugees' access to education, managing inter-community relations, and use of communal resources like water. The project allows the Syrian and Lebanese youth to take part in different peacebuilding and conflict mitigation activities, breaking down negative stereotypes and lessening the chances that small-scale disputes escalate.
Peacebuilding also seeks to sow the seeds of peace not just between, but within divided communities. This is done with the help of hero peacebuilders. Peacebuilders like Tarek, a young Syrian refugee who was kidnapped and sold by a band of smugglers. In his newfound home in Denmark, he's working to support other asylum seekers and refugees to overcome their challenges. I first met Tarek in Amsterdam during a workshop for our Aswat Faeela project, which developed the social leadership skills of youth who have been affected by the ongoing and protracted Syrian crisis. I was amazed at his sheer resilience and enthusiasm, despite everything he had been through. Tarek explained how he is relentlessly working with other Syrians, dispersed throughout the world, to build bridges between them as well as with their host communities.
"My wish is that someday, we'll be awareness builders. That we'll help build tolerance, teach people to accept each other's differences and to make people aware that differences are in fact healthy and necessary for any society," Tarek said. His story still resonates profoundly with me today.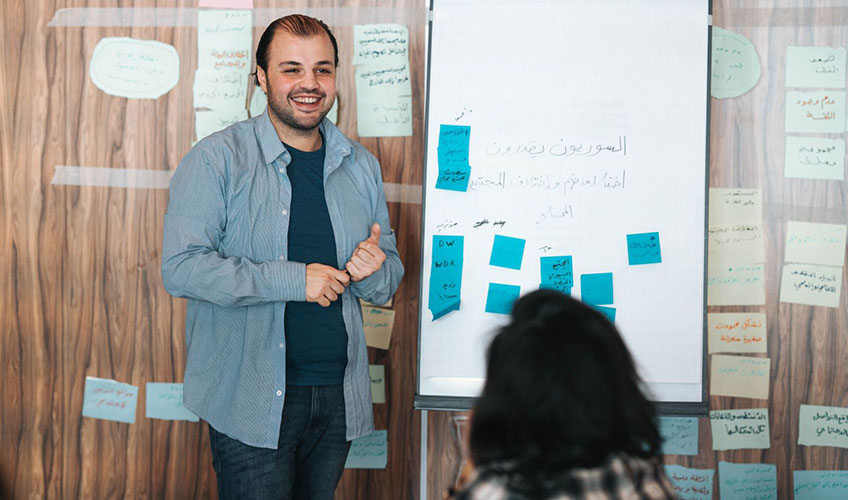 In other places, peacebuilders deal with the legacy of conflict so that it does not remerge.
Peacebuilders like Sara, an 18-year-old Rwandan who inherited the trauma of the genocide from her parents. Sara is president of one of our youth clubs, part of the Duhuze project, that works on providing psychosocial support for young people affected by transgenerational trauma through inclusive dialogue processes and joint economic initiatives.
"I would ask myself sometimes, why was I born into this heavy, heavy load? Why should I pay for the mistakes that the previous generation has committed?," Sara says. "Then I would remember that we are the change. We need to make sure that what has happened will not be repeated. We are using the power of peacebuilding dialogue to make everyone, from all backgrounds, connect and heal."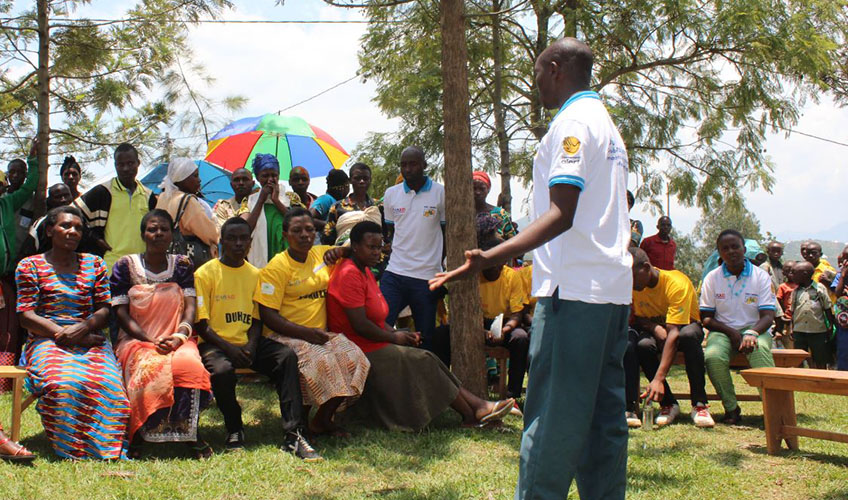 Role play session on reconciliation in one of the rural parts of Rwanda, led by young volunteers from the Duhuze project
Peacebuilders also help people build for the future.
Peacebuilders like Rahaf, who left Syria using the services of illegal smugglers. Originally from Aleppo, she had to leave her country in a rush and to start from zero in her newfound home in the Netherlands. But Rahaf did not give up. She built a new life and took part in the Aswat Faeela network with other Syrian refugees.
"We need to find a support network to raise our voice up," Rahaf says. "We don't have to be merely refugees, sometimes stripped of every value, and we can be more than just numbers." Rahaf is a living support network helping everyone around her and pushing them to develop their skills: "We need to keep on learning, so that one of these days, when we go back to our homeland, we would be carrying something between our hands to offer to our country."
As a communications specialist, I'm privileged to hear stories such as these first hand, of individuals working to build more tolerant peaceful communities, often under very difficult conditions. My role is to help communicate their stories to the outside world, so people can better understand what is happening to regions and places they don't have access to or might have never heard of.
In my region, which has been so ravaged by war and where people are more accustomed to relief operations than the narrative of peacebuilding, I have a duty to communicate that peacebuilding is not something distant from humanitarian assistance, nor people's daily lives.
I feel compelled, professionally and personally, to show how it is within people's power to break cycles of violence and to build sustainable peace. Peacebuilding is not limited to high-level policy meetings. The bulk of its impact relies on the work and efforts of everyday heroes like Tarek, Sara and Rahaf.