Young people make everyday peace a reality in the Philippines
A few in the crowd of around 500 mostly young people bopped their heads or listened intently as Dong Abay sang his new song, 'Kalinaw', which means peace in Bisaya.
"I was very happy and excited to perform in front of this crowd," Dong Abay later said backstage at the Concert for Peace organised by International Alert on 23 September in Quezon City, the Philippines, to celebrate the International Day of Peace.
The song is a call for everyone to make everyday peace a reality. It is hard-hitting rock and roll, but bright, buoyant and hopeful. His unique wit and his commentary on everyday realities hit listeners right in the gut. Everyone gets what he is singing about, his message clear and accessible.
I got to share the song with them and perhaps influence them to ask questions and to work towards peace, however they define it.
Abay rose to rock stardom in the mid-90s with his group Yano and Pan. His thoughtful songwriting proves that music has the power to break down barriers and apathy.
Abay, who collaborated with us on this year's celebration of the International Day of Peace, shared that 'Kalinaw' "is actually one of the most difficult songs I had to write … It made me reflect on the everyday decisions I make that are peaceful not just for me but, hopefully, also the larger community."
The song celebrates the beauty of every day:
"Araw sa umaga/ O kay ganda!/ Bughaw na langit/ Bughaw na dagat"
"Sun in the morning/ O how lovely!/ Blue sky/ Blue sea"
It urges peaceful acts as a response to the daily battles that everyone faces:
"Sa araw-araw na digmaan/ Araw-arawin din/ Ang kapayapaan/ Sa sandaigdigan/ Araw-arawin natin/ Ang kapayapaan, ang kapayapaan"
"If there's war every day/ Let's have peace every day as well/ In the whole world, every day/ Let's have peace, let's have peace"
#EverydayPeace – there's an app for that
'Kalinaw' is the signature song of our #EverydayPeace campaign in the Philippines, which promotes everyday acts of peace. The technology-based campaign is anchored on a free mobile app of the same name, which was launched during the concert.
The idea is to create a safe space for a community of everyday peacebuilders where they can share stories of daily acts of peace through photos and videos, learn why violence persists through curated infographics, and act with others through shared initiatives.
The #EverydayPeace app was developed by Hubert Ursua, who won the 2016 #PeaceHackPH, our software development competition that brought together programmers and peacebuilders to advance innovative ways that address conflict issues in communities.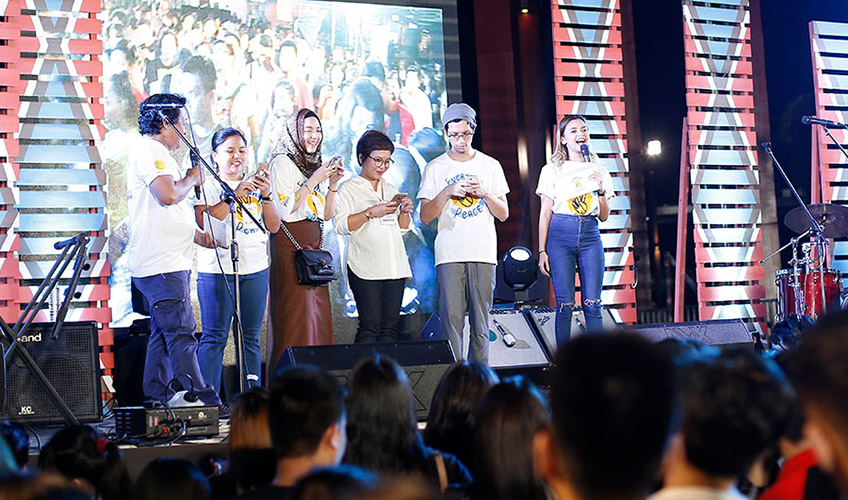 "We witness or hear about injustice, conflict and suffering across communities and societies. Many of us think these are beyond our control and already the norm, but this simply is not true," said Nikki de la Rosa, our Philippines Deputy Country Manager.
"During the Concert for Peace, we wanted to let people know that everyday peace is possible and it starts with each of us contributing our simple efforts. 'Kalinaw' embodies Alert's belief that peace is within our power."
At the Concert for Peace, rising Filipino bands Jensen and the Flips, Autotelic and Alex in Wonderland, led by actor Alex Medina, also performed to join the call for everyday peace. Former X-Factor contestant Mark Mabasa sang some of today's favourite pop songs. Johnoy Danaow), Ebe Dancel and Bullet Dumas sang their hits.
Danao sang 'One Day' and 'Ikaw at Ako', and Dumas sang 'Ninuno' and 'Galit'. Dancel serenaded the crowd with 'Wag Ka Nang Umiyak' and 'Bawat Daan'. Performing together as the 3D, Danao, Dumas and Dancel played Sugarfree's 'Burnout' to end their heartfelt set.
Speaking to the audience, Dancel said,
Every day, when you wake up, you always have a choice. Every time I wake up, I choose kindness over hatred, love over hatred, compassion over hatred. I think we have an ability to make that choice, every day.
Hip-hop artist Gloc-9, well-known for his songs tackling social injustice and poverty, also treated the crowd with 'Upuan', the chorus of which is mixed with Asin's 'Mindanao'. Gloc-9 shared that while he trained to be a nurse in the past, he realised that for many, especially overseas Filipino workers, peace also means having personal financial security, and having the means to eat well and to send your children to school.
De la Rosa agreed. "While there are many pathways to peace, economic security is basic," she said. "There are interlinked factors that cause conflict and solutions must therefore be multifaceted, nuanced and lived as an everyday practice."
"Any small and personal act to promote peace within ourselves and with each other can be featured in the #EverydayPeace app, in order to encourage other people to do the same," she stressed. "For example, we welcome posts about youth volunteering projects, business matching, internships for the youth, dialogues with decision-makers that inform policy, training activities for women and other innovative efforts – anything that counters the foundations of violent conflict in any way."
If you're based in the Philippines, the #EverydayPeace app can be downloaded for free from Google Play. It has three features: #EverydayPeace, #EverydayLearning and #EverydayChange. The first allows users to capture and share their everyday acts of peace; the second, to download data and analysis on factors that contribute to or impede peace and development; and the third, to link with other peacebuilders, in the Philippines and abroad, and collaborate on activities that bring change to communities. The app will be available in the Apple App Store soon.
"We envisioned the Concert for Peace and the #EverydayPeace app to be an effective tool in making peace accessible," said de la Rosa, "rather than something abstract and beyond reach, among young people who use digital social media in their daily lives. We truly share the vision of Dong's new song 'Kalinaw':
"Kahit na bawat isa ay magkakaiba/ Magkahawak ng kamay/ Malayang nabubuhay"
"Even if each is different from the other/ They hold hands/ They live in freedom"
Watch the Concert for Peace highlights and listen to 'Kalinaw'
The Concert for Peace was made possible by the Department of Foreign Affairs and Trade of the Australian government, Smart Communications, Inc., Eton Centris and Pulp Magazine.