The women entrepreneurs ending violence in Tajikistan
Half of all women in Tajikistan are thought to be regularly subjected to physical, psychological, sexual and/or economic violence by their husbands or in-laws.
International Alert's research showed that 18-24-year olds were the most affected. Women are expected to marry in their early 20s and in Tajikistan, as in many countries in Central and South Asia, the family unit is not limited to the husband and wife but includes a more complex grouping of in-laws. Conflict and tension can arise from this family dynamic, leading to exploitation and violence towards the young women. This leaves these younger women feeling as if they have no worth in the household or in wider society.
"During the winter months, my husband would to travel to Russia for work. When he came home in the summer, he was abusive. He drank a lot, which brought our family only sadness, tears and frequent conflicts. It created an unhealthy family environment. Constant arguments meant I always felt threatened." Salima tells us.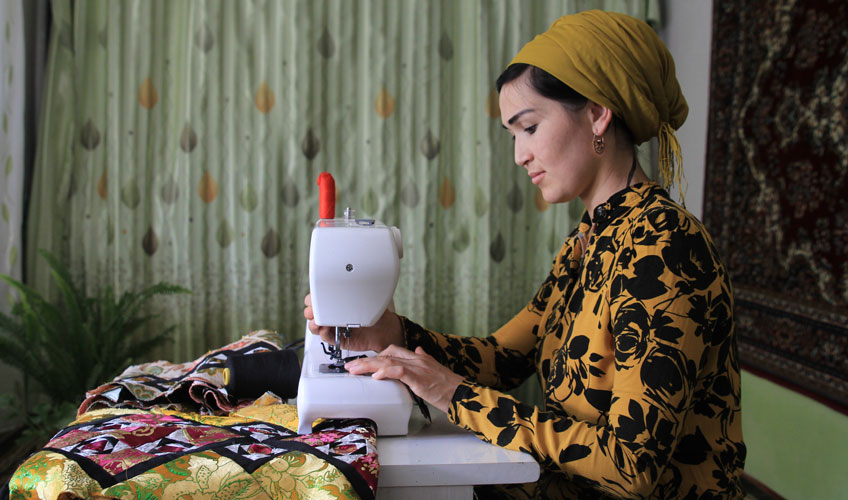 Financial independence
Our Zinadagii Shoista ('Living with dignity') project aims to build a socio-economic environment that empowers women and protects them from sexual and gender-based violence.
By fostering financial independence and giving families the tools to resolve their conflicts through discussion and understanding, we help Tajik women to contribute to the family economically and be seen as valued members of society. This in turn helps communities to change their attitudes and challenges the social norms of violence against women and girls.
"I got involved in the business development and behavioural change sessions. They not only helped me to understand how to create a healthier family environment but also how I can financially help my family by starting a business." Salima tells us.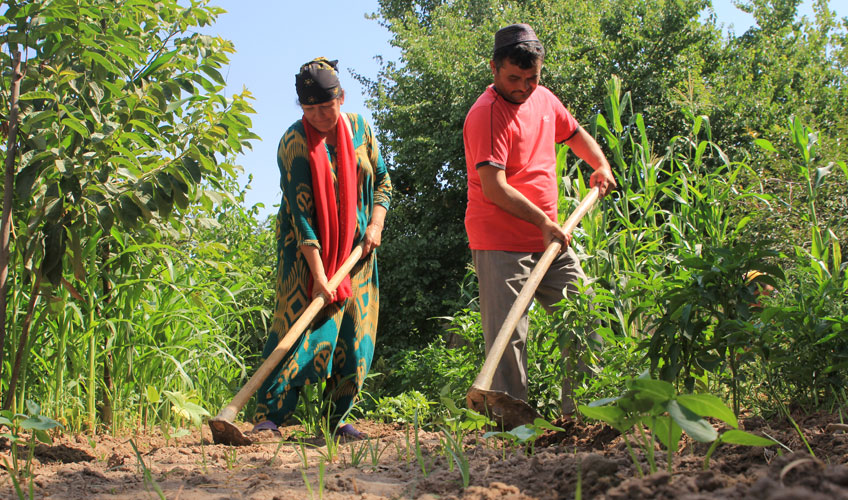 Finding my voice
The combined approach of tackling harmful social norms and promoting economic empowerment has resulted in a decrease in sexual, physical and emotional violence, improved family relations and an increase in livelihoods.
Women's earnings have increased 4-fold and the percentage of women involved in the project who have reported experiencing violence has decreased from 64% to 33%.
Anisa, who has been part of the project says "as a result of my being part of the project I was able to establish a greenhouse. It is mostly me who is dealing with the project, but my in-laws are very supportive in maintaining the greenhouse as well.The greenhouse currently generates around 50 somoni a week but I am hoping, in the future, it will make more money. I have to emphasise that the income I get from my greenhouse has greatly supported us in providing food and other household needs. I was also able to buy all the school materials and clothes for my two boys for the upcoming term." She goes on to say,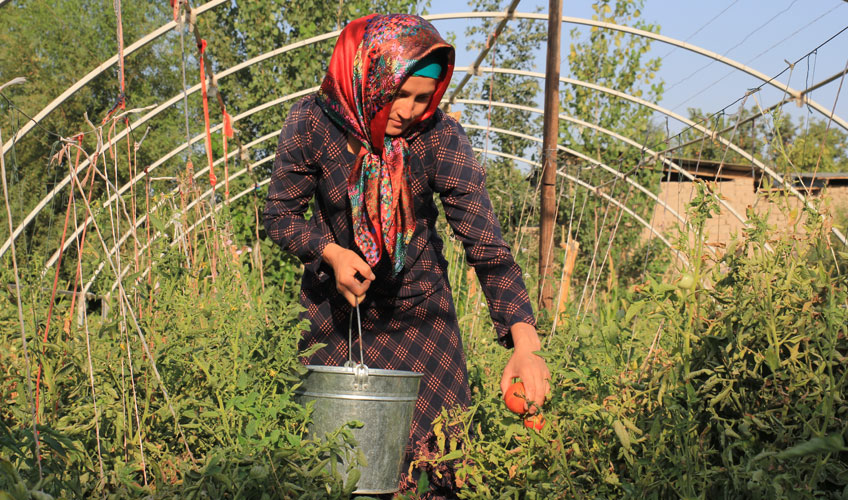 This economic contribution to the family has helped me become a respected and valuable part of the family and helped improve the relationship I have with my in-laws.
The project has helped to change gender attitudes, perceived social norms on gender and the dynamic between the young women and their husbands and mothers-in-law. Helping the young women gain financial stability has seen them find a confident voice, be part of decision-making processes in the house and as a valuable member of the family.
For Madina, becoming part of the project was a "light at the end of the tunnel. I was striving to find my social status again and start a new page in my life before the project. Now, I have the hope of continuing to live as a dignified member of the family and the society. Making around 100 somoni per week from growing cucumbers in the greenhouse that the project helped me set up was something that helped me increase my social status as a woman."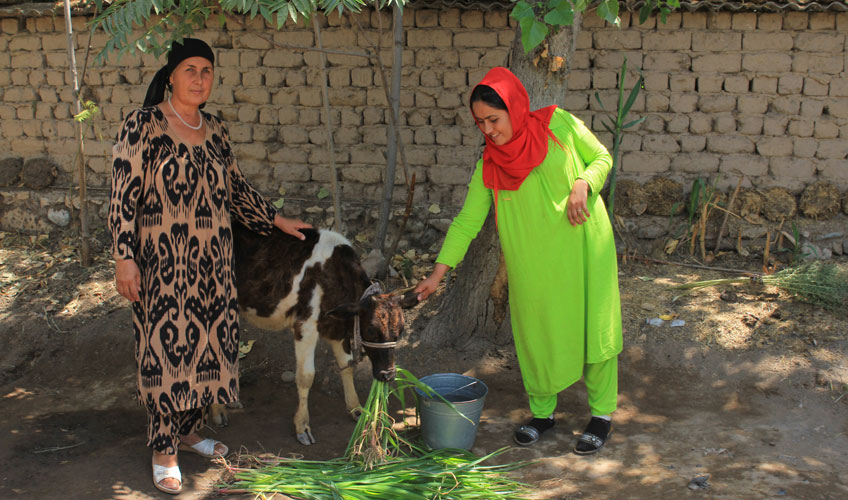 Empowerment
This project has found that sexual and gender-based violence can effectively be tackled through long-term economic empowerment of women, while also engaging men and informal community leaders to reinforce positive gender norms and change harmful ones. This has resulted in reducing levels of domestic and intimate partner violence by almost fifty per cent.
Addressing the exclusion of women in societies, including women's voices and protecting their rights should be a key component in building and maintaining a peaceful society. Otherwise, we run the risk of focusing solely on the symptoms of conflict, without addressing its root causes.
Combining social norm change and economic empowerment can influence the complex dynamics that lead to various forms of domestic violence (and sexual) against women and girls. The findings of the project are highly promising for both reducing violence against women and improving economic security.
"After taking part in the economic empowerment sessions, where I was taught small business and economic skills, we were able to purchase a cow with a calf to produce milk and dairy products that we can sell." Mohpari tells us (Rahima's mother-in-law).
Rahima tells us:
This business has given me and my mother-in-law a greater sense of worth, both within the household and in the community. It has stopped the conflict between us. Now we work together and have established a cohesive and respectful relationship.
---
About the project
Our Zinadagii Shoista ('Living with dignity') project aims to help curb the levels of violence against women and girls in Tajikistan by empowering at-risk women and girls to provide for themselves economically as well as to seek more effective protection from domestic violence.
This project seeks to create a socio-economic environment that enables women to enjoy greater protection from sexual and gender-based violence, with a particular focus on domestic violence. It will tackle the equally important structural factors that determine social responses to gender-based violence, through approaches that are multi-sectoral (focusing on economic empowerment, community mobilisation and awareness raising), integrated (working with both women and men) and bottom-up (finding local solutions and replicating them with community buy-in).
Alert works on this project with the following local partners: ATO, Cesvi Fondazione Onlus, Farodis, South African Medical Research Council, Women of the Orient. It is funded by the UK Foreign, Commonwealth and Development Office and What Works to Prevent Violence.