Supporting Boko Haram survivors to move on
As a former Boko Haram captive, Modu* had been beaten, raped and forced to work for long hours without any rest or pay. Now, out of captivity and living in a camp, she desperately wanted closure and was looking forward to a normal life.
"It has been very tough but with each passing day, the stigma is reducing," she told us.
I returned from captivity three months ago, but people keep pointing fingers at me. They call me a Boko Haram wife. Even fellow women think I am a Boko Haram member.
Modu's case is not an isolated one. Now in its ninth year, the crisis in north-east Nigeria has created vulnerabilities and peacebuilding concerns. As the Nigerian Armed Forces recaptures large swathes of territory formerly held by Boko Haram, a number of captives are being released. These returnees face a number of challenges. Having been subjected to rape and forced marriages, many are returning pregnant or with children born out of this sexual violence. They face marginalisation, discrimination and stigma not only from their families and communities due to cultural norms associated with rape, but also due to a fear that they may have been radicalised.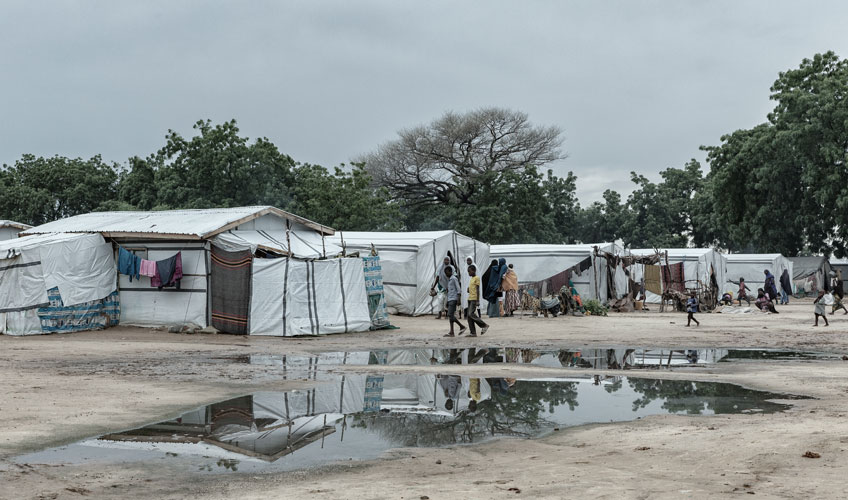 Reintegration is further hampered by the widespread poverty in the communities to which they are returning, where livelihoods have been destroyed by the protracted conflict.
Modu goes on to say, "there are a number of organisations working with us on stigma. Personally, I have been impressed with International Alert as they work directly with us who are affected to understand what we are going through. Their dialogue sessions have also made it easier for members of the community to understand the issues we face, and how to address them."
I can say that the stigma towards me has certainly reduced since International Alert started working with us. In the camp, I interact more with people compared to when I first came here.

This work is premised on Alert's research findings conducted in 2016 – the findings of which were used to develop a programme that sought to address negative perceptions and to promote the reintegration of those returning from captivity.
Working alongside local partners, Herwa Community Development Initiative (HERWA), Healthcare Development Focus (HECADF) and the Federation of Muslim Women's Association in Nigeria (FOMWAN), Alert organised a series of activities aimed among others at: encouraging greater social cohesion and resilience to violent conflict and violent extremism in North East Nigeria and creating stronger relationships within and between communities in target areas.
"We wanted to design a programme that works. A multi-faceted programme that looked at all the forgotten issues in this crisis," said Cindy Chungong, Country Manager, International Alert – Nigeria.
She added: "We have a clear underlying logic for this project: fear, misunderstanding and lack of dialogue have created a huge stigma against women and girls and children who have been held by Boko Haram. If we provide opportunities to break down misperceptions and for different sides to engage peacefully in safe spaces, then we improve the conditions for the women, girls and children to be reintegrated and increase social cohesion. This will, in turn, make communities more resilient to the negative impacts of protracted violent conflict as we will have strengthened the social bonds."
According to Kimairis Toogood, Alert's Senior Adviser on Conflict Sensitivity, the project has had quite an impact on individuals and communities.
"It is astonishing what they have achieved. What else can you say. We are seeing husbands taking their wives back after years in captivity, families re-uniting, and communities starting to understand the plight of returnees. Many of these women will have been sexually assaulted, while others are coming come back with one or two babies. We have to give credit to the survivors, the families and all the communities involved," she says.
To achieve this change, Alert's strategy has included training influential community members (mostly religious leaders, traditional leaders, women's leaders and youth leaders) on how to conduct the sensitisation and community dialogues. Working directly with local partners, Alert also runs support groups for women and girls' survivors of violence and is working with them to develop support networks where they feel empowered to express the challenges they face.
The dialogue and sensitisation sessions have provided a platform and enabled an environment for all community members to discuss the challenges hindering the reintegration of survivors back to their families and communities. They have also created a platform for promoting reconciliation, fostering understanding and forgiveness.
Judging from the response by Tani*, an elderly survivor from Gwoza Local Government Area (LGA), all is not lost. "I was in Boko Haram captivity at Sambisa for years and whilst there, I gave birth to twins. Life in captivity was very tough. When I came back, my actual husband rejected me. He did not want anything to do with me or the twins. It made me sad and I felt alone. The sessions have been helpful in encouraging people in my community to accept and support me. Given the atrocities committed against my family, I have never thought of forgiving Boko Haram. Why should I?" she asked.
She goes on to say:
Although it is difficult, there is nothing more to do than to move on with my life especially with all the stories of other women and girls like myself being shared. I think there is nothing better to do than to forgive them.
About the project
'Supporting vulnerable communities and conflict-sensitive reintegration in northeast Nigeria' was a project to help reintegrate survivors of sexual violence by Boko Haram as well as support people internally displaced by the conflict.
International Alert Nigeria worked in three camps for internally displaced people and one host community in Maiduguri, and another community in nearby Bama, to help those affected by the violence reintegrate back into society and move forward with their lives.
This included holding victim support and family dialogue sessions – especially women, girls and children, running public awareness campaigns on stigma reduction, and training local leaders on peacebuilding and non-violent conflict resolution.
Alert worked on this project with the following local partners: Federation of Muslim Women's Associations in Nigeria (FOMWAN), Health Care Development Focus Initiative (HECADF), Herwa Community Development Initiative.