Religion not the only cause of Marawi war, report says
Inter- and intra-religious violence was not the main cause of the war in Marawi and violent extremist activities in surrounding areas. This is according to Conflict Alert, a sub-national conflict monitoring system developed by peacebuilding organisation International Alert Philippines.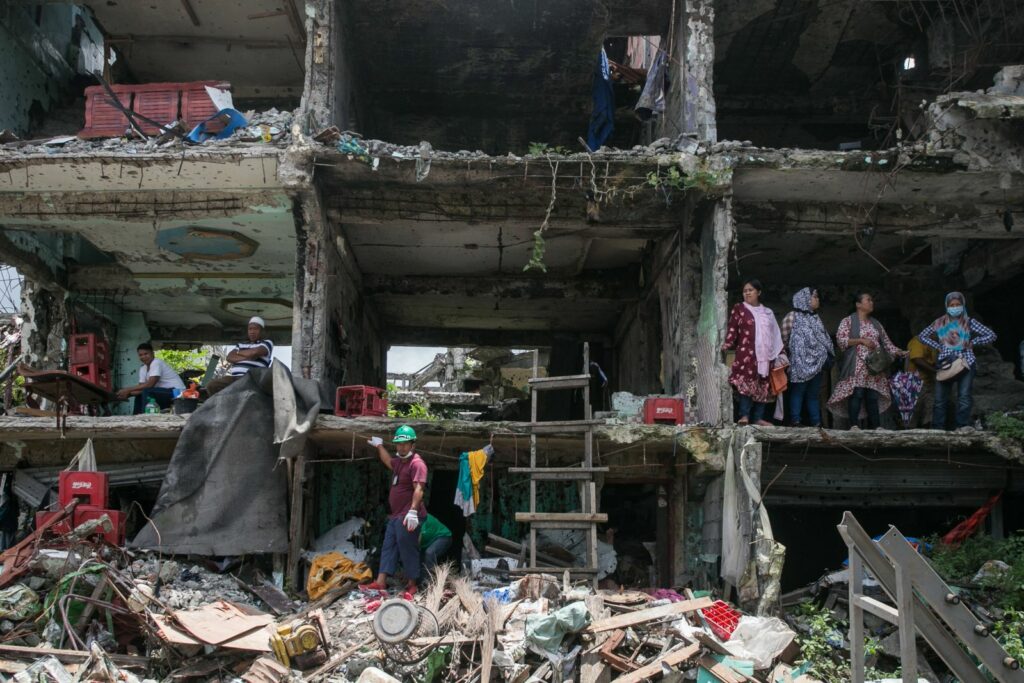 Conflict Alert, which launched its 2018 report today, tracks the incidence, causes, and human costs of violent conflict in the Autonomous Region in Muslim Mindanao (ARMM), including Isabela and Cotabato cities, and the Davao and Caraga regions. It has the largest database on subnational conflict in the Philippines, containing some 43,000 violent conflict incidents gathered from police reports, print media, and community sources.
Nikki de la Rosa, International Alert Philippines country manager, explained the multi-causality of the Marawi war. "Evidence shows that membership in extremist groups was prompted by pre-existing clan feuds. Belonging to an armed group accorded firepower and protection against other clans. Extremist groups, as in the case of Maute, instrumentalised existing identity-based conflicts to forge alliances that strengthened their base and widened their reach," she said.
Conflict Alert data shows that other incidents involving extremist groups were due to a combination of political, identity, and shadow economy-related causes, providing evidence of their collusion with those involved in illegal drugs, illicit weapons, kidnap-for-ransom, extortion, and carjacking, among others.
"The survival of violent extremists in the harsh combat areas in the borders of Lanao del Sur or the areas surrounding the Liguasan Marsh reinforce the belief that they had access to funds from many sources including shadow economies and that they had used kinship networks to expand their resources and evade capture," de la Rosa explained.
The latest report highlights a dip in conflict incidence in all ARMM provinces in 2017 compared to 2016, except in Lanao del Sur. The war in Marawi caused the number of violent conflicts in the province to spike to 942 in 2017 from 514 in 2016. Conflict deaths in Lanao del Sur also jumped to 1,358 from 310.
The increase in conflict incidents and deaths in Lanao del Sur was due to the rise in incidents involving violent extremist groups such as the Maute Group/Dawlah Islamiya. In Maguindanao, the Bangsamoro Islamic Freedom Fighters caused havoc in the SPMS Box.
The rise in conflict deaths is explained by the heavy use of explosives and the ability of threat groups to congregate and assume a unified identity. The Maute Group and Abu Sayyaf Group battled with government forces in attempting to establish an ISIS province in Lanao del Sur.
Adaptable responses
"These conflict trends highlight the urgent need for new and adaptable responses to conflict in Mindanao," de la Rosa said.
"Current strategies to fight violent extremism are not shaped by a deeper analysis of its origins and remain dominated by a singular military approach to the problem," she added.
"We need a shift in institutional frameworks, both formal and informal, such as the use of traditional and hybrid rule systems that have worked to settle violent conflict among clans at the local level," de la Rosa explained.
According to de la Rosa, multi-causal strings of violence that precede and follow extremist violence requires "focusing on rebuilding social cohesion and resilience within communities."
Francisco "Pancho" Lara, Jr., International Alert Philippines senior peace and conflict adviser, said that although government has declared Marawi as liberated and the Bangsamoro Organic Law has been enacted, the Bangsamoro people continue to feel uncertain and worried about their security and protection.
"Local and international peacebuilders and development workers are already planning interventions and seem to be bent on building a technocracy and instituting 'good governance' rules and systems to weaken strongman rule," Lara observed.
"Good governance through an inclusive, professional, egalitarian, and merit-based system is fine, but a transition to the new Bangsamoro will require full support and assistance of clans and local strongmen for it to be peaceful. Politicians will be as important as technocrats in preventing another Marawi," he added.
About Conflict Alert
Conflict Alert is pioneered by International Alert Philippines. It combines two databases: the Bangsamoro Conflict Monitoring System established in 2013 and the Southern and Eastern Mindanao Conflict Database launched in 2015. Conflict Alert receives support from the World Bank, and the Australian Department of Foreign Affairs and Trade. For more information, visit www.conflictalert.info