Recording peace: Filmmaking for peace
Mae Arah, a 21-year old from the conflict-ridden Sulu province in the Philippines, had no idea just how life changing it would be to attend International Alert's interactive videomaking workshop.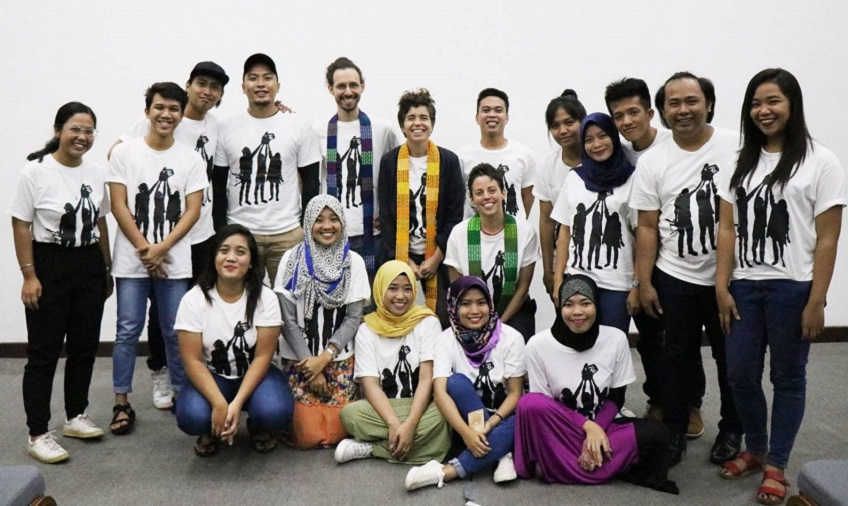 "I was made more aware of the issues that are happening outside my community and became more thoughtful about those that were happening within my community," she shared.
The workshop took place over a two-week period and were held near the capital city of the Philippines, Manila, in Quezon City. They were organised by International Alert and Build Up, a collective that uses innovative tactics in their peacebuilding initiatives.
Participants consisted of 15 young people from restive southern Philippines and Muslim enclaves in Metro Manila, an area where those displaced from the conflict in Mindanao have fled to over the years.
They were taught how to encourage and engage in participatory facilitation and how to use films as a tool for peacebuilding.
The participatory nature of the workshop empowered the participants, as it provided them with a safe space to engage with each other and share their thoughts openly.
"What I liked from the process is that everyone has a voice. We can say our opinions without the fear of judgement," stated Almaira Managza.
For 22-year old Naila Asap, the process taught empathy. "I became more conscious of how I talk and interact with other people," she said. "I became more understanding towards other people's situations."
Towards the end of the workshop, the group produced short films on topics close to their hearts. It was anything but easy. Each particpant had different levels of expertise, so naturally, some encountered difficulties.
"I was scared because it was my first time to use video equipment," Mae shared. There wasn't anything like this in her far-flung hometown. Despite her inexperience, she realised the potential of films as a tool for peacebuilding, particularly for young people like herself.
"Youth nowadays spend a lot of time on social media. It would be great if we could use our inclination towards technology in addressing issues in the community," she said.
"Youth are tech-savvy," said Khalid Amerol, 25, who had the same thoughts. "We learn new things quickly. This places us at the forefront of using technology in peacebuilding initiatives," he added.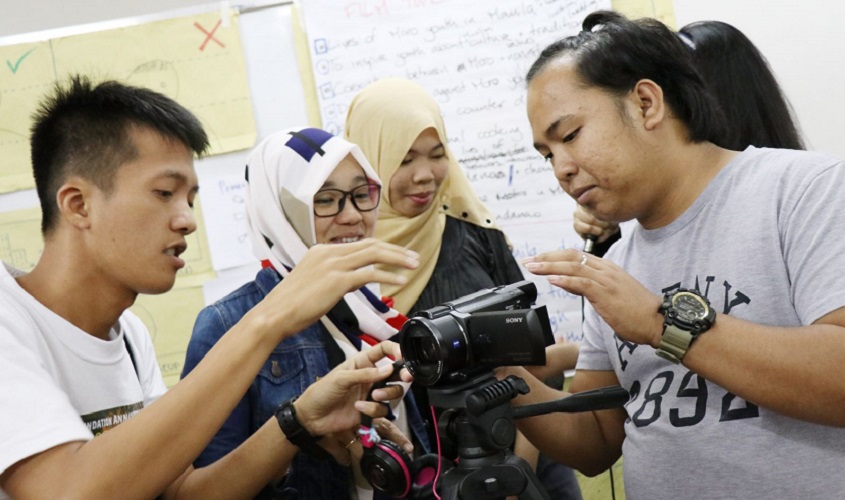 Harnessing youth voice and agency
Despite the promising future of young people, they are vulnerable to violent conflict because they lack socio-political opportunities. International Alert believes that encouraging youth to participate in community-building and governance reduces their vulnerability to violent extremism.
Nikki de la Rosa, International Alert Philippines' Country Manager, sees the youth as key agents of change. "They know their context so they know what's best for them, what solutions they need to address issues in their communities with," she said.
Nikki said that the interactive videomaking process provides young people with the opportunity to be critical of their political and socio-economic environment and the power to build their own narrative using a lens that is sensitised to conflict dynamics and effective peacebuilding strategies.
"The youth need an outlet where they can exercise their full potential and feel that they have some control of their situation and can contribute to steering their communities toward peace," Nikki added.
In the second week of the workshop, the youth shot, edited, and publicly screened three films. The films focused on the life of Muslims in urban centres and people's views on issues in the Bangsamoro, a predominantly Muslim region in southern Philippines currently in the process of transitioning into a more peaceful and stable autonomous government.
Almaira and her group produced a short film that shows how ordinary people in the capital think about issues that Filipinos in Muslim Mindanao face.
The film they produced was an eye-opener for her as well. "I realised that I am the same as some Manileños who are not aware of the issues in Mindanao," she said. She hopes that more people, regardless of where they come from, to care about issues they are not particularly affected with.
Naila's group, on the other hand, surfaced the discrimination that her Muslim neighbours in Metro Manila face. Unlike Muslim Mindanao, the central metropolis is predominantly Christian. Both Muslims and Filipinos there have to put in extra effort to prove that they are good people.
They also produced this film, it reconstructs Khalid's perception of the life of Muslims in Metro Manila. Considering his exposure to conflict situations in Mindanao, he previously thought that Muslims fared better in the Metro. Hearing the stories of the people they interviewed made him realise that Muslims, despite fleeing poverty and conflict in Mindanao, face another hurdle in a place where they feel they don't belong.
Mae's group explored the struggles and prejudices that Muslims in Metro Manila face while in their workplace. In making this film, Mae realised that being a Muslim should not hinder someone from succeeding in life.
"As a young Muslim woman, I can show other people that I can practice a profession of my choosing," she shared.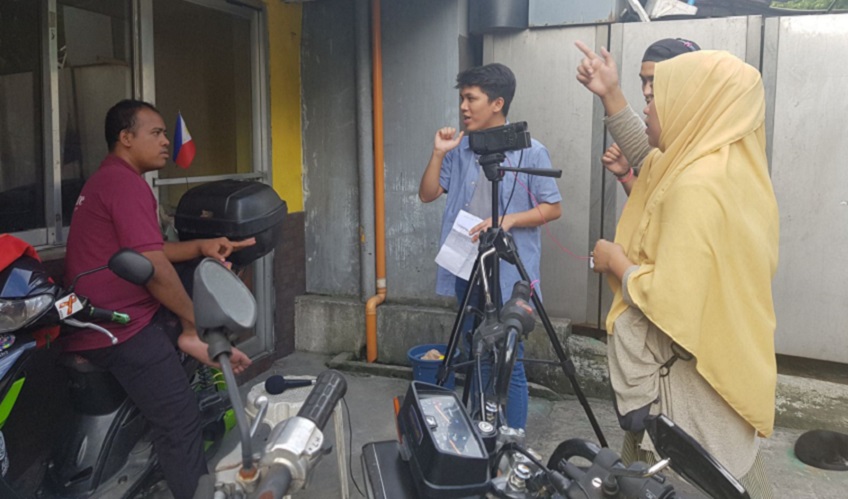 Technology for peace
This cohort of young peacebuilders have been showing their three films to various audiences in their respective communities, including internally-displaced people in Marawi City.
Another big challenge they face is the application of their learned skills into their respective advocacies.
After going back to her hometown in Maguindanao, where rido or clan feuds are pervasive, Almaira rounded up three other youth leaders with the help of International Alert's partner TASBIKKA, Inc., a community based organisation, and created a film about how fake news cause rido.
According to International Alert's conflict monitoring system, Conflict Alert, rido was the tenth top specific cause of violent conflict in Muslim Mindanao from 2011 to 2017. These are often caused by land disputes and are detrimental to daily life as they cause damage to properties, displacement, and the loss of life. The youth specifically feel the effects of rido because many young people, mostly boys, do not go to school for fear of being targeted by rival clans.
The film creates an open space for victims of rido to share how it affects their lives. "The participatory process provided a space to share the grievances of the victims who did not have a chance to do so before, Almaira said.
Almaira hopes that their film expresses how urgent the youth's predicament is to government and community leaders, so they can finally find a solution to the problem while the young people also participate in the process.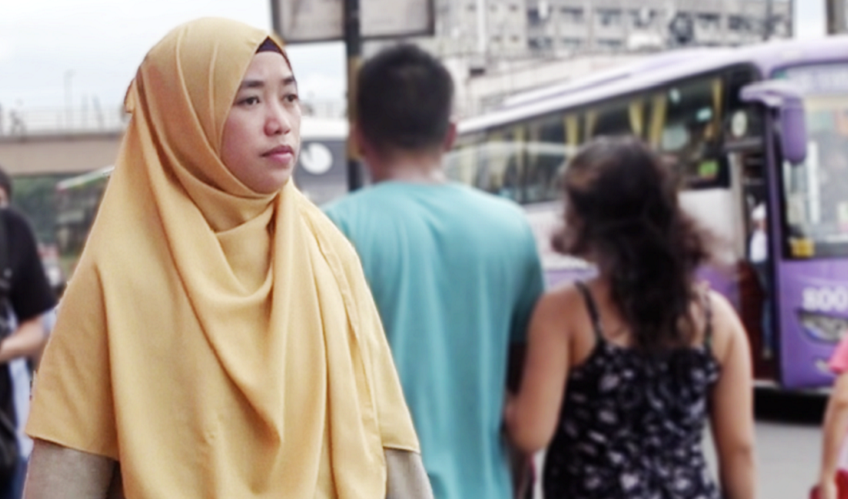 Khalid, on the other hand, was able to create a video that advocates for a cause that is close to him – protecting the environment.
As a former employee of the Office of the Regional Governor, Khalid recently documented an ecological camp in Lake Uya-an in his province, Lanao del Sur. What was once a source of livelihood for its settlements, is now a stretch of cracked and parched land.
Conflict Alert data shows that environmental misuse often causes violent conflict. Resource issues such as the use and control of land, water, and other natural resources are one of the main causes of violent conflict in Muslim Mindanao.
"I hope that through the film, people will be more conscious of how they treat our environment, or we will be left with nothing and chaos will ensue," Khalid shared.
Although films were the output of the training, Mae was able to implement the participatory facilitation method in her field of work.
Mae is a youth member of International Alert's partner Lupah Sug Bangsamoro Women, a non-governmental organisation that runs community-based activities and provide basic services in areas that are not reached by the government because of the conflict. They encourage women and young people to harness their voices to build peace and call for socioeconomic development in the province.
"I used to only accompany my team leader when talking to government officials and community partners. Now I have the confidence to lead the meetings with our village chairman," Mae shared.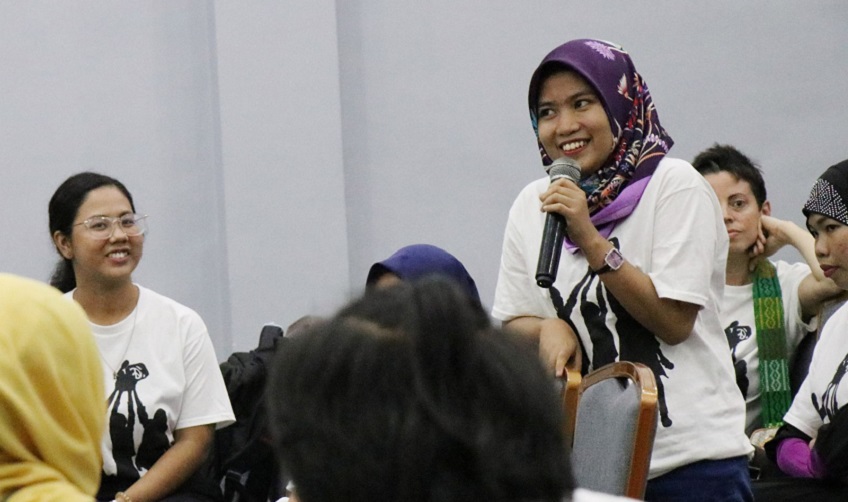 She hopes that there will be more opportunities like this for other young people, especially those from her province, an area known for being a stronghold of the Abu Sayyaf extremist group.
"There are a lot of out-of-school youth here who join terror groups like the Abu Sayyaf, because their parents cannot afford to bring them to school," she shared.
According to Mae, youth in Sulu join the group because they have lost hope in their future.
This is also true in Lanao del Sur, according to Khalid. "Youth are vulnerable to join armed groups because of the lack of opportunities," he said.
Lanao del Sur is the birthplace and lair of the Maute Group, which is responsible for taking over Marawi City in 2017.
"The youth certainly have a great role in peacebuilding and nation-building. As emerging leaders, they still possess that unbridled restlessness and inspiration that can take them from a place of desolation and desperation to a sort of renaissance of hopeful and focused creativity—if they are given the chance to do so," Nikki said.
"I am more inspired to teach my fellow youth that although young, we can still contribute and make an impact in our community, whether it's grand or small," Mae said.
Watch the three films produced by the young filmmakers: Makabayan, Kaugalian, Imahe