Promoting female peacebuilders: Yakaka's story
Yakaka is a community leader from Goidamgari, Borno, northeast Nigeria. Like most members of her community, she is passionate about building peace. Yakaka has been working with International Alert to promote social cohesion in northeast Nigeria by encouraging collaboration between community leaders and members of the Civilian Joint Task Forces (CJTF), which serves as a community policing force in the three states most affected by the violent conflict in northeast Nigeria.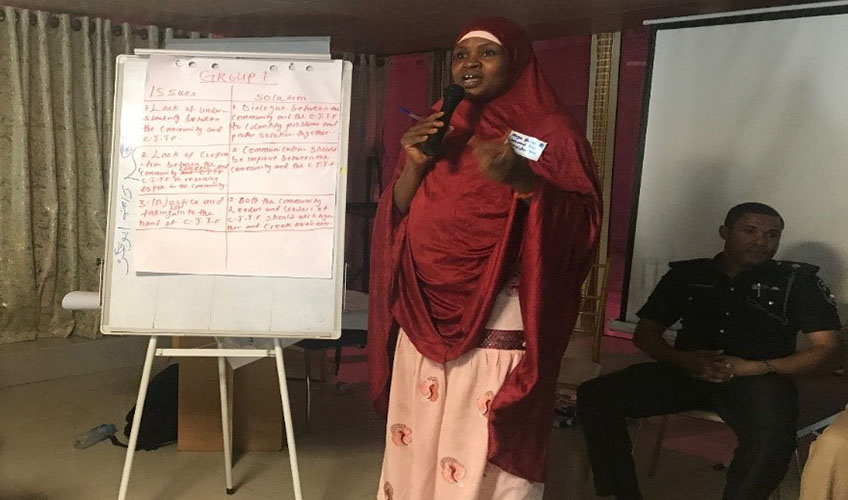 "Being a woman, I never realised how important my role is towards building peace in my community until I attended a peacebuilding training organised by International Alert. Naturally I was sceptical about working with the CJTF to promote social cohesion. I did not want to associate myself nor work with them directly, she says.
In the face of weak, uncoordinated and ineffective military action against the Boko Haram insurgency in northern Nigeria, vigilante groups such as the CJTF have gained prominence. They are armed and are authorised by authorities to conduct security operations alongside government security forces in villages and local government areas (LGAs). However, their often-gung-ho approach to settling disputes has put them at loggerheads with traditional leaders and some community members.
Despite being skeptical at first, Yakaka agreed to be part of Alert's Ido da Ido (Face to Face) project, which since its inception in 2018, has promoted community reconciliation and collaboration through dialogue.
"In my community, the CJTF were misfits. They were seen as young boys and men who disrespect and disregard their community leaders. They were seen as a group who used violence to resolve conflicts. This often resulted in tension and mistrust between them and us."
Alert's initiative to bring the CJTF and members of the community together is something that has never happened in our community. The initiative has benefited us a lot. It has built our capacity to use peacebuilding techniques in our work and strengthened our relationships. More importantly, thanks to this initiative, we are now able to peacefully resolve community grievances and conflicts, based on mutual trust and understanding.
"Traditionally, women around here weren't allowed nor given the opportunity to participate in the resolution of grievances or solving conflicts," Yakaka added. "We are marginalised and our roles in community peacebuilding efforts are not well harnessed. However, with the change in the conflict context, International Alert has given women a voice by making sure that we are included in community-based peacebuilding initiatives, especially in finding solutions to local peace and security matters. I have learned to be more tolerant and forgiving too, as a result my engagement with Alert."
Yakaka is one of hundreds of women that Alert is working with to deliver the Ido da Ido (Face to Face) project in northeast Nigeria.
About the project
Ido da Ido (Face to face) promoted peaceful relationships between communities and formalised vigilante groups, formally referred to as Civilian Joint Task Forces (CJTF), by promoting their positive roles as community peacekeepers in northeast Nigeria. The project was implemented in Maiduguri metropolitan council and some parts of Jere LGA in Borno state.
The project led to a shift of the community's negative perspective of the role of the CJTF, with 98% of women and 91% of men confirming there was now a positive relationship between CJTF and their communities. Alert facilitated the development of a code of conduct for CJTF members. In June 2019, a CJTF member was arrested for acts of torture, and was promptly reprimanded based on the provisions of the code of conduct.
Ido da Ido was funded by the French Embassy in Nigeria.