Peace advocate: Maryamu's story
"How I got to Muna IDP camp is a story I will never forget."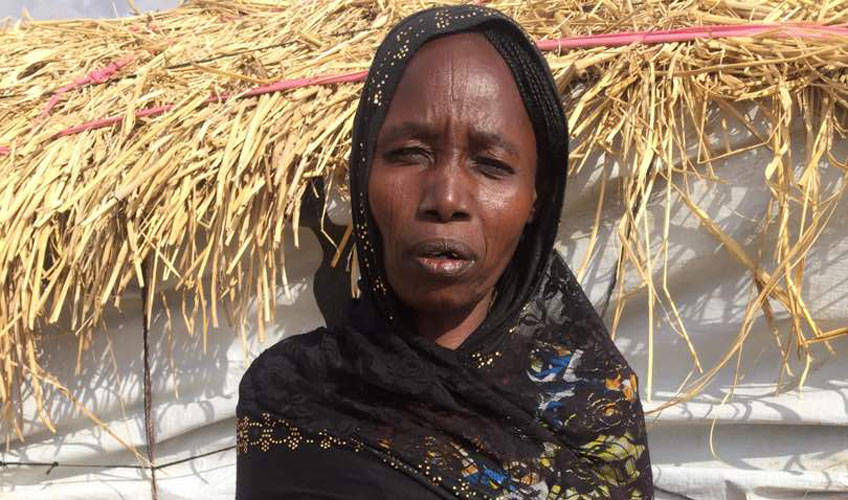 Maryamu* comes from Dikwa, northeast Nigeria where she lived with her family of six sons and their father, a cattle keeper.
"Life was not great, but we lived the best way we could. Our lives took a sudden turn when Boko Haram insurgents came to our village and threatened us. From that moment on, everything changed. One evening, they came with their weapons, killed my husband and two of my sons right in front of me. We didn't even get a chance to mourn them. We ran to Maiduguri, Nigeria, instead, where we settled in an incomplete building until spaces were provided for us in the Internally Displaced Persons (IDP) camp."
Encounter with International Alert
"A year after in the camp, we were introduced to HERWA (the local partner of International Alert Nigeria) as people from Dikwa. We attended one of the support sessions. I still remember the facilitator speaking to us that afternoon. We didn't know that as survivors of violence we could get so much concern from people who didn't even know us. That day, during the session we were given the strength to fight our insecurities. We kept hoping that the session was not going to be the last because the effect was instant. As time went on, and with more sessions, our environment became more comfortable. We also became more accommodating to other people around us – something that was not the case before.
"Earlier this year, International Alert arrived with small scale economic initiative items and I was lucky to be given Tofu items to start my business. This business is what is keeping me, my family and even my fellow people together, because it is what is putting food on my family table. The business has also helped me to bond with members of my community.
"Today, I am a proud mother, and a role model to women and girls in my community."
Mother and friend
"Alongside other women who have benefited from this project in the camp, I have organised meetings with other women where twice a week. We visit survivors of Boko Haram in their shelter to check their wellbeing and to be sure that they don't have any issues. When I find out that they may need support, I bring them to International Alert sessions where they are supported and reassured with referrals where needed.
"For example, I have a friend called Aisha who is a survivor of sexual violence by Boko Haram and has been positively impacted by this project, especially in building her resilience and peacebuilding skills. We met at a session and I made her my friend because her family was struggling with accepting her because she had been impregnated by a Boko Haram member. I took her in, clothed and sheltered her until she was found a bed and somewhere to stay. To show gratitude, she named her daughter after me. She also made me the baby's godmother.
"It is because of people like Aisha and other survivors of Boko Haram that I feel excited working as a leader. My experience with International Alert has made me want to do more by way of giving back and supporting all the young people who need help and support. I would like others to support women and girls who have survived sexual violence because it is none of the survivors' fault."
A message to families struggling with acceptance
"Helping Boko Haram survivors should be our top priority. They have been affected by violent conflict and people need to have compassion for them because their struggle is unimaginable. Boko Haram survivors don't deserve to be stigmatised or to face desertion. We are the only ones that can help them by praying for them and teaching them that support is all they need. They need peace around and within them to be able to overcome this trying moment in their lives."
*All names have been changed to protect privacy.
About the project
Supporting vulnerable communities and conflict-sensitive reintegration in northeast Nigeria was a project to help reintegrate survivors of sexual violence by Boko Haram as well as support people internally displaced by the conflict.
International Alert Nigeria worked in three camps for internally displaced people and one host community in Maiduguri, and another community in nearby Bama, to help those affected by the violence reintegrate back into society and move forward with their lives.
This included holding victim support and family dialogue sessions – especially women, girls and children, running public awareness campaigns on stigma reduction, and training local leaders on peacebuilding and non-violent conflict resolution.
Alert worked on this project with the following local partners: Federation of Muslim Women's Associations in Nigeria (FOMWAN), Health Care Development Focus Initiative (HECADF), Herwa Community Development Initiative.