The path of a Youth Peer Mentor: the story of Malika Kartanbaeva
"Tokmok is a city in Kyrgyzstan with residents who come from many different ethnicities and religions, therefore we must be able to understand and respect each other's opinions and beliefs."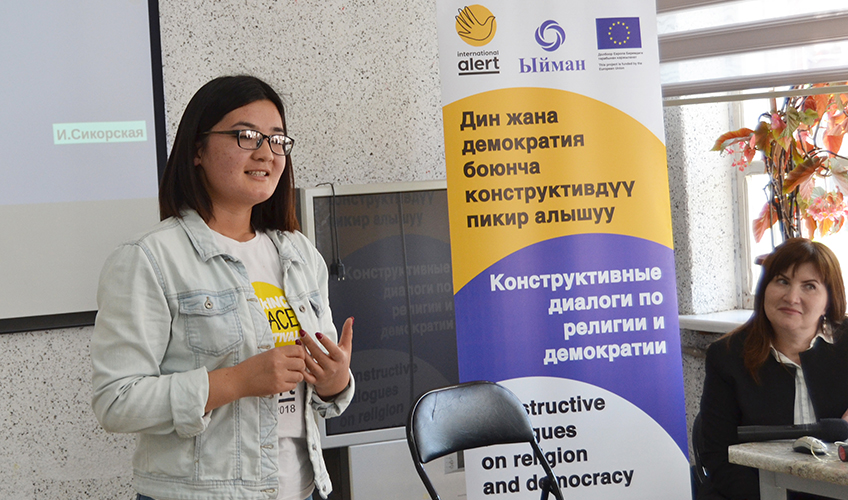 Malika Kartanbaeva is a Youth Peer Mentor (YPM) who organises and facilitates discussion clubs in her hometown of Tokmok, as part of the 'Constructive dialogues on religion and democracy' project from International Alert Kyrgyzstan. She encourages open discussions with critical thinking and is a role model for many other young people in her region.
The aim of the project is to maintain an open public dialogue on freedom of religion and belief, the role of religion in people's lives, the relationship between state and religious institutions, as well as on national strategies on religion. As part of the project, discussion clubs are held to create a public platform, an open public dialogue about religion and democracy in Kyrgyzstan, where young people can discuss current issues and share their opinions.
"During our work in the project, we were able to involve a large number of young people to participate in discussion clubs on the topics of religion and democracy. I am very pleased when young people come and talk about their experiences and how their way of thinking has changed. They are beginning to understand the importance of diversity in our society and are becoming more tolerant. We will continue to work with young people to create a society that respects the rights of others. We are working to continue the work of discussion clubs among young people, so that our young people have a voice and can be heard and accepted as full members of society," says the Kyrgyzstan regional coordinator of International Alert, Bektur Medetov.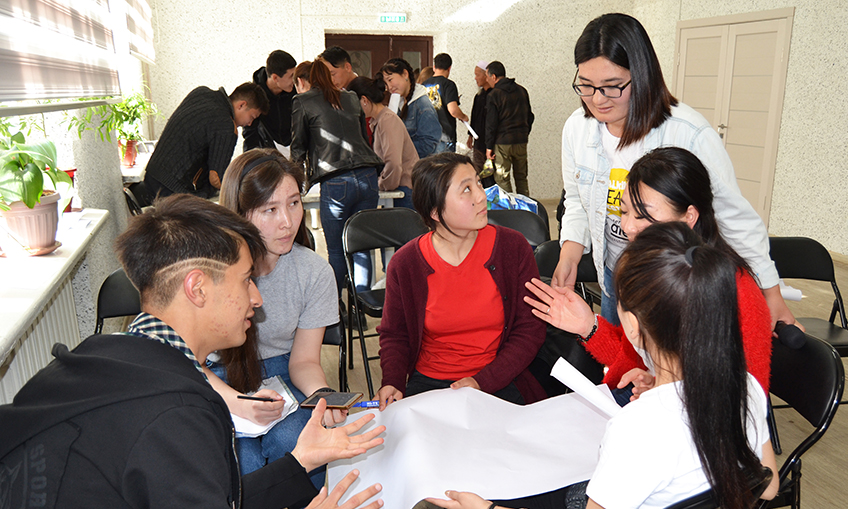 "I first met International Alert when I was in my third year at the University of Tokmok. They were hosting a discussion club on the topic of religious freedom. I actively participated in all the discussion clubs because the topics that were raised were very important and interesting," says Malika.
When Malika saw International Alert were looking for a YPM in Tokmok, she knew she needed to get involved and join the team as a volunteer.
"I immediately filled out an application and sent it by mail, because that was exactly where I wanted to see myself for a long time," Malika says enthusiastically.
According to Malika, everyone wants to express their opinion but they do not always hear each other or consider each other's opinions. This is where the discussion clubs provide an opportunity to build a bridge of understanding between people, to learn to listen to each other and not to automatically contradict but rather to welcome a different opinion and be interested in "why does he or she think so?"
"When you welcome the opinion of another person, he opens up even more and is ready to listen to you in return. A culture of dialogue is being built. Thanks to this project, I am particularly inspired by the fact that young people can create a platform where important issues are raised with the participation of government representatives," Malika says.
"If we want to develop and live in a peaceful society – we must learn to coexist peacefully and take into account the opinions of others" adds Bektur.
Malika shares her plans for the future:
"International Alert inspired me to go further and dig deeper into issues of democracy and religion. Today I have a bachelor's degree in international relations and experience in project activities. I have plans to become a blogger and through social networks I intend to inform people about religious freedom, patience, and the importance of constructive dialogue. I would like to highlight the importance of unity beyond Tokmok."
The dialogue processes help to reduce tensions and mutual misconceptions and generate a share vision for change and practical ways to find ways to peacefully coexist.
---
About the project
The 'Constructive dialogue on religion and democracy' project aims to maintain an open public dialogue on freedom of religion and belief, the role of religion in people's lives, the relationship between state and religious institutions, as well as on national strategies on religion.
This project provides a platform on religious–secular dialogue, comprising of religious leaders, scholars, civil society members, journalists and government officials, to discuss key issues on religion and democracy in the country and to identify knowledge gaps.
We trained 1,500 clergymen to strengthen interfaith harmony and religious tolerance, preventing domestic violence and gender issues, and civic participation in a secular, democratic society. 16 youth peer mentors were trained in facilitating conflict-sensitive topics, and young mentor leaders are more actively involved in civic life in their communities beyond the project.