A new lease of life: Bintu's story
Bintu* lived with her husband and two children supporting her family as a petty trader until Boko Haram abducted them.
Known for her outgoing and friendly personality, 20-year-old Bintu lived in the Malari community of Konduga Local Government Area, northeast Nigeria. She would often cook food and share it with family, friends and neighbours during the celebration of Eid.
One day, Bintu's entire family were abducted by Boko Haram, turning her life upside down. Boko Haram took the family to Sambisa Forest, where they forcefully conscripted her husband. After four and half years of captivity, Bintu managed to escape, but her husband was not so lucky. The military caught him, and he later died in detention.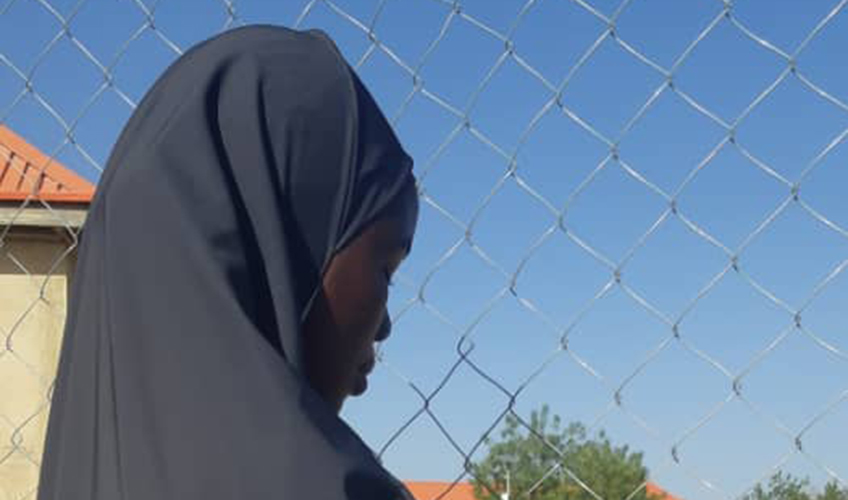 After she escaped, Bintu was reunited with her extended family at Sulumri Host Community but endured contempt, rejection and stigma like many other women who survive captivity.
When Bintu heard about her husband's death, she became hysterical and began living in denial from the shock she felt, arguing with anyone who insisted he had died. Her family no longer recognised the friendly and warm Bintu they once knew.
Despite the family's care for her, Bintu's mental health began to deteriorate. She stopped looking after her personal hygiene and became ostracised and secluded because of the stigma attached to people with mental health problems.
International Alert started its social cohesion project in Sulumri Host Community in April 2019, aimed at reinforcing the resilience and reintegration of conflict-affected women and children to promote communal peacebuilding. The project uses a community-based approach where local leaders are equipped with relevant skills and knowledge to facilitate dialogue to reduce the stigma and rejection of survivors by their families and communities and encourage steps towards building social cohesion within communities.
Bintu was invited to the dialogue and support sessions by one of the leaders who knew her. In the beginning, she showed very little interest and didn't want to attend or engage. When she did go along, she was found it challenging. One of the trained leaders helped Bintu feel safe in sharing her pain and grief and supported her to participate in the sessions.
Sessions covered topics like anger management, trauma healing, handling grief, and the purpose of forgiveness, with psychosocial specialists providing support during each session. International Alert monitored Bintu's progress over eight sessions while she slowly recovered from her traumatic experiences and even began seeking closure over her husband's death. The sessions helped her with life skills to heal, forgive and reconcile with her family members.
Bintu is now back with her family and feeling much better. She has started to invite and encourage other women and girls with similar experiences to join the sessions. Bintu wants to play a part in uniting her community again. Her family has supported her in re-enrolling for school to gain an education and new opportunities to move forward and build a peaceful future.
About this project
Building on more than three years experience promoting the peaceful reintegration of women and girls who survived Boko Haram captivity and sexual and gender-based violence (SGBV), we continue to reinforce the resilience and reintegration of conflict affected women and children and promote community peacebuilding.
Years of violence by the Boko Haram insurgency in Borno State has created a humanitarian and social disaster, forcing people to flee their homes, their livelihoods lost and the social fabric that maintained harmony in the community destroyed. Within this context, the return of the thousands of men, women and children who voluntarily or involuntarily joined Boko Haram is a highly contentious process. Women and girls, in particular, suffer discrimination, rejection, verbal and sometimes physical abuse when they return home after escaping or being rescued from Boko Haram.
The Hadin Kan Mu Karfin (Our Unity, Our Strength) project aims to reduce stigma against the women and children associated with Boko Haram, equip community and religious leaders with skills to understand and address challenges to reintegration, and help community members work collaboratively to identify and resolve conflict related to reintegration.
---
Alert works on this project with the following local partners, Centre for Social Cohesion, Peace and Empowerment (CENSCOPE) and Gender Equality, Peace and Development Centre (GEPaDC).
---
*Names have been changed.
---