MRCW calls on the Senate to prioritise Marawi Compensation Bill after House approval
Marawi Reconstruction Conflict Watch (MRCW) is an independent and neutral multi-stakeholder group that has been engaging with the government, its private sector partners, aid agencies, and other civil society organisations to help mitigate violent conflict that may result from the Marawi rehabilitation and reconstruction process, since 2018.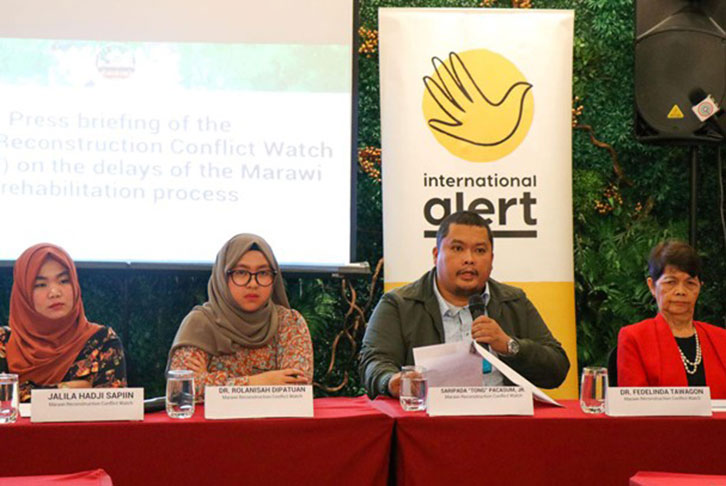 Three years and ten months after the liberation of Marawi City, the Marawi Compensation Bill finally passes on third and final reading at the House of Representatives. The Marawi Reconstruction Conflict Watch (MRCW) commends Congress for taking this long-needed and decisive step towards recognising the victims of the war in Marawi who deserve just compensation.
MRCW has been at the forefront in pushing for a Marawi compensation bill in both the House and the Senate since 2018. We participated in many public hearings as resource persons, have surfaced urgent issues, and lobbied for our people in different fora and platforms. We campaigned hard in the last State of the Nation Address to call on the President to certify the Marawi Compensation Bill as urgent.
We wish to extend our appreciation to Anak Mindano (AMIN) Partylist Rep. Amihilda Sangcopan, Leyte 4th District Rep. Lucy Torres-Gomez, Basilan Rep. Mujiv Hataman, Lanao del Norte 1st District Rep. Mohamad Khalid Quibranza Dimaporo, Lanao del Sur 1st District Rep. Ansaruddin "Hooky" Alonto Adiong, and Lanao del Sur 2nd District Rep. Yasser Alonto Balindong for consistently championing the plight of the people of Marawi and being a strong ally in our collective clamor for the passage of this important legislation to help heal and rebuild the lives of the Marawi siege victims.
The MRCW will remain vigilant and steadfast in lobbying and ensuring that House Bill 9925 will have its Senate counterpart and see its eventual passage. We call on the support of the Senate, especially Senators Migz Zubiri, Francis Tolentino, Ronald Dela Rosa, Bong Go, and Imee Marcos, who filed the draft Marawi Compensation Bill submitted by MRCW in December 2019 as Senate Bill 1395 in March 2020. We also look forward to working closely with Senator Risa Hontiveros, who will file a similar Marawi compensation bill in the Senate.
As we countdown to the fifth year since the war, we hope our dear Senators will heed our call and expedite the passage of a Marawi compensation bill as a sign of sincerity and willingness to help us, victims of war, in this long process of recovery. In his 2017 State of the Nation Address, President Duterte assured us that: "Marawi will rise again as a prosperous city." We hope you will make good on this promise and continue the momentum initiated by the Lower House and pass a Marawi Compensation Law as soon as possible. We hope for your help to achieve meaningful and speedy progress for the rehabilitation of the people of Marawi.
The Maranaos are Filipinos, too. We deserve the same justice and equal priority as the rest of our countrymen.