Moving forward together: Hadiza's story
Hadiza Bukar* shares her story of captivity and escape with members of her host community to foster empathy and tolerance for other girls like her.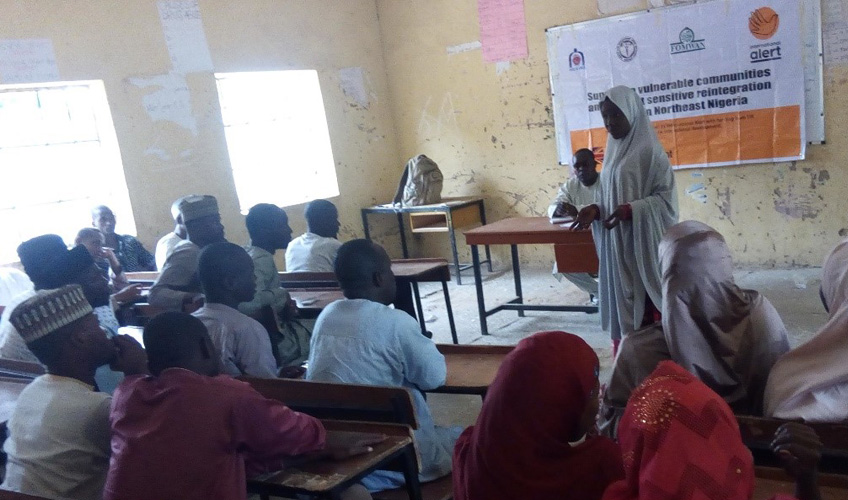 "Boko Haram attacked my village one morning and abducted my sister and I, alongside others, and took us to a big house at the centre of the town. There were so many boys and girls of different ages. They then took us to a village (we don't know the exact location because we were confused and scared that we would be killed). We spent five days there. Then we were packed into their cars and we proceeded to Sambisa forest, where I spent four months with Boko Haram." Hadiza Bukar, 16, tells us.
"They said I had to marry a Boko Haram member or serve as a slave in captivity. They advised me to get married to one of them, I rejected the idea of a force marriage. They finally left me alone because I was crying. I was very lucky they didn't harass me sexually but I was forced to labour for them."
Hadiza is a unique case, while she suffered from extreme violence at the hands of Boko Haram, she miraculously managed to escape her captivity without being subjected to sexual violence.
When Hadiza escaped she was taken into custody of the security forces for several days. She was then initially released to the Bama internally displaced persons (IDP) camp in Nigeria for several days but then transferred to NYSC camp in Maiduguri. NYSC camp was dismantled in late 2016 and Hadiza now lives in Madinatu host community with other members of the Dikwa local government area (LGA), where she is originally from.
"Staying in the host community was very challenging, I have heard so many people talking about me in a negative manner, due to my association with the armed group. I felt very alone, detached from other community members because I felt rejected."
The community dialogue organised by International Alert has allowed me open and speak out about my struggles, similarly other community members have been enlightened and I have seen positive changes already. They are more accepting and accommodating. I am happy.
However, Hadiza does not know the whereabouts of her parents, and is living with her relatives in the host community, which has been difficult for her.
"Not knowing where my parents are, is not easy, I am sure my parents would stand and support me through all my difficult times, their absence has left a void in my heart."
With the help of influential community leaders, selected and trained by International Alert, Hadiza tells us she hasn't lost hope for her future.
After they initially met me, to counsel me on the need to forge ahead with my life, the influential leaders invited me to the community dialogue session. It has really helped me to understand that this isn't the end of my life. I have my whole life ahead of me, and I came to realise this through this initiative.
"I hope someday to go back to Dikwa town with my parent and relatives."
Hadiza was identified by International Alert and its partners, with funding from the UK government, to participate in a workshop on community dialogue session. Hadiza noted that these dialogue sessions have helped her adjust and prepare for life after captivity.
"These dialogue sessions are very important to her and the community, in providing peacebuilding sessions to mitigate further conflict and stigmatisation of sexual and gender based violence (SGBV) survivors in their communities after they return. Focusing on certain programmes like these dialogue sessions, to educate people in reintegrating families and relatives of displaced people by Boko Haram insurgency and to forgive the past for the sake of peacebuilding in their respective communities is a welcome development to all." Babagana Ferode Isa, International Alert Project Manager.
About the project
Supporting vulnerable communities and conflict-sensitive reintegration in northeast Nigeria was a project to help reintegrate survivors of sexual violence by Boko Haram as well as support people internally displaced by the conflict.
International Alert Nigeria worked in three camps for internally displaced people and one host community in Maiduguri, and another community in nearby Bama, to help those affected by the violence reintegrate back into society and move forward with their lives.
This included holding victim support and family dialogue sessions – especially women, girls and children, running public awareness campaigns on stigma reduction, and training local leaders on peacebuilding and non-violent conflict resolution.
---
*Names changed to protect identity.