Life after Boko Haram: Aisha's story
International Alert's new project with UNICEF is helping transform the lives of women and girls returning from captivity by Nigeria's insurgency group Boko Haram.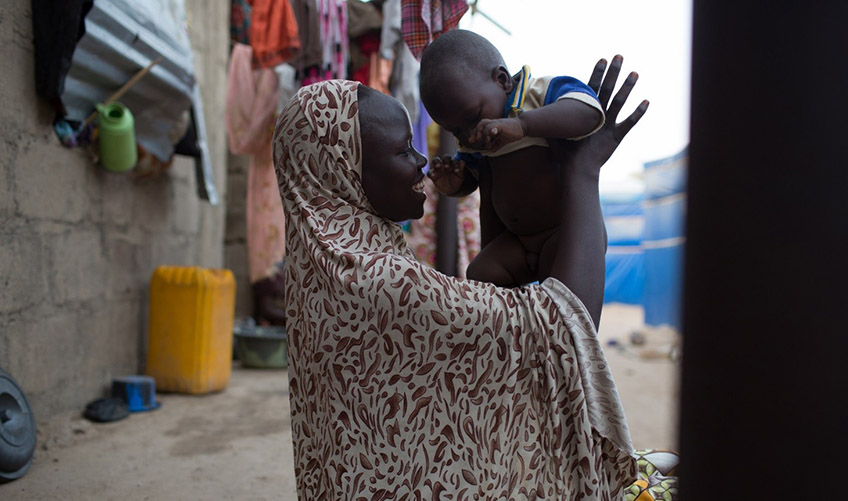 The project was informed by our recent study which found the survivors, as well as their children born of sexual violence, often face rejection and stigma in their communities.
Together with our local partners, Federation of Muslim Women's Associations in Nigeria (FOMWAN) and Herwa Community Development Initiative, we are helping survivors move forward by running collective therapy sessions and dialogue clubs. We also help prepare communities for the return of survivors by fostering empathy and trust. This includes supporting religious and traditional leaders in promoting a culture of tolerance and forgiveness.
Our project is the first step in re-integrating these women and girls into society, and in healing communities affected by violent conflict.
The story of Aisha
17-year-old Aisha (pictured above) grew up in the city of Garoua in Cameroon, living a peaceful life with her father and siblings.
"I was happy there. My father used to take us to school every morning, and then Islamic school in the afternoons," she recalls.
But one day, Aisha's life changed forever. In the summer of 2014, she moved across the border to Nigeria to live with her mother. Just two months later, Boko Haram came and captured her small town.
"They went from house to house. When they arrived at our house, they wanted to marry me and I refused. I told them I wouldn't marry anyone without my father's consent. So they left. But they came back again at night and kidnapped me. They took me to a room in a village. I didn't know where I was. They fed me and gave me clothes. Later I was told I had been married off."
After two months, Aisha discovered she was pregnant. "I felt helpless and felt they had ruined my life, and no one would now take care of me," she tells us. But it was the kindness of a stranger that helped her survive the ordeal and learn to love the baby. "A woman helped me deliver the baby in the village. She wrapped him up, made me soup and gave me and the baby a bath. I hated the baby. But she preached to me about his innocence."
In 2015, a major Nigerian military offensive recaptured large areas of Boko Haram territory. Aisha was still living in the village when army helicopters started bombing Boko Haram. "Everyone ran and left me. I was sitting under a tree when the soldiers found me and brought me to the displacement camp."
Sadly, Aisha's long-awaited freedom did not mean the end of her ordeal: "Life here in Dalori camp was bad for me. The women called me 'Boko Haram wife' and wouldn't let me use their belongings. A group of them even beat me up."
It was then that Aisha joined a workshop run by Alert's partner FOMWAN – a coalition of Muslim women's organisations that brings together Boko Haram survivors in a safe and supportive environment, giving them an opportunity to express their feelings and learn about forgiveness and understanding through Islamic principles.
At last, Aisha realised she was not alone. The ability to speak freely about her experiences made her let go of her guilt and feel proud for surviving an unimaginable experience.
I feel better about my life after the workshop. They made sure I understood that forgiveness was necessary. They have made me feel better about my situation.
"I can finally talk a bit about what it was like," Aisha concludes with a smile, as she plays with her son.
Impact and next steps
Just three months into the project, we have already conducted eight workshops, reaching 240 survivors. Due to the success noted by girls like Aisha, we designed four additional workshops and will reach a total of 320 survivors by the end of April 2016.
But this is not sufficient for addressing the needs of the survivors in the displacement camps, in the host communities and in their home villages throughout northeast Nigeria.
We estimate that up to 2,000 women and girls, as well as many boys, have been abducted by Boko Haram since 2012, including more than 200 girls on 14 April 2014 from their school in Chibok.
With more victims returning from captivity, there is an urgent need to scale up this work to ensure survivors and communities can heal and move forward. In addition, these women also need better access to health services and job opportunities to support themselves and their children. This is important while they are in the displacement camps, but also after they leave the camps and return to their home villages.
According to Kimairis Toogood, Senior Peacebuilding Adviser for Nigeria at International Alert: "As we are not sure of the exact numbers of those still held in captivity, the breadth and depth of this issue is not even fully understood – but we know it is great. We estimate that thousands of people will need our help – both survivors and communities where they live.
"So we must begin addressing this issue now, with all the necessary resources."
About the project
Reducing stigma against those affected by Boko Haram was a project in Borno state, northeastern Nigeria to address the stigma and negative perceptions associated with women and girls who have escaped Boko Haram, as well as children born out of sexual violence.
Addressing the obstacles to women and children's reintegration is critical for their survival and long-term peace in the country. We hoped to improve understanding of the challenges faced by women and children returning home by holding community workshops in internally displaced peoples camps and broadcasting radio programmes on stigma and sexual violence.
This pilot project was able to demonstrate positive attitudinal and behavioural changes within the community and as a result, has been extended in geographic scope, donor funds and partnerships since 2016.