Kwibuka 29: Remember-unite-renew in Rwanda
As we commemorate Kwibuka 29, we remember the tragedy of the genocide against the Tutsi in Rwanda, which claimed more than one million lives in 100 days from 7 April 1994.
Nearly 30 years after the genocide, Rwanda has made great strides towards national rebuilding in terms of security and stability, social and economic development, governance and national reconciliation.
Despite this progress, many Rwandans bear wounds and trauma, including survivors and ex-perpetrators and their descendants. Many young people suffer from transgenerational trauma, including those who don't know their origin or parents, young people born from genocide survivors or from women who were raped during the genocide, young people born from intermarriage families and those whose parents were convicted.
As we mark the anniversary, we also think of the resilience and determination of the people we work with across Rwanda, communities who are working hard to heal historical wounds and promote unity, resilience and social cohesion. Through the Dufatanye Urumuri (Light) project, supported by USAID and in partnership with ARCT-Ruhuka, the Rwanda Organisation of Trauma Counsellors, we combine mental health and psychosocial support services, community dialogue and joint economic initiatives to improve wellbeing and trust among community members.
Trusting again, even after a genocide – Donatile's story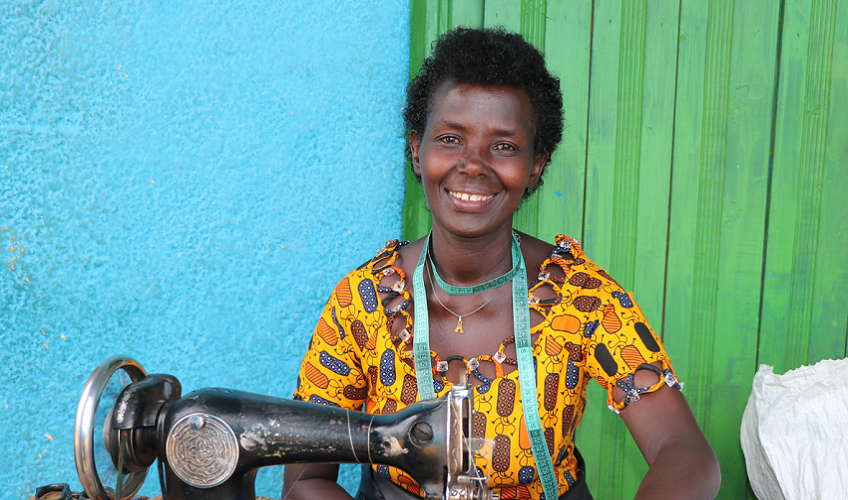 Donatile Uwicyeza is a survivor of the genocide against the Tutsi in Rwanda. In 1994, her family was slaughtered. She was left to navigate the aftermath of the bloodshed and the return to peace as best as she could.
Her journey to trust again after the trauma of the genocide shows the transformative power of psychological healing.
Hear the stories of a community uniting after the genocide against the Tutsi
Watch our short film that shares the stories of victims, perpetrators and young people who have come together through the project to support one another and promote healing, trust and unity.
The communities supported through therapy groups as part of our previous project, Duhuze, have overcome trauma and continue to strengthen their relationships through joint community dialogue forums as part of Dufatanye Urumuri. These forums foster social cohesion and trust among group members.
Joint economic activities, voluntary savings and selfless services – to support vulnerable community members with repairing their homes or agriculture activities, regardless of their background – are not only supporting communities and individuals out of poverty, but having a significant impact on their lives. This includes decreasing trauma symptoms and creating improvements in interactions, openness and comfort in sharing personal stories.
Watch the story of a community who are healing through acts of selflessness
Their personal testimonies show how the Dufatanye Urumuri project is helping people overcome trauma and rebuild broken relationships, fostering social cohesion, peace and trust among group members and enabling communities to tackle poverty together.
Special thanks to our funder USAID and partner ARCT-Ruhuka for working with us on this project.