How we challenged the 65% rise in domestic violence in Kyrgyzstan
The onset of COVID-19 and the lockdown imposed by the government has intensified domestic violence in Kyrgyzstan. From January to March 2020, the government estimated a 65% increase in domestic and intimate partner violence.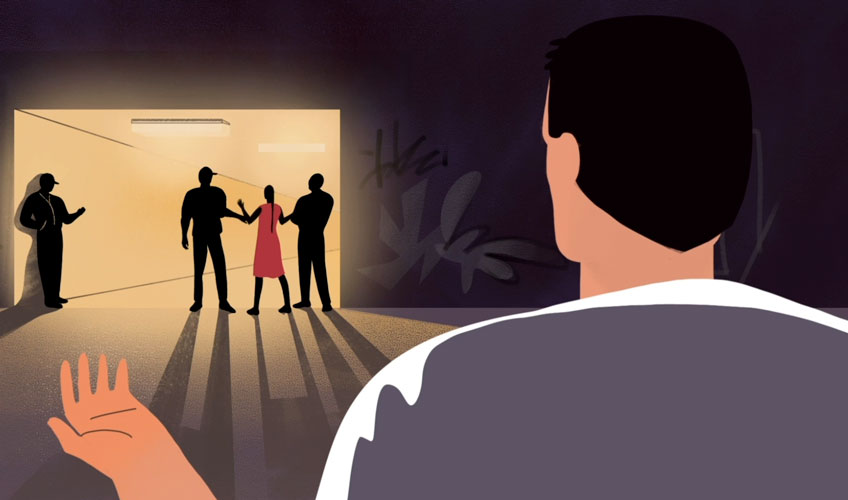 This disturbing rise in violence was fueled by pre-existing gender inequality and social stereotypes combined with economic and social stress caused by the pandemic. There is a strong belief in Kyrgyzstan that it is acceptable for men to use violence against women if they fail to fulfil their supposed responsibilities or when their behaviour violates social norms, for example that women must obey their husbands and should not seek equality in decision-making. To design an impactful and sustainable intervention that addresses gender-based violence, we had to understand the structures and power dynamics that underpin violence and work with men and women to design ways to challenge them.
As peacebuilders, we know that violence is multifaceted and can take place on a continuum, from the household level to the national and international spheres. We needed to show that violence against women cannot be justified by religious or national traditions. Abusers not only violate religious values, but also create a cycle of violence for their children in the future.
The idea
In Kyrgyzstan, religious leaders are highly influential, so we worked with religious leaders across the Muslim, Orthodox Christian, Catholic, Protestant and Bahá'í faiths to break down stereotypes and misunderstanding through video interviews with community leaders to be shared on social media. Using examples and quotations from religious texts, these faith leaders ensured buy-in from members of their communities. By bringing together diverse voices, we showed all religions are united to prevent domestic violence, no religion tolerates gender discrimination and violence and all religions strive for peace and harmony.
We continued the campaign by creating an animation to help families navigate the issues of domestic and intimate partner violence, and the importance of breaking the intergenerational cycle of violence. We wanted to move away from 'stereotypical' gender-based violence stories, where women are depicted as victims and men as the villains. We believed that depicting men as aggressors without providing an opportunity for behavioural change would not attract male audiences.
Our screening test of video messaging with local communities reinforced this approach. While women, both young and old, understood messages showing that violence in the home was damaging to families and connected with the female characters, men were reluctant to admit domestic violence is even a problem, struggling to identify with the violent male character. With this in mind, we developed the animation to show that parents can be positive role models for their children. They must not teach by example that domestic violence is normal and can take action to break the cycle of violence.
The story
The response
The animation was broadcast through Alert Kyrgyzstan's social media accounts on Instagram, Facebook and Twitter and received a great response – thousands of views, likes, shares and comments. We received so many comments and private messages from users who have had the same experience. The message from the animation resonated with people so much that they wanted to share their own stories and insecurities:
I still live this life.
I also had problems with my husband, now I live only for the sake of my children.
I experienced domestic violence.
I was in a such a situation and I left. It was hard, but I stayed alive, that's the main thing.
I have been married for ten years and I am so tired of my husband. I want to leave, but I have to care for our children.
From the time I was a child, I was exposed to the violence and beatings that my father inflicted on my mother. Everything I learned as a child was a great lesson for me. I will do my best not to repeat it. I want my future wife and children to live in peace.
This may have been the first time some of these women were able to see a true reflection of their own reality and share their experiences. We made sure to provide additional support to viewers of the campaign through an information video on domestic violence and a website landing page where they could find out where to get support.
Unfortunately, domestic violence is not the only example of gender-based violence in Kyrgyzstan.
Bride kidnapping: The abduction and murder of Aizada
In April 2021, Aizada was kidnapped in broad daylight in the very centre of Bishkek: three men forced her into a car right in front of surveillance cameras and drove away. After the abduction of Aizada, her family immediately called the police and provided all the information they had about who they thought the abductor was, as he had previously pursued Aizada, but the police, according to them, were in no hurry to investigate the case.
Aizada fell victim to the tradition of 'bride kidnapping', which involves men kidnapping a woman or a girl and forcing her to marry him. According to Aizada's mother, the policeman said: "You will have your wedding, you will see!"
Two days later, the car was found with the body of Aizada and one of the abductors. Investigators believe that he stabbed the girl and committed suicide after Aizada refused to marry him.
The abduction of Aizada Kanatbekova caused mass protests in Kyrgyzstan. Mass actions took place in Bishkek and Osh: activists demanded the resignation of the Minister of Internal Affairs and the head of the Bishkek police. However, this is not an isolated case. In 2018, 19-year-old Burulai Turdalieva was also kidnapped by the "groom" with friends. The girl's parents immediately called the police, the abductors were detained. But a few hours later, the "groom" stabbed Burulai right in the police department, for which he was sentenced to 20 years in prison.
Not a tradition, but a criminal offence
Why are such abductions called "bride kidnapping" and why are they still seen as acceptable? Bride kidnapping in Kyrgyzstan is known as "ala kachuu" (grab and run). Usually, the "groom" and his friends abduct the girl right on the street, push her into a car and take her to the kidnapper's house, where relatives of the "groom" are already waiting. The kidnapper's relatives persuade the girl to stay, convincing her that this is a Kyrgyz tradition and 'this is what happens to everyone'. When a girl manages to get through to her parents, in some cases, they also begin to persuade her to stay – so she does not 'disgrace the family'.
The practice of bride kidnapping exists in many patriarchal societies. In the northern and southern Caucasus, the tradition has almost disappeared. But in the south of Kazakhstan and in Kyrgyzstan, the tradition still exists.
According to the UN, every fifth marriage in Kyrgyzstan involved bride kidnapping.
Kyrgyz law has banned bride kidnapping since 1994. Previously, the abductor could be imprisoned for up to seven years. In 2019, the law changed slightly: the kidnapper of an underage girl would be imprisoned for ten years, and if the girl was 18 or over, up to seven years.
In 2018, 64% of employees of the Ministry of Internal Affairs said that 'ala-kachuu' is a normal phenomenon. In addition, there is a perception and belief that kidnapping is a family issue that should not be made public. If a girl leaves the groom's house, it is considered shameful therefore girls rarely contact the police because they are afraid of condemnation and humiliation.
Sharing positive examples to create change
However, the prominent cases of Burulai and Aizada are changing attitudes in society. To eradicate bride kidnappings, activists in Kyrgyzstan are organising protests, roundtables and educational trainings.
"А few years ago my niece was kidnapped, and even her parents, when they found out, were confused. They did not know what to do, because they did not expect that this could happen to their daughter. I got angry and went to the kidnapper's house with my husband. The kidnapper's relatives had a feast, and were delighted when we arrived, they thought we had come to celebrate. I saw my niece, frightened, in a headscarf, she was pouring tea for the guests. I grabbed her hand and led her out of the house. All the relatives of the kidnapper were so shocked that they did not even try to stop us. It was only after a while that my niece realised what had happened to her and how it could had affected her life in the future and was much grateful to us for helping her in this very critical moment of her life." – relative of a kidnapped girl in Bishkek, Kyrgyzstan
Indeed, bride kidnapping exists only with tacit consent in society. We can all prevent not only bride kidnapping, but other gender-based violence if we all stop being silent witnesses and begin to act.
As a rapid response to the bride kidnapping practice, we decided to make an animation again, not showing a victim, but focusing on what people can do to prevent such cases. The concept for the animation came from our focus-group discussions with men on the domestic violence film. Depicting men as aggressors to make them feel guilty would not have an impact, but the idea of a positive example of men challenging violence against women was welcomed.
If I'm clean, you're clean, society is clean

– Iskhak Razzakov, Kyrgyz statesman of XX century
Challenging violence against women takes a whole of society approach to challenging the gender norms and power relations that mean violence against women is accepted and normalised. 
Gender equality is integral to peacebuilding. To support it, Alert examines how the relations between gender identities co-construct expectations on each other and define power relations. To address these often deeply rooted gendered expectations in Kyrgyzstan, we engage strategically with local secular and religious communities and leaders, who are often seen as community gatekeepers and through collaboration with local self-governments and civil society on ending harmful practices, such as non-consensual marriage practices and early marriages. We organise gender-sensitisation trainings for religious leaders, discussing women's participation in social life (role in the community) and violence against women and girls (role in the family). Taking this holistic approach to addressing GBV and gender equality helps to advance the women, peace and security agenda and indeed, this agenda cannot advance at all without it. This is vital to supporting peaceful societies. We further use our expertise to support the National Strategy and National Action Plan on gender. And, of course, we plan to continue our campaign to challenge violence against women and girls with wider audiences.
---
About the project
The Tatyktoo zhasho project aims to obtain support from religious leaders in the implementation of the National Strategy and National Action Plan for Achieving Gender Equality. They also participate in an information campaign on the prevention of violence against women in various religious communities. The project is in response to the surge in domestic violence during the quarantine period caused by the COVID-19 pandemic and to the long-term impact of the epidemic – food and economic security – that shape violence against women and girls.