Fortunate beyond her name
When Fortune Mukantagara moved from Gitarama to Rusizi, Rwanda, a year after getting married she was shocked to discover that her husband, John Bosco, was married to two other women and had six other children.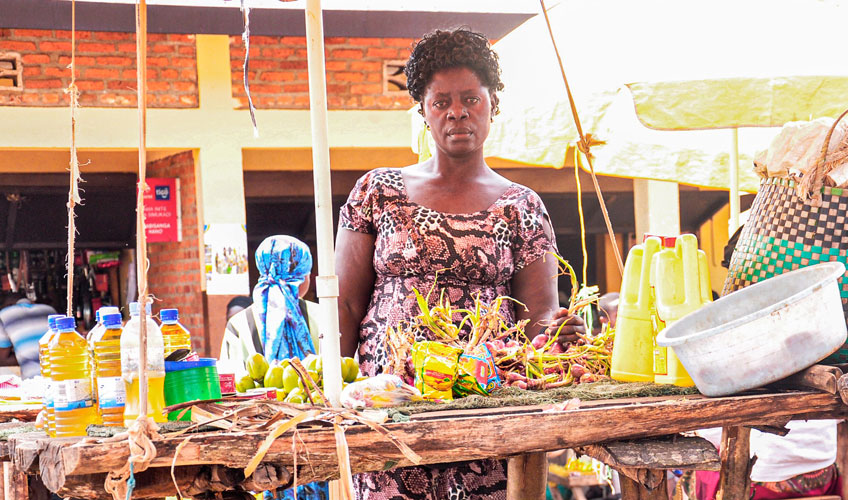 When Fortune attempted to seek an explanation, John Bosco's reaction was to beat and abuse her. This continued for two years until he left their shared home to move in with one of his other wives. Fortune felt isolated and lost hope.
Alone now, she had to think about how to provide for her five children. By working on other people's farms Fortune was able to earn enough to save around 200 Rwandan francs weekly, feed her family and meet her household needs, but it was a challenging and unsustainable situation. She joined a saving and credit association for financial support and guidance.
Within the association, Fortune met several members who would turn out to be her new family. They introduced Fortune to cross-border trade, an opportunity that she decided to take up. After a year of investing in the association, Fortune received her share of financial support worth 46,000 Rwandan francs, which she used partly to clear debts such as school fees, medical insurance and household needs. She used the remaining money as initial capital for her new cross-border trade work.
Building an enterprise
She started to cross the border to Bukavu, Democratic Republic of Congo (DRC) to sell vegetables where, despite the language barrier and demanding work, she gained more customers. In 2017, Fortune joined Creating Off-farm Rwandan Enterprises (CORE) project from International Alert Rwanda. The project boosts the potential of cross-border trade and fosters an environment of entrepreneurship for women and youth in Nyamasheke and Rusizi Districts, thereby increasing their ability to make a living and keep their families safe.
By taking part in the CORE project and having access to the Village Savings and Loans Associations (VSLA), Fortune received training on savings and credit for the first time. This helped her to further pursue her entrepreneurial ventures and maximise her returns. By end of 2018, Fortune saw her business capital growing.
In 2019, Fortune participated in more CORE project trainings and dialogue sessions which touched on gender, sexual and gender-based violence, cross-border dialogues, understanding people's different experiences of conflict, business registration and other business hinderances etc. These discussions encouraged and helped women to work together with local leaders to overcome barriers to cross-border relations that could affect business operations and growth, and address the concerns of community members.
Fortune received training on business facilitation which linked her with a long-term business mentor to support her as she grows her enterprise and helped her to understand the best way to borrow and pay money to the bank through the VSLA. With this support and increased knowledge around business management and entrepreneurship, Fortune could finally afford to build a house on the piece of land that she bought back in 2017.
Through the dialogue sessions Fortune has come to forgive her husband and become someone other women look up to and seek advice from, "I am so sure I have learnt enough from my experience; I would have done thorough investigations on John Bosco before having a relationship. However, the situation has made me strong enough to overcome life's challenges. I am convinced I can live a good life without John or any other man of his character."
Women come to me asking for advice and I have encouraged them not to accept male violence because of culture but to overcome fear, speak out and to report the cases. I am living an exemplary life.
Fortune continues to invest most of her money in assets and she hopes to expand her business so that it is worth just over two million Rwandan francs, equivalent to the value of her house and land.
About the project
Through training and dialogue sessions, business is being leveraged to adopt conflict and gender sensitive practices. It is also used to collectively influence post conflict development policies and practices for more inclusive and sustainable development within communities and to end violence and gender issues facing women and youth cross-border traders. Conflict hampers trade and socio-economic development but peace does the opposite.
The CORE project aims to support women and youth run cooperatives and help them build off-farm entrepreneurship skills so that they increase their opportunities to make a living and keep their families safe.
It also links participants with long-term business mentors to support them to grow and sustain their enterprises. The project strengthens the environment for the successful management of cooperatives and business groups run by women and youth cooperatives through dialogue, research and advocacy. It also helps these entrepreneurs to access financial services in order to invest in their businesses.
---
Read more about the women working as cross-border traders in Rwanda and how they are persevering despite the challenges posed by COVID-19